Björn Ulvaeus
go.to//
1963 1964 1965 1966 1967 1968 1969 1970 1971 1972 1973-82 1990 1991 1992 2002 2004 2005 2006 2007 2008 2009 2010 2011 2012 2013 2014 2015 2016 2017 2018 2019 2020 2022 facts
The beginnings
Björn Kristian Ulvaeus was born in Göteborg (Gothenburg) in Sweden on April 25, 1945. When he was eleven years old, his family moved to Västervik in south-eastern part of Sweden. He started playing guitar in a folk group. At the ago of seventeen Björn called three of his musical pals together and told them that he wanted to form a jazz band.
The boys started playing together and one day during their practice sessions at Björn's home stirred his mother to fill in a form, entering them for an "looking for young talents" programme on Swedish Radio. The group had no name at that time but Mrs Ulvaeus borrowed the English versions of their town name and called them "The West Bay Singers" (Väster=West Vik=Bay).
After the radio performance a well-known producer Bengt Bernhag became quite interested and he told about the group to the boss of his record company Stikkan Anderson who asked Björn about a demo tape. The music was good, so Bengt and Stikkan asked the group to come up to their Stockholm studios. Björn recalls that it was a very nervous day for all in the group.
The first single
The first thing that Stikkan Anderson did was changing the name West bay Singers to Hootenanny Singers. The first record of Hootenanny Singers was "Jag väntar vid min mila", an old Swedish traditional song about people who worked in the forest. The single became a big success in Sweden. Stikkan Anderson had just launched his own label - Polar Records and Björn's group was the first artists signed on this label. The single did not enter the Swedish hit list Svensktoppen as the list started first in June 1964 because of artist strike in Sweden.
The first album
Hootenanny Singers recorded their first album at the beginning of 1964. The album featured six songs in Swedish and six songs performed in English. The album featured their single hit "Jag väntar vid min mila". Björn had written two songs on his own and was co-writer on two other compositions together with the other members of the group.
The song "Hem igen" entered the Swedish hit list Svensktoppen on September 12th, 1964 for 1 week at #5.
Photo session
Älskling på vift (Darling on the run) - the movie
Björn with his group Hootenanny Singers became movie stars in the spring 1964 when they participated in the Swedish film "Älskling på vift" (Darling on the run). Björn performed a song entitled "Darling" in English in the final scene of the film.
Tour
In 1964 Björn and Hootenanny Singers went on tour around Sweden. The group quickly build up a solid following amongst both teenagers and older people. After one year of touring Björn started study Economics and Law at the University of Stockholm. But the study time was not long. He wanted continue in the music business. Hootenanny Singers went back on tour and they stayed together for 4 years as a group making lots of hits.
The second album
Hootenanny Singers released their second album in autumn 1964. Several songs for the LP had been written by Björn Ulvaeus. The biggest hits from this album were "Gabrielle" and "I lunden gröna". Even the cover of Charles Aznavour's hit "La Mamma" enjoyed a big success in Sweden.
"I lunden gröna" entered Svensktoppen on October 24th, at #3 and stayed there for 8 weeks. Another song from the second album - "Gabrielle" entered the Swedish hit chart on October 31st and it stayed there for 11 weeks peaking at #2.
Internationally
Due to the huge success of the songs "I lunden gröna" and "Gabrielle", Stikkan decided to release the single with both songs even outside Sweden. The record company Fontana gave out the single in Norway and Denmark
TV
The group appeared regularly on Swedish TV.
Early photo sessions
Singing Evert Taube
The year 1965 brought two LPs recorded by Hootenanny Singers. In the spring 1965 the first one entitled "Hootenanny Singers sjunger Evert Taube" which featured 12 songs written by the Swedish minstrel Evert Taube. Polar released from the album three singles which were quite successful on the Swedish chart "Svensktoppen". The singles were: "Solola" (stayed on the chart for 19 weeks), "Britta" (5 weeks) and "Den sköna Helen" (8 weeks).
The album was released by Polar in 1965 and re-released by the record company even in 1971 and 1976. Even the cassette saw its re-release in 1968 - printed in Holland.
Britta - single
The single featuring "Britta" b/w "Den sköna Helen" was released in Norway as a promotion for the album with Evert Taube's ballads.
HS sing Aznavour
The EP with four new songs featured the Swedish version of the international hit performed originally by the French megastar Charles Aznavour "La mamma". The group had already recorded the song in German, English and Spanish (released on the LP "Internationl" - se below).
Hootenanny Singers - international
Stikkan Anderson and Bernt Bernhag - the producers at Polar Music tried already in 1965 to promote Hootenanny Singers abroad. The album "Hootenanny Singers International" saw its release in 1965. It contained songs from different countries performed in different languages. Benny and Björn's composition "No Time" had been recorded in London, German schlager "Wenn Alle Ströme versiegen" in Munich and the Charles Aznavour classic "La Mamma" was performed in Spanish. Björn's song "Stanna en stund" (Stay for a while) had been translated and performed in Italian. Even if Stig Anderson was a great business man it was not time for international markets - not yet. The album "International" remains a hard-to-find LP nowadays.
| | | | | |
| --- | --- | --- | --- | --- |
| | | | | |
| | | | | |
In Bildjournalen
Björn and his pals from Hootenanny Singers posed for the Swedish magazine "Bildjournalen" together with female models. This time for fashion pages in the magazine.
Björkens visa
At the end of 1965 Hootenanny Singers released their new EP which entered the Swedish charts in January 1966. It featured 4 songs released on the group's album "International" earlier the same year. The EP featured: "Björkens visa" and "Finns det live så finns det hopp" on the A side and "En festlig dag" and "Vildandens klagan" on the B side.
The single was very successful on Svensktoppen when it reached #1 (for 4 weeks) and on Topplistan it peaked at #4.

Many Faces
Björn and Benny started collaboration. They wrote music together and Benny performed occasionally with Hootenanny Singers. The first trace of the collaboration between Björn and Benny occurred on the Hootenanny Singers album "Många ansikten - Many faces" released in 1966. The album was thought as the group's trial to come out on the international market. Side A contained songs recorded in Swedish and the side B in English. One of the tracks on the side B was Benny Andersson's composition "Sunny Girl". Even Björn composed several songs on this album as "Baby those are the rules", "Just The Way That You Are", "In Thoughts of you" and "Marianne".
Björn - photo sessions
Åsa Nisse i raketform
Hootenanny Singers appeared in the Swedish film "Åsa Nisse i raketform" which had its premiere in Sweden in August 1966. The group performed one song in the film.
Björn during the military service
Marianne
A single "Marianne"/"Vid en biväg till en byväg bor den blonda Beatrice" and an EP with "Marianne" and three other songs from the album "Many Faces" was released in autumn 1966. Two songs became chart hits in Sweden. "Marianne" entered Swedish charts in September 1966 and peaked at #3 on Topplistan. On Svensktoppen "Marianne" reached #1 where it stayed for 2 weeks. The second song on the EP "Vid en biväg till en biväg bor den blonda Beatrice" entered Svensktoppen in October 1966 where it peaked at #5.
The single was even released in Denmark but with different cover.
Christmas special
Hootenanny Singers posed for photo session for "Bildjournalen" just before Christmas 1966.
In 1967 Hootenanny Singers released four singles and two LPs.
En sång en gång för längesen
The first single in 1967 featured two A-sides with two new songs: "En sång en gång för längesen" with lyrics by Stig Anderson and "Det är skönt att vara hemma igen" co-written by Björn Ulvaeus. "En sång en gång för längesen" enjoyed quite big success on the Swedish chart where it stayed for 8 weeks whilst "Det är skönt att vara hemma igen" only 1 week.
The best of...
In 1967 Hootenanny Singers were top stars in Sweden after more than 3 years of activity as a group and several single hits on the Swedish charts. Polar Music released the first compilation album entitled "Hootenanny Singers Bästa" (The best of Hootenanny Singers) which featured 12 songs. Some of them had been written by Björn: "Baby those are the rules", "Marianne" and "I lunden gröna". Stig Anderson contributed with lyrics to several songs.
Början till slutet - the single
The single "Början till slutet" b/w "Adjö, farväl" promoted a new Hootenanny Singers album "Civila". It entered the Swedish chart on October 17th, 1967 and stayed there for 16 weeks reaching #4.
Björn 1967
Civila
The 1967 Hootenanny Singers album was entitled "Civila" and it featured 11 new songs - mostly covers of international hits and folk songs but even one track - "Du eller ingen" (You or nobody) which was written by Björn Ulvaeus. Stikkan Anderson had written Swedish lyrics for most to most of the songs on the album. Michael B. Tretow was one of the engineers and Bengt Bernhag producer. The album was recorded at Metronome Studio.
Raring - the first solo single
In April 1968 Björn released his very first solo single "Raring" (a Swedish version of the world hit "Honey"). The B-side contained self-penned "Vill du ha en vän?" (Do you want to have a friend?). The single entered the Swedish charts Svensktoppen and Topplistan in June 68 where it reached #7 respective #8. The single was even released in Norway with slightly different cover.
Bild
An interview with Björn was published in the Swedish magazine "Bild" in April 1968.

Summer photo session
The Bellman project
Hootenanny Singers released new single containing two songs from the forthcoming album "Bellman på vårt sätt" (Bellman in our way).
The Bellman photo session
Bellman på vårt sätt - the album
The album contained 11 songs written by Swedish poet and composer Carl Michael Bellman (1740–1795). All material was arranged by Björn Ulvaeus and it was recorded at the Metronome Studio in Stockholm.
Fröken Fredriksson - the single
The second Ulvaeus solo single was entitled "Fröken Fredriksson" (cover on "Harper Valley PTA) b/w Ulvaeus own composition "Vår egen sång" (Our own song). The single reached the Swedish charts in November - Svensktoppen #5, Topplistan #7.
The single was released even in Norway with different cover.
Björn 1968

Five years
Hootenanny Singers celebrated five years as a group with a new album entitled simply "Fem år" (Five years). The album contained 12 songs recorded in Metronome Studio in Stockholm with among others Michael B. Tretow and Sven-Olof Walldoff. The cover picture had been painted by Hans Arnold - the same guy who made the cover of ABBA's Greatest Hits in 1975. Most of the lyrics had been written by Stikkan Anderson. Björn Ulvaeus contributed with four own compositions: "Vår egen sång", "Fåfängans marknad", "Du dansar om sommar'n" and "Love comes, love goes".
One day back in 1968 Björn switched on the radio and suddenly heard a beautiful female voice singing. She was singing a soft, sentimental love song. Björn did not like this type of songs but there was something with the singer's voice that made him to go to the record store and buy the single "Jag var så kär" performed by Agnetha Fältskog, a young girl from Jönköping. Björn fell in love with the voice without knowing that Agnetha was one of his biggest fans!
Saknar du något, min kära - the single
The third single released by Björn in the spring of 1969 featured his cover on "Where Do You Go To(My Lovely) entitled in Swedish "Saknar du något, min kära" (Do you miss something, my love). On the B-side there was a song written by Björn and Stikkan "Gömt är inte glömt" (Hidden is not forgotten). The single reached #4 on Svensktoppen in Summer 69.
The TV show - summer
In the summer 1969 Björn participated in filming of a big TV show devoted to the Swedish composer Jules Silvain. The show was filmed in western Sweden and in Denmark. The other artists who appeared in the show was Agnetha Fältskog, Sten Nilsson (from the group Sten & Stanley) and many others. The show was aired by Swedish Television on August 19th, 1969. Björn and Agnetha fell in love during making the show and quite quickly they were engaged and moved together in a little flat in Stockholm.
The last solo single
The last solo single released by Björn was "Partaj-aj-aj! b/w Kvinnan i mitt liv". The song on side A was written by Björn together with Benny and Stikkan and the song on the side B had Stikkan's lyrics.
På tre man hand - the LP
In 1969 the group released LP "På tre man hand" (Threesome) but the album cover featured the name "Hootenanny Singers with Björn Ulvaeus" which confirmed more and more Björn's star status in the group. The album contained even two solo songs performed by Björn: "Partaj-aj-aj" (co-written by Benny Andersson) and "Kvinnan i mitt liv". Both songs had been already released on Björn's solo single in Sweden. The title of the album "Threesome" was connected to the fact that the group became a trio after Johan Karlberg had left the group.
Björn, Benny & Agnetha 1969
The best of Hootenanny Singers
The compilation album "De bästa med Hootenanny Singers & Björn Ulvaeus Vol. 2" released in 1969 featured the 12 hits performed both by the band and Björn Ulvaeus solo (Raring, Fröken Fredriksson). Both songs performed by Björn had been released on his solo singles in 1968 and 1969. In many ways this album confirmed Stikkan Anderson's plans for Björn Ulvaeus as a solo star and slow beginning of the end of Hootenanny Singers. Strangely the first song on the album was entitled "Beginning of the end" (Början till slutet).
Greatest hits
One of the 1970 releases of Hootenanny singers was a compilation album featuring the group's big hits recorded between 1963 and 1965. The album on Polar licence was released by the record company "excellent" owned by the most exclusive warehouse in Sweden "NK". The most interesting with this release was the album cover with the photo of Hootenanny Singers taken in the "little house" in Djurgården in Stockholm exactly at the same place where ABBA would take pictures for their first single "People Need Love" some years later.
Björn and Agnetha started working together making their first record together "Så här börjar kärlek" (Love starts in this way). The love was big and Björn & Agnetha got married in a little church in Verum in southern Sweden on July 6th, 1971.
(go.to/Agnetha or go.to/ABBA related places)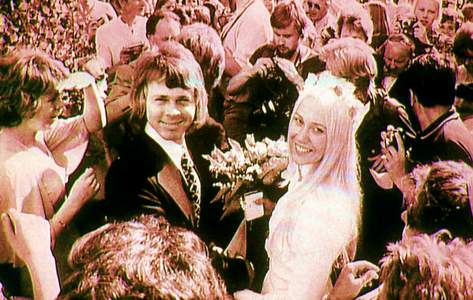 Våra vackraste visor - the LP
At the end of July Hootenanny Singers recorded a new album which was called simply "Our most beautiful folk songs" (Våra vackraste visor). The album was produced by Benny Andersson and the arrangements were made by Björn, Benny and Bengt Palmers. The album was released in Sweden in autumn 1971.
Våra vackraste visor vol. 2 - the LP
The follow-up album to the Hootenanny Singers' 1971 release was the LP "Våra vackraste visor vol. 2" (Our most beautiful folk songs vol. 2) created and produced by Benny, Björn and Stikkan Anderson. For the first time the name of Michael B. Tretow appeared on this release.
On TV
Hootenanny Singers performed in two TV shows entitled "Får vi lämna några blommor" (May we leave som flowers). The two 25-munutes shows were broadcasted by Swedish TV on February 9th and April 13th, 1973. Even another Polar Music artist: Lena Andersson appeared in the show.
Dan Andersson på vårt sätt - the LP
Even if Björn and Benny were more and more engaged in ABBA they continued working with Hootenanny Singers. The next album produced by Björn and Benny in the cooperation with Stikkan Anderson was recorded in May and June 1973 and featured compositions of Dan Andersson.
Evert Taube på vårt sätt - the LP
The last album of Hootenanny Singers with Björn was released in 1974. The LP contained 11 tracks written by Evert Taube and produced and arranged by Björn, Benny and Sven-Olof Walldoff.
At the beginning of the ABBA period Björn composed music together with Benny and they both wrote lyrics. At the end of seventies though it was more and more Benny who composed and Björn devoted his time to the writing of the lyrics. Björn was always "the clever guy" in the group who never was shy in front of the TV cameras and the press. He spoke more or less fluently languages as English, German and Spanish. His English became better and better during the 1970s and 80s and his lyrics were much more mature than at the beginning of the group's career.
The family
Björn and his parents Aina and Erik.
Björn and Agnetha
Björn's and Agnetha's marriage lasted for almost 8 years until January 1979 when the couple announced officially that they go separate ways. They have two children: Linda, born 1973 and Christian, born in 1977.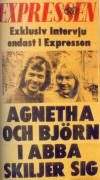 Björn and Lena
It did not take a long time to find a new woman - Lena Ingegärd Källersjö born on July 14, 1949. They met each other in 1979 and got married on January 5th, 1981. They have two children: Emma Eleonora (born on January 3rd, 1982) and Anna Linnea (born on April 29th, 1986).
| | | | | |
| --- | --- | --- | --- | --- |
| | | | | |
Björn's daughter
On 3 January 1982 Björn became father for the third time. Lena gave birth to their daughter Emma. Björn and Linda paid visit at the Danderyd hospital the same day.
After ABBA
Björn in the Swedish press
At the beginning of 1983 Björn was featured in the Swedish weekly "Veckojournalen". He gave an extensive interview where he answered a lot of questions. He was talking roughly about the forthcoming musical. He said that it would be possible to engage both Agnetha and Frida for the main roles in "Chess".
ABBA did not split up officially but it was not so difficult to understand that after the divorce of Frida and Benny in 1981 the story of ABBA was over. Björn and Benny continued their musical collaboration (go.to/Björn & Benny). After the ABBA revival wave which started in 1992 Björn became a kind of press man talking about ABBA time for TV and and press both in Sweden and all over the world.
Together with Benny Andersson and Tim Rice he wrote the musical Chess in 1984. The musical was played in London for two years (1986-88) and then was moved to Broadway in 1988 where it became a big flop though.
After the big success of the musical "Kristina från Duvemåla" Benny made lots of different musical projects which were released on different albums. During the same time Björn decided to give a re-birth to old ABBA hits creating a musical based on several songs with a funny story line. The musical was called "Mamma Mia" and had its premiere in London on April 6, 1999. (more in Björn & Benny Section)
Hootenany Singers on CD
The compilation featuring 17 hits of Hootenanny Singers was released by the record company Sonet in Sweden in the series "Spotlight" in 1990.
Hootenanny Singers on CD
In 1991 Polar in Sweden released two Hootenanny Singers albums from 1972 on CD
Våra vackraste visor
Våra vackraste visor 2
Hootenanny Singers on CD
The Hootenanny Singers album "Bellman på vårt sätt" from 1968 saw its CD release in Sweden in 1992.
Attending Mamma Mias...

It became more and more usual to see Björn attending all premieres of Mamma Mia all over the world. At the beginning it was still Björn and Benny as a team behind the ABBA success who were seen together in connection to any new premiere of the musical but Benny seemed not to enjoy this kind of publicity so much any more and let Björn be the spokesman. Surprisingly Björn started to be joined on the Mamma Mia stages by Anni-Frid. As he told to Irish press in the summer of 2004 Frida loves premieres of Mamma Mia and she wants to be there.
On November 3, 2002 Mamma Mia had its premiere in Hamburg (Germany). Both Björn and Benny were there but it was mostly Björn who appeared on German TV.
Björn on German TV
Björn was a special guest in the TV Show "Wetten dass..." hosted by Thomas Gottschalk on 9 November 2002. A medley from the musical "Mamma Mia" was performed by the artists from Hamburg. Björn was talking English and German mixing the two languages with each other. It sounded very funny.
Björn on German TV "Beckman" November 11, 2002
In this show Björn was talking a lot about the ABBA time and Agnetha. He said among others that there would not be any ABBA reunion, not even for charity. His relation with Agnetha was very good and they met each other 5-6 times a year on traditional birthday parties. ABBA actually performed together in 1999 on 50th birthday of Görel Hanser an old friend who has been working with ABBA members since 1970s. As Björn said they rehearsed before they went on stage and it was definitely a strange feeling to perform together again.
Mamma Mia in Seul
The premiere of Mamma Mia in the capital of Korea was attended by Björn on 25 January 2004.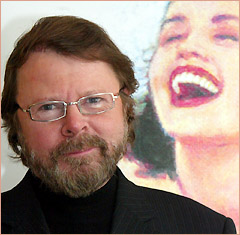 Mamma Mia in Stuttgart, July 18th, 2004
Björn on RTL TV
The German TV station RTL made an interview with Björn shortly before the premiere of Mamma Mia in Stuttgart. The reporter asked questions about ABBA. Ulvaeus said: "ABBA belongs to my past"/.../"It's strange but I don't think about ABBA at all. Of course when I am passing by a record store I see ABBA CDs and so but nothing more."
At home 2004
In the autumn of 2004 Björn was interviewed for the Swedish book "Det var dans i Folkets Park (It was dance in the Folk's park).
The original Hootenanny Singers comeback
Rumours about Hootenanny Singers' come back started to circulate already in the summer 2004. Björn and Hansi Schwartz denied this all the time before they made a come back on the Västervik Ballad Festival in the middle of July 2005. They performed twice their old hit "Marianne". It was the first live stage performance for Björn since the "Dick Cavett meets ABBA" TV special in April 1981.
Björn in Hamburg, April 19th
Björn was in Hamburg where he handed over the "Stagepool" stipendiums. Private pictures from Sascha - thanks a lot.
Interview with Björn Ulvaeus
"Metro" (Stockholm) 16.10.2006
Björn dreams about China
"Mamma Mia" continues to be extremely successful in the world. This week the musical celebrates its 5-year-anniversary on Broadway and on last Saturday it had its Russian premiere in Moscow. A Norwegian version of the musical is being prepared and there are plans for a Spanish tour version for South America.
But Björn Ulvaeus dreams about China in the first hand.
- It's like with Moscow. The industries are still not so developed like in the West so it is very fascinating. If it will be Shanghai or Beijing it's not known yet.
A couple of weeks ago "Mamma Mia" became a big winner in the Dutch music gala. "De winner heft de macht" (The Winner Takes It All) was awarded as the Best Song. It is good to translate ABBA songs.
-Yes, but there is an idea behind. It is impossible to have a long show in English in for instance Germany. You have to hear it in your own language. You have to follow the story in this case and the songs are only a part of it. People say that they can English but it will never be like in your own language.
English newspapers stated that you and Benny will be judges in the TV show "X-factor".
- No, no, no, never! I will go over to make a short film with those young people who will sing ABBA and Mamma Mia songs. That's the only thing. I would never want to sit there and say who is good or bad.
It won't be a Frida musical either?
- No, it is a real stupid thing. Never ever I would do it. It is completely wrong and it is bad when you don't know where such rumours come from.
In connection with the discussion about the pictures of Muhammed you wrote an article in "Expressen" about religion and censorship. How does it come?
- I started to feel that I wanted give my opinion in this case. I thought: "Shit, I have to write something" even if I tried to avoid it before. It is in the same way as you talk the politics you have to talk religion. It is one of the biggest problems of our time and we have to discuss it openly. Analize, take away all holy cards and tabus and talk about it how it is.
It's a pity that you do not want Benny to write music for you article. You would become real proggs that you weren't in the 1970s.
- Haha. Oh, no! I don't think we'd ever be any old proggs. The proggs were straighter and my thoughts about the religion are more complicated.
Sunday interview with Björn in SvD
Swedish newspaper "Svenska Dagbladet" published a big interview with Björn Ulvaeus in its Sunday issue (18.02.2007). Björn is talking about intolerance, religion, ABBA and of course Mamma Mia - the movie. He even answers questions about his wife and her illness. Björn reveals that the musical Mamma Mia will be rewritten for the film use and some new songs appear like for instance When All Is Said and Done.
Björn on Swedish TV
Björn attended the show "Stina" on Swedish TV on Saturday 12 May 2007. The host of the show Stina Dabrowski was one of the journalists who made the very last TV interview with ABBA as a group in "Nöjesmaskinen" at the end of 1982. Excerpts from that TV special including ABBA singing live "Thank You For The Music" were shown even on this Saturday evening. Björn was talking about ABBA and Mamma Mia the movie as the recording sessions for the film are completed. When Stina asked about ABBA's split up Björn answered that ABBA did not split up but made a break... The reaction from the audience was immediate and Stina said: So we have something to look forward to - a new ABBA album? Björn tried to say that he did not mean like that but the audience applauded and the only words that could be heard were: I did not say that we are going to release a new album.
As asked about his favorite song in the evening's Eurovision Song Contest Björn stated that Sweden had a big chance. Björn said that he was still a fan of Eurovision Song Contest and he followed the contest every year. Totally he talked 23 minutes of 57.
"ABBA - never!" - Björn Ulvaeus in "Expressen"
Swedish newspaper "Expressen" has published a brand new interview with Björn Ulvaeus surprisingly entitled "ABBA - never!". But the interview is not only about ABBA. Here is the summary of the most interesting things that Björn said to the newspaper.
About nearest future: there will be several trips to London this summer as Mamma Mia is being filmed partly there.
New musical? We've been talking about it a little - Lars Rudolfsson, Benny and myself. Maybe we'll do something more - it feels like it would be fun to do it again.
Is your relation to Benny the same today as it was during the ABBA period? We are still good friends but we do not meet each other in privat so much anymore. We even work in a different way today - Benny makes music and myself lyrics.
Do you meet the other former ABBA members? I meet Frida quite a lot - we are really great friends. I meet Agnetha only when I meet Linda and the grandchildren. Maybe Christmas or birthdays. We've got a good relation to each other.
Would you be able to write hits for ABBA nowadays? I don't think so - it's a young man's talent that you need to write pop hits for the charts.
In 2009 ABBA Museum will open in Stockholm. How are you involved in this project? Not at all. All four of us wanted to have distance to this. We have said: "OK, if you think that it is a good idea so we can help you that you will be given things from us." It would be totally wrong to create your own museum...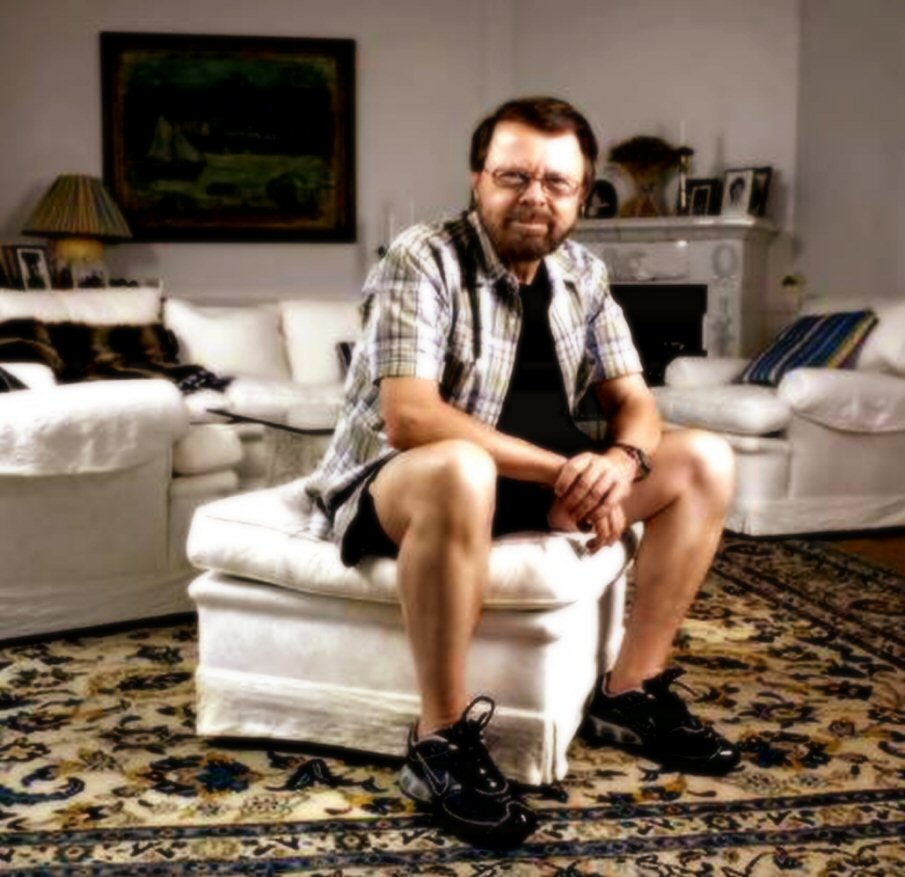 Björn in "Rakt på sak"
Björn Ulvaeus appeared on Swedish TV in March 2008 in the TV special "Rakt på sak" (Straight talk). He was talking about religion and politics, ABBA, Mamma Mia and future plans for himself and Benny Andersson. The usual question about a possible ABBA comeback was of course asked and Ulvaeus said that ABBA is probably the only group from the 1970s that does not make comeback these days. The latest act that is back is the rock group Led Zeppelin. The follow-up question was if there is anything in the world that could make it possible for ABBA to get together again. After a couple of seconds' hesitation said Björn that there was not.
New musical? Yes, both Björn and Benny plan to write a new one but they haven't had time to start searching for a good story as they were working with Mamma Mia The Movie.
The Kristina från Duvemåla case is closed in the court and the musical can be played again in the future but it is impossible to say whether it will be played on Broadway.
Finally the Swedish outtake to the Eurovision Song Contest which was held last Saturday in Stockholm - what is Björn's opinion about the Swedish contribution this year (Charlotte Perelli "Hero") - he likes the song - "it's catchy".
Björn interview on SVT
Björn was interviewed on Swedish TV in the special entitled "Sixties" on Saturday April 12, 2008. He remembered his first days as a pop star in the group Hootenanny Singers. He was even talking about the biggest pop artists in the 1960s as The Beatles and The Bee Gees. He said that The Bee Gees was probably the biggest pop act that created most great songs which became evergreens. Videos "Baby those are the rules" by Hootenanny Singers and "People Need Love" by ABBA were shown in the programme.
My City_My Life - CNN
In August 2009 Björn recorded a 15-minute-special in the series "My City My Life" for CNN. Björn presented his hometown Stockholm. Even some ABBA related places were shown in the programme. The show was broadcasted by CNN in September 2009.
ABBA world
Frida and Björn attended the premiere of the ABBA world exhibition in London on 26 January 2010.
New summer house
In 2010 Björn bought a new summer house in the Stockholm archipelago for 26 million Swedish Crowns. The house is situated on the island Hölö outside Stockholm and the main house has 143 sq m with six rooms and kitchen. Since the 1970s he owns even a house on the island Viggsjö.
Mamma Mia fever in Denmark
The Danish translation of the ABBA songs has been made by Anne Linnet who is proudly posing for the photos with Björn Ulvaeus. The team of Danish actors and singers are playing the main roles: Donna by Nicoline Siff Möller, Sofie by Kristine Yde Eriksen, Tanja by Nastja Arcel och Bibi by Pernille Schröder, Bill by Peter Oliver Hansen, Henrik by Lars Oluf Hansen and Stig by Morten Lützhöft. The manuscript was written by Ann Mariager and she said that there are several changes to the original version of the musical.
Björn and Agnetha attended the premiere of Mamma Mia in Copenhagen on October 15, 2010.
go.to/Mamma Mia all over the world
Björn at QX gay gala
Björn participated in the annual QX gay gala in Stockholm on February 14th, 2011 where he handed over the Prize to the "Homo of the Year". Björn wore an outfit from the musical "Mamma Mia".
(QX=Swedish leading gay magazine)
Björn gets into hotel business
Benny owns already a hotel in Stockholm and now it's time for Björn who wants invest his money in a luxury hotel-spa in Bara outside Malmö in southern Sweden. Björn attended a press meeting in Bara on September 20th, 2011.
Björn in Aftonbladet 1.01.2012
"Aftonbladet" asked several Swedish celebrities 5 questions in connection to the old and the new year. One of them was Björn Ulvaeus. Here are the questions and the answers.
AF: What did make the biggest impression on you in 2011? BU: The economical crisis in Europa
AF: What did you listen to in 2011. BU: Most Beethoven's symphonies.
AF: What did you watch? BU: I watched films whilst I was running on my treadmill. I stream from Netflix - everything from action to old classics.
AF: What did you read? BU: Stephen Hawking's "The grand design" to mention one.
AF: What are you looking forward to in 2012? BU: Winter holidays with whole family (15 persons) in Thailand.

Radio Kalmar
Swedish Radio SR4 Kalmar interviewed Björn on Friday, July 13th about growing up in Västervik.

On "Skavlan"
Swedish TV broadcasted a very popular in Scandinavia talk show "Skavlan" on Friday, September 7th, 2012. Among the guests there was Björn Ulvaeus who was talking about the ABBA time and his life nowadays.
Interview in German press

Björn gave en short interview for a German newspaper "Heilbronner Stimme".
Heilbronn / Stockholm - Bjorn Ulvaeus of Abba has good advice for all artists. "Success does not have to be mean, you have to be in public eye all the time," the 67-year-old singer said in an interview with the "Heilbronner Stimme" (Wednesday edition September 19th, 2012).
He admits, however, thet it helped that the four band members lived in Sweden. "Here's the privacy valued. That was good for us. I often thought: If we were an English band who had been resident in London, or even if we had been a German band, it would be a lot of things in a different way, says Ulvaeus, who lives in Stockholm.
"The people were used to us. All of us had careers before ABBA, we were very well known in Sweden. That we were famous overnight throughout the world, for the people in Stockholm did not change anything. But it was good, so we could concentrate on things which were important for us as writing new music" said the musician to "Heilbronner Stimme".
Astonishing, he kept close contact with the former band members and friendly divorce from Agnetha which made possible to go on with working on stage. We could be friends even if we decided at the same time that it's best if we follow different paths. This is very unusual, but it was like this, said the musician.
This year he will even spent Christmas with her. "Our grandchildren decided that we should spend the holidays together," Bjorn Ulvaeus said. However, he wants to come to the premiere of "Mamma Mia" in Stuttgart. The musical will have its premiere in the state capital of Baden-Württemberg on February 14th, 2013.
Friends Arena
Björn and Lena attended the official inauguration of the Friends Arena in Stockholm on October 27th, 2012.

The Swedish Music Publishers Association
Björn was one of the guests on the The Swedish Music Publishers Association Prize gala at Berns in Stockholm on November 9th, 2012
ABBA The Museum
Björn was the member in ABBA who devoted most of his time to creation of ABBA The Museum which opened in Stockholm on May 7th, 2013.
Kupé
An extended feature and interview with Björn was published in the magazine "Kupé" in May. Many nice pictures were attached to the article.
Visfestivalen Västervik
Björn performed several Hootenanny Singers songs on the Visfestivalen in Västervik, Sweden on Saturdeay July 13th, 2013

In 2014 Björn appeared in press and TV discussing among others the cashless society. He was even seen on serveral premieres as the musical "Xerxes" in September 2014 and "Kristina från Duvemåla" in Gothenburg in October 201.
UNICEF
Björn was in New York where he promoted a new version of "Chiquitita" performed by Swedish singer Laleh. She performed the song in the UN General Assembly in New York - the same place where ABBA performed the song 35 years ago. The appearance took place on November 21st, 2014. Björn was also there to talk about the commitment to the rights of girls.
Premieres in Stockholm
Björn and Lena appeared on premieres in Stockholm in February 2015 - on the premiere of the film "Cirkeln" on February 18th, 2015 and at the theatre "Intiman".
Täby-Danderyd magazine
The local magazine in the part of Stockholm where Björn lives published a big interview with several new pictures taken in his house. Björn is talking about ABBA of course as well as about his new projects and plans.
70
On April 25, 2015 Björn celebrated his 70th birthday. He did in Italy.

On TV
Björn was special guest in the TV4 show "Hellenius hörna" on Swedish TV on November 29th, 2015. He talked about old memories, ABBA-time and plans for future as a new musical and the ABBA restaurant in Stockholm.
Björn in Aftonbladet - 2016-01-02
The new project "Mamma Mia - The Party" opened at the restaurant Tyrol in Stockholm on January 20th, 2016. Björn gave an extended interview for the Swedish newspaper "Aftonbladet" on Saturday January 2nd, 2016. He was talking about the new project, about the ABBA time and writing of new song lyrics for the forthcoming new album of BAO.
In "Skavlan"
Björn was a special guest in the popular Norwegian-Swedish talk show "Skavlan" which was broadcasted by Swedish TV on Friday, January 8th. The main reason for Björn's appearance was the forthcoming opening of the "ABBA - The Party" at the "Tyrol" in Stockholm. He was even talking about ideas for new musical co-written with Benny Andersson.
On the radio
Björn was interviewed by Lotta Bromé on Swedish radio P4 on Wednesday January 4th. He mentioned plans for a new musical to be written together with Benny.
Linköping
In July 2017 Björn posed in Linköping on the memory B&B bench where Björn & Benny met each other for the first time in 1966.
Björn's life in stories
A new book was written by Björn and issued in 2018. Björn is telling stories about his life as an artist. It includes lots of memories from the ABBA time but even before and after. The book can be purchased in Björn's hotell-restaurant complex in Västervik or on-like via ABBA The Museum.
Björn in "Skavlan"
On December 6th, Björn appeared in the TV show "Skavlan" on Swedish TV channel 1. He was talking about the forthcoming project "Pippi" at Cirkus in Stockholm - new B & B musical for whole family. He was even talking about his friendship with Benny, his youth and his good health being 74 years old.
2020
Björn 75
Björn celebrated his 75th birthday on April 25th, 2020.
In "Dagens Nyheter"
In July Swedish newspaper "Dagens Nyheter" published an extended interview with Björn in which he was talking about his life in the Corona-time, ABBA - time, Agnetha Fältskog and his problems with alcohol. Brand new private pictures were published.
In "Bon voyage"
In February 2022 there was published an interview with Björn in the Swedish newspaper supplement "Bon voyage" distributed by "Dagens industri".
Tomas Ledin 70
Björn appeared during Tomas Ledin gala concert on his 70th anniversary at Globen (Avici arena) in Stockholm on February 25th. Björn celebrated Tomas by performing a song "Hey grand ol' man"(!).
The divorce in Hänt
Björn and Lena on the cover of the gossip magazine "Hänt i veckan" at the beginning of March 2022.
QX gala
On April 25th, Björn represented ABBA on the QX gay gala in Stockholm. The group received the QX prize for the best song of 2021 - Don't Shut Me Down.
Pippi på Cirkus
Björn attended the premiere of a new show "Pippi på Cirkus" on July 13, 2022. He arrived with his new girl friend Christina Sas. The show features several songs written by Benny & Björn. The show is played until August 14th, 2022.
Björn Ulvaeus - The Facts
Björn Kristian Ulvaeus born 25.04.1945
Lives in Djursholm, a suburb to Stockholm
Married:
with Åse Agneta Fältskog from 6.07.1971 to 9.07.1980
Lena Ingegärd Ulvaeus from 5.01.1981 to 2022
Children:
with Agneta Fältskog
Linda Elin Ulvaeus born 23.02.1973
Peter Christian Ulvaeus born 4.12.1977
with Lena Ulvaeus
Emma Eleonora Ulvaeus born 3.01.1982
Anna Linnea Ulvaeus born 29.04.1986
Parents:
Father Erik Gunnar Ulvaeus born 22.04.1912
Mother Aina Eliza Viktoria Ulvaeus born 14.12.1909
Emigrated to Great Britain 15.11.1984, back in Sweden 11.12.1990

Björn's passport.