Agnetha - The Facts
Åse Agneta Fältskog was born on 5 April 1950 in Jönköping, Kristina congregation.
Father: Knut Ingvar Fältskog (born 22 August 1922 in Jönköping, Sofia congregation) , mother: Birgit Margareta (born: 26 May 1923 in Jönköping, Sofia congregation, her name as unmarried: Johansson).
Married with Björn Ulvaeus between 6 July 1971 and 9 July 1980.
Married with Tomas Sonnenfeld between 8 December 1990 and 8 July 1993
Two children (father Björn Ulvaeus)
Linda Elin born in Vallentuna 23 February 1973
Peter Christian born in Lidingö 4 December 1977
1967 1968 1969 1970 1971 1972 1973 1974 1975 1977 1978 1979 1980 1981
Agnetha Fältskog was the youngest member of ABBA, born in Jönköping on April 5, 1950.
"It was my Dad's fault that I became an artist", says Agnetha. Agnetha's father Ingvar Fältskog about Agnetha as a child. "I did shows in Jönköping and we sang and played. My wife Birgit sings as well but only at home and Agnetha got some taste of music. She played piano when she was 5 years old. Later she and some of her friends appeared in our show. Of course we did not think that someday she would work as a professional singer. But in fact she was very good when we toured in southern Sweden. I understood that she had a musical talents. She started to write her music very early as well. Finally she started to perform with a dance band. I must tell that I was ambivalent when she came one day and said that she wanted to be a professional singer. We wanted to wait..."
But Agnetha did not want to wait anymore. She knew that a dance band "Bernt Enghardts Orkester" in the twin city to Jönköping, Huskvarna was looking for a singer. The band was more and more popular and they played not only on weekends but even on weekdays. Agnetha who worked as a phone operator in Jönköping realized that it was impossible to combine it any more.
| | | | | |
| --- | --- | --- | --- | --- |
| | | | | |
| | | | | |
When she was 17 she wrote her first big hit "Jag var så kär" (I was so in love).
Agnetha remembers:
"As far as I can remember I had a need of writing music and my own songs. For the band I had already done "Jag var så kär" and we noticed that the song was very liked by our audience. As soon as it was decided that our band would send a demo to Little Gerhard it was natural that "Jag var så kär" was one of the songs on this band."
Agnetha continues:
"Some weeks later a guy called me and said that he was Little Gerhard. He asked me if I wanted to record an album. I was almost sure that someone from my band was joking and I said that I did not believe him. I wanted to have an evidence. He said: If I send back the demo and write best greetings to you, do you believe me then?"
The demo came back and Agnetha had her evidence. But it was not so easy as she thought. The record company was namely interested only in Agnetha and not the rest of the band.
"It was a very sensitive situation. It was not easy for me to explain for the boys that the record company did not want them to be on the record."
Father Ingvar followed to Stockholm to the very first recording session. During one day she recorded four songs. Two of them written by herself "Jag var så kär" and "Utan dig" (Without you). Even the latter became a big hit on the Swedish chart.
The first photo session
The first professional photo session with Agnetha took place in May 1967 in Jönköping.

At the end of 1967 the first Agnetha single was released in Sweden. It contained two songs recorded with Sven-Olof Walldoffs' Orchester: "Jag var så kär" and "Följ med mig". The single entered Svensktoppen chart on January 28th, 1968 at #3 and stayed there for 7 weeks. On Topplistan "Jag var så kär" peaked at #1.
She promoted her first single in a record store in Jönköping.
"I took pills to keep my nerves. The legs was shaking and I felt myself very stupid. Sven-Olof Walldoff was the conductor and he helped me a lot. When I heard the orchestra playing my songs I thought that I was dreaming."
| | | | | |
| --- | --- | --- | --- | --- |
| | | | | |
| | | | | |
| | | | | |
| | | | | |
Agnetha with her boyfriend Björn Lilja in 1968

In newspaper on January 29th, 1969

The "silver shoes" session - Stockholm
Another photo session was taken in Stockholm on the island Södermalm in winter 1968.

In the spring of 1968 Cupol released her second single "Slutet gott allting gott"/"Utan dig". In March 1968 the single entered Svensktoppen reaching #8. Agnetha quit her collaboration with Bernt Engharts Orkester in Jönköping and moved to Stockholm.
Meeting fans
En sommar med dig - the single
One more single released by Agnetha in the summer 1968 featured Agnetha's own composition "Försonade" (Reconsiled) and the song "En sommar med dig" (A summer with you) written by Agnetha's father Ingvar Fältskog. The single did not make the Swedish chart.
Berlin
Agnetha's record company wanted to promote her in West Germany and that's why she went to Berlin for a recording session in May 1968. In Germany she met her future boyfriend Dieter Zimmerman who was producer at the record company. She recorded her first single in German "Robinson Crusoe".
In 1968 she released two German language singles in West Germany: "Robinson Crusoe" b/w "Sonny Boy" and "Senor Gonzales" b/w "Mein schönster Tag".
Tour
Back in Sweden Agnetha she toured together with the dance band "Sten and Stanley" and Marianne Kock in the summer.
| | | | | |
| --- | --- | --- | --- | --- |
| | | | | |
| | | | | |
Photo sessions


"Allting har förändrat sig" (Everything has changed)/Den jag väntat på (The one I was waiting for) was released at the end of August 1968 as a single with two A sides. The song "Den jag väntat på" entered the Swedish chart Svensktoppen on September 15th, 1968 at #9 where it stayed for only 1 week. The other song from the single - "Allting har förändrat sig" - became on the contrary a big hit peaking at #2 with 7-weeks-long chart life .
The photo session
| | | | | |
| --- | --- | --- | --- | --- |
| | | | | |
| | | | | |

At the end of 1968 Agnetha recorded two songs together with Jörgen Edman "Sjung denna song"/"Nånting händer med mig". The latter became a Top 10 hit for 1 week on Svensktoppen on December 1st, 1968. Both songs were released by Cupol on single and on Edman's solo album.
Photo session
In the studio
The first LP
The debut album, called simply "Agnetha Fältskog" was released at the end of the year 1968 by Cupol with the number CFLP 64/30. It contained 12 songs including her first hit "Jag var så kär". Four songs had been written by boyfriend Dieter Zimmermann, four by Agnetha herself and one by her promoter Little Gerhard. Some of the songs had been recorded and produced in Germany.
Photo session
Snövit och de sju dvärgarna - the single
The last single in 1968 featured "Snövit och de sju dvärgarna" b/w "Min farbror Jonathan". The single did not enter the chart in Sweden.
Party time in Stockholm
Agnetha became a celebrity at the end of 1968 and she appeared on various parties in Stockholm.

West Germany
In 1969 Agnetha was back in Germany and in March it was announced that she and Dieter Zimmerman had got engaged. But their luck did last long as they separated a couple of months later.
She released 2 new singles during the year 1969: "Concerto D'Amore" b/w "Wie der Wind", "Wer schreibt heut' noch Liebesbriefe" b/w "Das Fest der Pompadour".
Agnetha appeared even on German TV promoting her new singles.
Siw's Platten-Party
Agnetha's song "Señor Gonzales" was released on a German compilation album entitled "Siw's Platten- Party" in 1969. The Swedish pop star Siw Malmkivist was very popular in West Germany and she was the main star on this compilation. Among other artists there were even Hep Stars with the rare song "Die Spieluhr" performed in German language. Even other Swedish artists as Anita Lindblom, Nina Lizell and Anna-Lena appeared on this album.
Fram för svenska sommaren - the single
Back in Sweden Agnetha released a single with two new songs: "Fram för svenska sommaren" and "En gång fanns bara vi två". The single entered Svensktoppen on May 11th, 1969 and and stayed there for 4 weeks peaking at #4.
Björn
The love affair with Dieter Zimmermann was over but a new love waited impatiently - Björn Ulvaeus. A real coincidence made that they met each other as they both performed in the TV special "Jules Sylvain-kavalkad" in summer 1969 produced by Kåge Gimtell. After this show they started to meet each other on more regular basis. Later in 1969 Agnetha and Björn moved together in a flat on the island Lilla Essingen in Stockholm.
Hjärtats kronprins
The second single released in 1969 featured the song "Hjärtats kronprins" b/w "Tag min hand låt oss vara vänner". The single did not enjoy any bigger commercial success and it did not enter the Swedish hit chart.
Children's favorite album
The 1969 Cupol compilation album "Barnens favoritskiva" (Children's favorite album) featured Agnetha's song from her debut album - "Snövit och de 7 dvärgarna".
Räkna de lyckliga stunderna - TV show
In 1969 Swedish TV filmed a-55-minutes show which were entitled "Räkna de lyckliga stunderna..." (Count only the happy moments...). The show featured music of Swedish composer Jules Sylvain performed by different artists, among them Agnetha and Björn Ulvaeus. The show were filmed on several spots in Sweden. Agnetha in her famous flight video "Nu ska vi opp, opp, opp" was recorded at the Kalmar airport, several scens featuring both Agnetha and Björn in Gothenburg and Malmö. The show was broadcasted by Swedish TV on August 16th, 1969.
*Some songs from the show performed by Agnetha appeared on Dutch CD re-release of Agnetha's "Vol. 2" album as bonus tracks. The songs were: "Nu ska vi opp, opp, opp", Medley: "Vårkänslor (ja, de' ä' våren", "Det kommer en vår", "Nu ska vi vara snälla" and "En still flirt".
| | | | | |
| --- | --- | --- | --- | --- |
| | | | | |
| | | | | |
| | | | | |
| | | | | |
| | | | Kalmar airport | |
Vol. 2 - the second album
The second album was entitled "Agnetha Fältskog Vol. 2". It was released in 1969 and contained 12 songs. Five of them had been written by Dieter Zimmerman, one by Little Gerhard and two by Agnetha herself.
Zigenarvän - the single
The last single release in 1969 was "Zigenarvän" (Gipsy friend) at the beginning of November. The single entered Svensktoppen on November 23rd, 1969 where it stayed for 6 weeks reaching #5. The single cover featured the singer in her classical pose which would be seen many times in the future.
Celebration
Agnetha was one of the guests attending the celebration of 15th anniversary of the dance band Thore Callmars.
Germany
In 1970 Agnetha released more singles in Germany. At the beginning of the year: "Fragezeichen mag ich nicht" b/w "Wie der nächste Autobus" (January) and "Ein Mann in einer Flasche" b/w "Ich suchte Liebe bei dir" (July).
Agnetha & Björn
In April 1970 Agnetha and Björn got engaged on the holidays on Cyprus. Their good friends Frida Lyngstad and Benny Andersson witnessed the engagement.
Swedish Radio
Chatting with one of the bosses of Swedish radio at the beginning of the year.

Om tårar vore guld - the single
One more heartbreaker "Om tårar vore guld" became a huge success on the Swedish chart at the beginning of the year. It spent totally 15 weeks on the chart reaching #3 in April 1970.
The photo session
Agnetha and Björn were subject of an extended photo session taken by Clas-Göran Carlsson in 1970.
Church concert
Agnetha performed in the church in the village of Malexander in southern Sweden in June 1970.
Wedding plans
At the end of June Agnetha and Björn revealed their wedding plans for the Swedish magazine "Se". Several photos of the happy couple were published as well as Agnetha & Björn answered questions about their intrests, life and social issues.
Agnetha and Björn were caught by camera on the island Idö in the Stockholm archipelago in the summer 1970.

On tour
In the summer 1970 Agnetha toured in the folkparks in Sweden together with Bert-Åke Varg (actor and singer). The song "Om tårar vore guld" (If tears were of gold) was her new big hit. "It is really wonderful, when I sing this song people start to kiss each other.
| | | | | |
| --- | --- | --- | --- | --- |
| | | | | |
| | | | | |
| | | | | |
| | | | | |
| | | | | |
Photo sessions
In the late summer Agnetha posed for photographer Ola Lager. Some of the photos from the session would be later used on the cover of her album "Som jag är".
The "Allers" photo sessions
The Swedish weekly "Allers" followed Agnetha and Björn in private in summer 1970. The photos were taken on the island Lilla Essingen in Stockholm where the couple lived by that time. Some of the pictures were published in "Allers" in September 1970 but most of them remained unseen... Here they are - enjoy.
Re-editions
The first album was re-released by Cupol at the beginning of 1970 under number CLPL 1002 and the second album entitled "Agnetha Fältskog - Vol. 2" under number CLPL 1003.
Ta det bara med ro - the single
The second Agnetha single in 1970 featured "Ta det bara med ro" (Take it easy). The single did not enter the Swedish chart though.

The third LP called "Som jag är" (As I Am) was released at the end of 1970. Agnetha had written two songs - the single success "Om tårar vore guld" and "Jag skall göra allt". One song - "Hjärtats saga" was arranged by Agnetha and Björn Ulvaeus. Agnetha had even written lyrics to two songs: "Tänk va' skönt" and "Sov gott min lilla vän". The album was produced by Little Gerhard and Björn Ulvaeus. Totally the album featured 12 songs written by various composers. Sven-Olof Walldoffs orchestra and choir accompanied the singer in the studio. The album was released by CBS-Cupol in Sweden.
En sång och en saga
At the beginning of the year Agnetha recorded and released a cover of Mireille Mathieu's hit "La première étoile" which received its Swedish title "En sång och en saga". The single was successful on Svensktopen where it reached #4 in March 71.
Hvis tårer var guld in Denmark
Danish singer Susanne Lana recorded Agnetha's hit "Om tårar var guld" in 1971. The Danish language version had the same title as the Swedish version. The single became a huge hit in Denmark and it remains Lana's biggest hit in whole her career.
Kungens vaktparad
At the beginning of summer a new single was released - "Kungens vaktparad". This catchy song did not turn up on Svensktoppen though.
Björn & Agnetha in April 1971
These exclusive pictures were taken for the Swedish paper "Allas" (issue in May 1971)
ABB on tour
Agnetha, Björn and Benny started their tour in the Folkparks on April 30th, 1971.

The wedding
On July 6, 1971 the weeding bells rang up in the church in Verum in Scania in southern part of Sweden. They were consecrated by Uno Wårdener. A good friend to Björn, Benny Andersson played "Wedding" in the church, a song composed by Benny. Hundreds of curious fans waited outside the church. They wanted to see the hottest pair in the show business.
| | | | | |
| --- | --- | --- | --- | --- |
| | | | | |
| | | | | |
| | | | | |
| | | | | |
Många gånger än - the single
The single "Många gånger än" saw its release in September. It entered the Swedish chart "Svensktoppen" on October 3rd, where it stayed for 7 weeks peaking at #5.
Dröm är dröm och saga saga - the single
The last single in 1971 was "Dröm är dröm och saga saga" (A Dream is a dream and a story is a story). The single reached successfully Top 3 on the Swedish chart Svensktoppen in December 1971. The most interesting fact is maybe that all future ABBA members were singing here. This recording can be maybe concerned as a very early ABBA song?
När en vacker tanke blir en sång - the fourth album
A new album "När en vacker tanke blir en sång" (When a beautiful thought becomes a song) was released at the end of 1971. The album was recorded in May 1971. Most of the songs were written by Agnetha some of them together with Björn Ulvaeus and some of them with Bosse Carlgren. Björn produced the whole album this time.
The "vacker tanke" photo sessions
On TV
Pictures from a TV show
More pictures from the period 1970-71
Jesus Christ Superstar
The musical Jesus Christ Superstar came to Sweden in 1972. As many other young singers Agnetha wanted to sing the part of Maria Magdalena and she got in Gothenburg. During this project she learned a lot about being on stage. This experience would be very important for her in the future... The premiere of the musical took place at the Scandinavium hall in Gothenburg on February 1972.
Vart ska min kärlek föra - the single
Two songs from the musical were recorded and released as Agnetha's new single in March 1972 - "Vart ska min kärlek föra" and "Nu ska de bli stilla". The single entered the Swedish chart at the end of the March where it stayed for 5 weeks reaching #1.
Jesus Christ Superstar - the album
A double LP with the soundtrack from the musical was released in Sweden. Agnetha as Maria Magdalena performed 5 songs on the album either as a solo artist or together with other artists.
Germany
At the beginning of 1972 Agnetha released a new single in Germany. The single featured "Geh' mit Gott" b/w "Tausend Wunder" (written by Agnetha herself).
In the summer 1972 Agnetha toured in Sweden with her own show. Together with Anni-Frid Lyngstad, Björn Ulvaeus and Benny Andersson Agnetha recorded "People Need Love" which became a big hit in Sweden. One more successful single "He Is Your Brother" recorded by the foursome was released in autumn 72. Due to those "extra" productions Agnetha did not manage to release a solo album.
May 6th, 1972
SKAP party
Agnetha and Björn enjoyed the annual SKAP party in Stockholm (SKAP=The Swedish Society of Popular music Composers, Lyricists and Arrangers)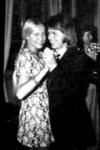 On TV
Agnetha was one of artists who appeared in the summer show "Sommardans från Möllagården" on Swedish TV.
Komm doch zu mir - the last German single
In the autumn 1972 Agnetha released her last Geraman language single "Komm zu mir" b/w "Ich denk' an dich".
Agnetha 1972
Tio min kvar till Korpilombolo - the single
The last 1972 single featured "Så glad som dina ögon" with "Tio mil kvar till Korpilombolo" on the B-side. In December 72 it reached #5 on Svensktoppen.
At home
A variety of private pictures from 1972. The dog was French bulldog called Ada.
The yellow Vallentuna photo session
The yellow photo session taken in the forest behind Agnetha's and Björn's house in Vallentuna outside Stockholm. One of the pictures was used on the cover of the Swedish weekly "Året Runt" in July 1972 where Agnetha is telling about her pregnancy.
More sessions with Ada
Kungens lilla piga
A compilation album "Kungens lilla Piga" released in 1972 featured one Agnetha recording "Snövit och de 7 dvärgarna" originally released on her debut LP in 1968.
Autumn photo session
Agnetha posed for a new photo session someday in the early autumn 1972. She had already revealed that she was pregnant and it could be seen on these pictures.
The girl with the golden wig
Photo sessions published in the Swedish press at the beginning of November 1972.
Linda
One year before "Waterloo", in 1973 Agnetha was pregnant for the first time. The group which was still called Björn, Benny, Agnetha & Frida performed on the Swedish outtake to the Eurovision Song Contest. They did not win this time but they became famous in Sweden and other Scandinavian countries with their hit "Ring Ring". Some days later on February 23, 1973 Agnetha gave birth to a baby girl. Some days later Agnetha's and Björn's daughter Linda Elin was presented for the press on the press conference at the Danderyd hospital in Stockholm.
Linda played indirectly an important role in ABBA's life. Agnetha did not want to be away from her daughter during long periods. After winning with "Waterloo" Agnetha said in one of the interviews:
"I enjoy writing music. I prefer writing that performing. I am much more pleased of creating something. Performing is not so much important for me but of course I have to do it for the group. Everything has its time. I do not think that I will perform and travel all over the world during all my life. It's impossible if you want to have a family life as well."
Some years later Agnetha said: "Linda has started singing a little. I have explained for her how it is with us. She cannot understand that not all parents are on TV and in the newspapers. But we try to protect her against the press."
About her work with Björn: "It's very funny but I cannot work together with Björn composing. It's completely impossible."
At home
One more photo session with new-born Linda.
Nalle's photo session
In spring 1973 the Swedish photographer Nalle Elfqvist went to Vallentuna outside Stockholm and took an exclusive photo session with Agnetha and Björn outside their house (see: ABBA related places/Vallentuna)

The first Agnetha compilation of her greatest hits was released in 1973 and it featured all her Svensktoppen hits since she started her career in 1968. Totally the LP contained 11 songs. The album entitled "Agnetha Fältskogs Bästa" (The best of AF) was released by CBS Cupol.
Photo session
An extended photo session by Roger Tillberg.

Agnetha was really hard working in 1973. Hon gave birth to Linda at the beginning of the year as well as she became member of ABBA and participated in Melodifestivalen. She didn't give up her solo career yet. In October she released a new single featuring "En sång om sorg och glädje" and "Vi har hunnit fram till refrängen". The single entered the Swedish chart Svensktoppen on November 18th, 1973 where it stayed for 14 weeks peaking at #1 (for 6 weeks)
Semper ads
At the end of the year Agnetha, Björn and their daughter Linda were part of the advertisement campaign promoting food from the company Semper in Sweden. The pictures of the family Ulvaeus for the ad had been taken in the summer 1973.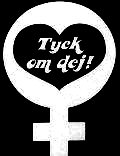 One of the photo sessions taken with Agnetha and her daughter Linda in the spring 1974.

In the spring of 1974 Agnetha released her English language single "Golliwog" in Sweden and in Germany
The piano session
One more rare photo session taken at home in 1974.
Dom har glömt - the single
Even if Agnetha was more and more busy with ABBA, she still recorded her own material and in the autumn 1974 a new single - "Dom har glömt" saw its release in Sweden.
Agnetha & Björn 1975
New solo recordings
On August 2, 1975 Agnetha appeared on stage in Skansen in Stockholm in te Swedish Sommarnöjet TV show where she performed live two new songs "Dom har glömt" and "Tack för en underbar vanlig dag" from the forthcoming solo album.
Even if ABBA already were a number one act in Sweden at this time, and although the album was a considerable critical and commercial success, it failed to reach the Top 10 on the Swedish album charts, peaking at no 11, even with the inclusion of her Swedish version of "SOS". Elva Kvinnor I Ett Hus however spent a respectable 53 weeks on the charts, and three of the eleven tracks entered the important radio chart Svensktoppen, with "S.O.S." becoming another number one for Agnetha. The Swedish language "SOS" single also reached #4 on the singles chart in January 1976.
| | | | | |
| --- | --- | --- | --- | --- |
| | | | | |
| | | | | |
| | | | | |

The album was recorded in the same period as her bandmate Anni-Frid Lyngstad made her Swedish number one album Frida ensam - and both were recorded between sessions and a very busy promotion schedule for the ABBA albums Waterloo and ABBA. "Elva kvinnor i ett hus" was originally slated for release in 1973 but following Agnetha's pregnancy that year and later the unexpected success with ABBA it was postponed and not released until late 1975. By then, four years had passed since the release of her last Swedish solo-album, "När en vacker tanke blir en sång. Fältskog composed all but one of the songs herself with lyrics by Swedish writer, journalist and lyricist Bosse Carlgren. The only exception was the Swedish version of the ABBA song".
"S.O.S." which was written by Benny Andersson, Stig Anderson and Björn Ulvaeus. Agnetha's record company Cupol insisted on including a Swedish version of an ABBA song to increase album sales. After two recordings in 1973, "Elva kvinnor i ett hus" marks the first time that Agnetha produced an entire album herself.

The original album design was very different from what was eventually released. Agnetha and Boss originally planned to call the album "Tolv kvinnor i ett hus" (Twelve Women In A House) with each song on the album describing twelve different characters, all women, all leading very different lives, but all living in the same house. The package would have included a gatefold sleeve with artwork by Bosse picturing the twelve fictitious women as well as several photos of Fältskog herself, but due to the success of ABBA Agnetha had less time to write and record her own songs. At one point it seemed uncertain that the album would ever be finished which lead to the record company cutting the production budget which in turn meant that it was impossible to release it with the lavish gatefold sleeve and accompanying artwork. In the end there were only ten songs written by Fältskog, coupled with the opening track "S.O.S.", a song that neither fit nor was included in the original concept.
Agnetha's solo album "Elva kvinnor i ett hus" (Eleven women in a house) was released in Sweden on December 1st, 1975. The album featured 10 new songs written by Agnetha and Bosse Carlgren and one song written by Benny, Björn and Stikkan (SOS) which appeared here in the Swedish language version. Agnetha did not have the same commercial success with her solo album as Frida who released her "Ensam" at about the same time. "Elva kvinnor i ett hus" was though a wonderful album with Agnetha at her best both as composer and singer. The album contained even the Swedish version of ABBA's "Disillusion" released originally in 1973 on the album "Ring Ring" - the Swedish title of the song was "Mina ögon" (My eyes). The photo of the house on the back cover of the album was taken in Stockholm - see ABBA related places.
The Elva kvinnor photo session
SOS - the single
Agnetha's version of "S.O.S." also quickly became a huge hit on the important Swedish radio chart Svensktoppen. During its 11 week chart-run, it also topped the hitlist, making it Agnetha's third Svensktoppen number 1.
Agnetha was talking about working with ABBA: "We have democracy at work. We discuss everything: stage outfits, the music, which songs we want to have on the album and in which order and so on. Even my hair is being discussed. I wanted to cut my hair short but after we have talked together about it I decided to have long hair because it suits me best.
At the end of 1975 Agnetha had a bothersome jugular vein operation. She quit smoking. Her almonds were removed.
Agnetha, Björn and Linda lived in Lidingö and the address was hard to be kept in secret.
"The ring-bell is ringing every day. It's of course little annoying but on the other hand it's difficult to get angry with the fans coming with presents and illustrations painted by themselves. But we want definitely to be for ourselves when we are on our island in the archipelago. We got angry when a tabloid published pictures of our island with an description how to get there."
On December 4, 1977 Agnetha gave birth to her and Björn's second child Peter Christian.
With Ulf Lundell
At the beginning of 1978 Agnetha was in the recording studio again but this time without the others from ABBA. The only solo project this year was duet with the Swedish rock legend Ulf Lundell. The song entitled "Snön faller och vi med den" (The snow is falling and we too together with it) was released on April 18th, 1978 and it entered the Swedish chart on May 5th, 1978 where it stayed for 10 weeks peaking at #4.
There is an interesting story around this album. The album was deleted after its release because Ulf Lundell did not have the copyrights to the Swedish translation of "Den lille landstrykaren" (The little country strike breaker) (Music: Lundell, Swedish text: Viveka Heyman, Original text: William Blake). The cover is the same, though Ulf Lundell had scribbled over the title "Nådens" and wrote "Dådens". "Den lille landstrykaren" was replaced with "Oh Blake, dear Blace" which had the same melody, but the text was instead about how Heyman did not allow Lundell use her text.
| | | | | |
| --- | --- | --- | --- | --- |
| The first version | | | | |
| The second version | | | | |
Expressen
At the beginning of March Agnetha gave an interview for the Swedish newspaper "Expressen".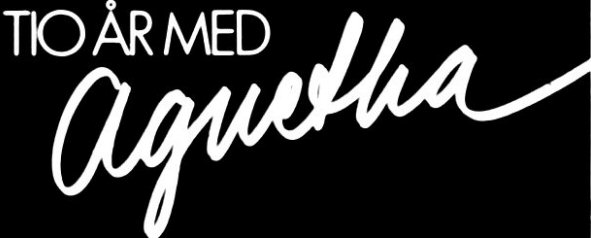 In 1979 after 5 successful years with ABBA Agnetha was back as a solo artist. At the beginning of the year she recorded a brand new song "När du tar mig i din famn" (When you take me in your arms). The song was released on the greatest hits album "Tio år med Agnetha" (Ten years with Agnetha) released by CBS-Cupol in Scandinavia in October 1979. The demo in English "The Queen of Hearts (is back in town)" was released on her compilation album "That's Me" in 1998.
The album saw its release on CD in 1989 and 1998 (both in Sweden and internationally).
LP & MC
Promotion - press
The photo sessions
Veckorevyn - May 79
Agnetha was featured in Veckorevyn at the end of May 79. She gave an extended interview and a photo-session was taken. Many questions were about the divorce from Björn. Agnetha answered all of them without hesitation. She was talking about her move with children to a new house on Lidingö and her farewell to the archipelago island. She said that she did not like being there so much. It was fun for children if the weather was good but she felt herself locked there. She was talking about her fear of flying. The private life for her was to be at home with the children and wear jeans and cook spagetti. Her parents were very important and she could always find the comfort she needed by them. She was talking about ABBA after her and Björn's divorce. All four ABBA members and their management had several meetings at the beginning of 1979 and they decided to continue as usual.
In "Aftonbladet"
The Swedish evening paper had the story about Agnetha's love affair with the hockey player Lars-Erik Ericsson on May 17th, 1979.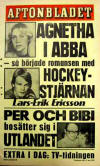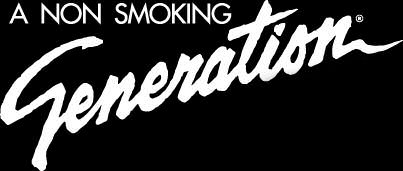 At the beginning of 1980 Agnetha became one of faces in the anti-smoking campaign in Sweden intended mainly for young people. There were several shots with Agnetha available. They were published in newspapers and printed as posters. Other celebrities in the campaign were among others Tomas Ledin and Ted Gärdestad. At the end of May 1980 a big rock concert was arranged at Gröna Lund-entertainment park in Stockholm. Agnetha gave out awards to children who participated in the anti-smoking campaign with best drawings.
Private life after the divorce
Agnetha does not like talking about her private life. But of course after the divorce from Björn she met new guys. She had some love affairs in the beginning of 1980s. The two most known and shown in the press boyfriends were Dick Håkansson (1980-81) and her bodyguard Torbjörn Brander (1981-83). In December 1990 she married the surgeon Tomas Sonnenfeld (go.to/Agnetha After ABBA part 2).
Christmas album
On November 4 and 5 Agnetha together with her daughter Linda recorded material for Christmas album for release the same year. But because of different reasons the release was postponed until autumn 1981.
Melodifestivalen 1981
Agnetha was approached by the organizers of the Swedish outtake to the Eurovision Song Contest - Melodifestivalen in 1981 about a possible contribution to the festival. Agnetha agreed and wrote a new song at the beginning of the year. Stikkan Anderson found a young singer from Gävle, Kicki Moberg who would perform the song. Kicki came to Stockholm at the beginning of February 1981 and recorded the song with Agnetha as a producer. The song entitled "Men natten är vår" (But the night is ours) was arranged and produced by Agnetha and Mikael B. Tretow. The song took the last place in the competition.
Moberg recorded a whole album which featured two Agnetha compositions - "Men natten är vår" and the Swedish language version of the famous "I'm Still Alive" performed originally by Agnetha on ABBA's 1979 live tour but never released on any ABBA album/single. Kicki Moberg disappeared from the music business after releasing of the debut album which remained her first and last so far...
Spök
In autumn Agnetha and Torbjörn attended the premiere of the musical "Spök" at the Maximteater in Stockholm with Björn Skifs (Arbiter in "Chess") in the main role.

Polar released the Christmas album "Nu tändas tusen juleljus" on November 6th, 1981. The album featured classical Swedish and international Christmas carrols performed by Agnetha with her daughter Linda. The total length was 30 minutes 44 seconds. The album had been recorded in November 1980 with ABBA musicians and Michael B. Tretow as engineer. The album entered the Swedish album chart on December 8th, 1981 and stayed there for 8 weeks peaking at #6.
The song "Hej mitt vinderland" entered Svensktoppen on December 13th, 1981 at #8.
"Nu tändas tusen juleljus" was released in 1981 as LP and MC in Sweden, Norway and other Nordic countries. The CD release had to wait until Christmas 1987. The whole Agnetha and Linda album A as well as Christmas songs performed by other Polar artists (as Anni-Frid Lyngstad, Hootenanny Singers, Lena Andersson, Svenne Hedlund and Arne Lamberth) were released on CD "Julens musik" in the series "Stikkan Anderson väljer Polars pärlor" (Stikkan Anderson chooses Polar's pearls) in 1994.
Before Christmas 1981
After more than one year the relationship with Torbjörn Brander was over. Brander was at the beginning Agnetha's bodyguard and then became boyfriend. In the summer of 1982 the romance was over but Agnetha and Torbjörn chose not to go out to the press and talk about it. The first information about it reached the press though at the end of August 1982.