Klub Marta in Berlin
KLUB MARTA, named after Marta Kubisova, the famous Czech music icon of the 1960s, was founded 2004. Our aim is to give the mostly unknown music of the Czech Republic, Poland, Slovakia and the former GDR a wider audience. Our repertoire includes music from the 1960s and 70s, mostly easy listening, "Schlager", BigBit and Beat.
KLUB MARTA is Andre Kaiser (DJ Herr Kaiser), Klingeman and Jiri Hejl.
It's not only the music we are interested in, the visual concept of KLUB MARTA also means a lot to us. Photographer and visual designer Nils Kuhlmann is responsible for the invitations and the flyer art work as well as our slide show, which can be seen on our club evenings. It includes reproductions of original record sleeves, postcards and fashion photographs from that era.
But we don't only want to give this era a revival through our music and pictures, we have also created some extraordinary cocktails named after our famous heros and some of their albums. We are sure you are going to love them!
KLUB MARTA already appeared at the concert hall in Frankfurt/Oder, at the Berlin art fair ArtForum 2005 (art magazine Umelec) and at the "Prague-Berlin-days" for the 10th anniversary of the city-partnership between Prague and Berlin.
Interested in KLUB MARTA? It could take place in your venue! For further information or to join our mailing list send an email to andre@archimation.com.
Once more many thanks to Rafael and Stefan for their support!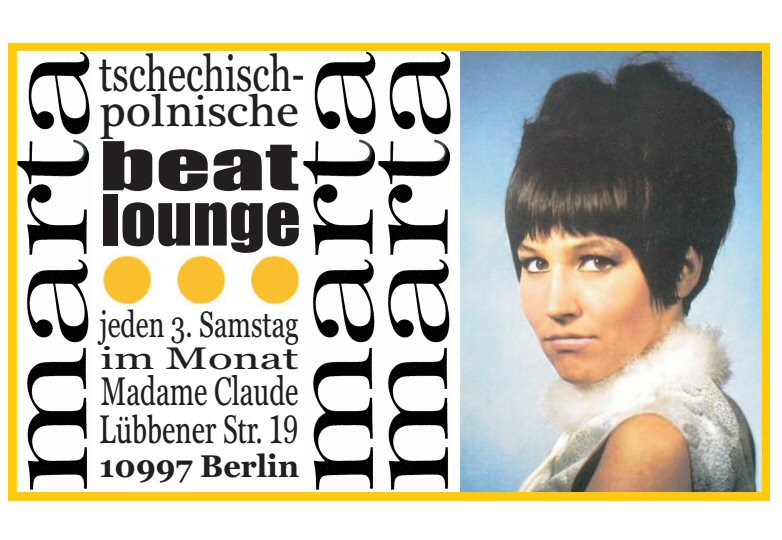 Marta music in Berlin? Why not! Marta Klub in the capital of Germany organizes Marta Disco every month. Marta Disco means lots of Marta music as well as music of other artists from old Czechoslovakia, Poland and Germany. Such a thing can happen only in Berlin the capital of decadence and culture. The main person behind this project is DJ Herr Kaiser who actually comes from West Germany where Marta and her group "Golden Kids" were promoted at the end of 1960s. "Golden Kids" were "Czech ABBA before ABBA" or maybe ABBA were the Swedish "Golden Kids" :-). They started to enjoy their breakthrough in West and East Germany but it was stopped by forbidding of Marta as a singer by the communists in Czechoslovakia 1970.
DJ Herr Kaiser will inform us about forthcoming events in Marta Klub in Berlin so stay tuned.