The US Tour diary
The tour called "ABBA North American & European Tour 1979" was planned already in the summer 1978. At the beginning it was thought that it would include Eastern Europe, Japan and Asia as well.
USA had always been very important for the group. ABBA had been asked to come to USA but they had to refuse many times.
- We didn't want to go to USA before we are big enough to fill big halls by ourselves, explained Björn Ulvaeus.
But finally it was time to do it. ABBA had to show for the US audience that they existed even outside the recording studio.
The tour was a huge production. It cost 15 million Swedish Crowns and included 30 tons equipment, 3 trucks, 2 busses, private jet and more. ABBA would totally play 41 concerts in 35 American and European cities. The rehearsals began in May 1979.
Frida & Benny in Seattle
On Friday, September 7th, Benny and Frida went to Seattle to see World Championship in sailing.
The day after Stikkan Anderson went to New York. Agnetha, Björn and the musicians went to Edmonton by the jumbojet.
The big adventure had started!
Tuesday, September 11th
The facts:
Departure Tuesday, September 11th from Stockholm at 8.45 flight SK 525 (SAS) to London.
Arrival in London at 11.15 (local time)
Departure from London 12.25, flight AC 851
Arrival in Vancouver at 13.45 (local time)
Departure from Vancouver at 16.00 flight AC 216
Arrival Edmonton at 18.20 (local time)
Transfer to the hotel: Edmonton Plaza
Edmonton
The city of Edmonton, 400.000 inhabitants in Alberta province in North-Western Canada. The city which is booming because of its oil. ABBA arrives in rain. There are not many fans at the airport, but lots of journalists.
Benny and Frida came from Seattle, the trip which takes some 2 hours. The others have 20 hours trip behind them. They are extremely tired. ABBA take immediately limousines and go to the hotel in the city. Some fans are still standing with a hope to get an autograph.
Wednesday, September 12th Edmonton
It's time for the general rehearsal at the Coliseum in Edmonton, a big ice-hockey hall, home arena for the hockey team Edmonton Oilers. Björn and Benny go there before the girls in the limousine.
Agnetha and Frida follow two hours later.
Outside the hall they meet Bengt-Åke Gustafsson, a Swedish ice-hockey player who plays in Edmonton Oilers. No fans at all. ABBA is rehearsing until midnight. Almost all feel good but not the guitar player Mats Ronander because of his gastric ulcer.
Facts:
rehearsals from 12.00 to 20.00 (according to the schedule)
| | | | | |
| --- | --- | --- | --- | --- |
| | | | | |
| | | | | |
| | | | | |
| | | | | |
Thursday, September 13th Edmonton
The facts:
Rehearsals and sound check: 13.00
Doors open: 19.00
Concert at Edmonton Sports Arena: 20.00
The premiere! Nervously! It was very difficult to sleep this night. ABBA goes through the whole show once again in the morning.
Björn Ulvaeus goes for his jogging tour on Edmonton's streets together with the bas player Rutger Gunnarsson. Björn tries to do his jogging regularly about 10 km every day.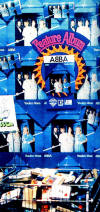 In the afternoon the team is relaxing. At 6 pm the musicians go to the hall. Very nervous but in one piece. Outside the hotel the first fans can be seen. A girl takes pictures with her Instamatic camera very quickly. Agnetha goes last. Alone in her limousine gliding towards the hall. People have already started to gather outside the hall which is not opened yet (it will be opened at 7 pm). The concert had been sold out several months ago. The audience is 14.000 quite young people. Two hours later the concert is over and the reactions of the audience confirm only that the show was a huge success!
About 50 fans are waiting for ABBA afterwards to see their idols in their limousines going back to the hotel. A press conference is being held at the hotel. Lots of photographers and journalists from all over the world are there. ABBA received a lot of gold and platinum records from their Canadian record company - actually a whole wall filled with records. After the press conference it's time for a private party which ends very late...
| | | | | |
| --- | --- | --- | --- | --- |
| | | | | |
| | | | | |
| | | | | |
| | | | | |
| | | | | |
| | | | | |
Party time - meeting fans
Autographs, kisses and more
| | | | | |
| --- | --- | --- | --- | --- |
| | | | | |
| | | | | |
Friday, September 14th Edmonton - Vancouver
The facts:
Departure Edmonton: 14.00
Arrival Vancouver: 14.30
Transfer to the hotel Bayshore Inn
Day off
ABBA are sleeping this morning. Newspapers in Edmonton have only positive comments about the concert. In the afternoon ABBA fly by their private jet to Vancouver. They are being met by the press at the airport. Summer is there - it's warm and sunny.
The hotel is wonderfully situated outside the city with the beautiful mountains in the background.
Hotel Bayshore Inn
Björn is going directly on his jogging tour.
Benny and Frida join the musicians at the swimming pool. Local fans get autographs. In the evening the ABBA team eat at the hotel's restaurant Trader's Vic.
| | | | | |
| --- | --- | --- | --- | --- |
| | | | | |
| | | | | |

Saturday, September 15th Vancouver
The facts:
Sound check: 17.00
Doors open: 19.00
Concert at P.N.E.: 20.00
A sunny day, very good for a boat and bathe. Benny is the first in the swimming pool. It's also time for meeting with a Swedish hockey player no 2: Tomas Gradin who plays in Vancouver Canucks.
| | | | | |
| --- | --- | --- | --- | --- |
| | | | | |
| | | | | |
This is a big jogging day as well: Björn Skifs (who follows ABBA during a part of the tour) is jogging, Tomas Ledin is jogging, Björn Ulvaeus is jogging, Agnetha together with her friend Dolly Johansson are jogging. After the jogging tour it's time to have a bath. Benny and Frida hire a boat to take a short trip. Agnetha chooses the pool before the boat.
- I need it, really, she says and lies her pale body in the sun.
ABBA and the musicians leave for the concert hall Coliseum P.N.E three hours before the show. The hall is the biggest one they play in the US and has space for 17.000 people. Of course the concert is sold out.
P.N.E
The audience react great from the very beginning the concert. When Frida enters the stage dressed in the local football team's T-shirt (Whitecaps) the public shouts of joy.
ABBA ABBA ABBA scream the fans. There will be three extras this evening. A great concert!
The audience does not notice some technical problems on the stage. Björn says:
-Desert-gig! (which means: gig=show, desert=ABBA's own name for bad).
Benny adds: -The second show is always the most difficult.
A party in the evening. Ola Brunkert has his 33th birthday and this is celebrated.
Sunday, September 16th Vancouver
One more sleeping morning. ABBA likes the hotel very much and they decide to stay here one more night instead of going to Seattle. The musicians leave Vancouver in the evening and ABBA the day after. Björn and Benny are being interviewed by some radio and TV stations this day. It's still warm and sunny weather and it will be the pool again. When Ola Brunkert comes down from his room he is being welcome by huge applause.
There are a lot of people in this gang who love to joke with each other. Stikkan's daughter Marie Anderson is being pushed into the pool fully dressed. Her boyfriend Tomas Ledin follows to keep her company. Next man having bathe with clothes is Hasse Blomgren, the tour leader for the musicians.
Stikkan Anderson
Stikkan pays one of his very rare visits at the pool. He is talking by phone whole day with Sweden to obtain the latest news about the elections in Sweden. Two journalists from Swedish TV join the company. They are working with a documentary about ABBA and the tour. At 5 pm the bus with happy people goes to Seattle. Only ABBA stay one more night here. It was a hard day for the pool.
Monday, September 17th Seattle
The facts:
Arrival in Seattle - transfer to hotel Hilton
Sound check: 17.00
Doors open: 19.00
Concert at Seattle Arena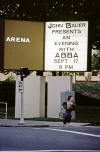 Benny, Frida and Björn in the jetplane. Agnetha who doesn't like flying takes a limousine to Seattle. The musicians who arrived the day before were fishing in the morning. They had a good luck and a lot of codfish.
It's here and now that ABBA meet their American audience for the first time. They are a little bit unsure what reception it will be. The arena is not sold out.
- We've became spoiled in Canada, Benny says.
Before the concert
But there is no need to be worry. The audience is as enthusiastic as earlier on this tour. Seattle is a little Scandinavian colony with appr 22.000 Scandinavians and their descendants. A lot of Swedish flags can be seen in the audience. Mixed ages, many families.
ABBA's American record company arranges a little party after the show.
The whole team are happy that the first show in the US was so good and successful. The hotel, Seattle Hilton, has a nightclub on the top, 30th floor. Some are going there but there are special age limits in USA for those who want to go to nightclub. When Tomas Ledin, who is 28 yrs old is asked to show his ID to see if he is older than 21 all of them turn back.
Stikkan and his English business partner John Spalding have a new list every week which is called P.I.T.A. (Pain In The Ass). It is kind of a chart but vice versa... Here can be found people and thinks that they do not like. Seattle Hilton tops the chart this week.
The Seattle Hilton hotel
Tuesday, September 18th Portland
The facts:
Departure Seattle: 14.00
Arrival Portland: 14.30
Transfer to hotel Hilton
Sound check: 17.00
Doors open: 19.00
Concert at Portland Opera House: 20.00
Portland in Oregon, 1 million inhabitans. ABBA leaves Seattle directly after the lunch and fly to Portland. But not Agnetha. She tries to avoid the plane if it's possible. It will be a limousine as usual. The hotel in Portland has a swimming pool. After a pool free day and gather at the swimming pool.
Frida is a little bit sad about the review after their first US concert in Seattle. "ABBA is a disappointment" can be read in "Seattle Times". Stikkan has his briefing near the swimming pool. He is talking about the work during the coming week. There will be a lot of interviews and other activities. Portland Opera House is the name of the concert hall.
Frida working hard
It's an old opera house with a wonderful atmosphere. But small, only 3.000 places which are of course sold out. It's not enough place for all the decoration. The concert is definitely a success.
- The best, so far, says Björn.
The concert hall is situated only two quarters from the hotel but ABBA take limousines anyway. A little party after the show.
Wednesday, September 19th San Francisco-Concord
The facts:
Departure Portland: 13.00
Arrival: Concord: 14.30
Transfer to hotel Sheraton Concord Airport
Sound check: 17.00
Doors open: 19.00
Concert at Concord Pavillion: 20.00
In the morning it's time to fly, this time even Agnetha is onboard.
| | | | | |
| --- | --- | --- | --- | --- |
| | | | | |
| | | | | |
They are flying from Portland to San Francisco. It's too long to go by car. The show this evening starts one hour later than usual because the trucks with equipment and the buses must come as well. The drivers had driven whole night.
The plane is landing some hundred meters from the hotel and it will be limousines as usual.
One more swimming pool and one more warm summer day. All in the team become more and more brown because of the sun. Björn takes his jogging tour.
- It's very difficult to jog when it's so warm, Björn says afterwards.
The hotel has Jacuzzi as well, here can Agnetha be found.
The concert is going to be held at the Concorde Pavillion, a huge arena where Bette Midler performed one week earlier.
- It will be like playing in a folkpark, says Benny. There about 4000 sitting places and some 4000 more around on the grass. People have been waiting many hours to get the best possible locations on the grass. They are sitting now and eating and listening to ABBA music playing on their recorders. Small children are sleeping.
The show is great and ABBA are in a hurry afterwards. They have to fly to Los Angeles already this evening. All ABBA children are waiting there...
Thursday, September 20th Los Angeles
The facts:
Departure: Concord 14.00
Arrival: Los Angeles 15.00
Transfer to hotel Sunset Marquis Houses
Day off
It's great to meet the kids. ABBA have hired the bungalows near the hotel. The hotel has a swimming pool and it is needed. It's very hot, the temperature over 30 C. Björn and Agnetha's daughter Linda loves swimming.
| | | | | |
| --- | --- | --- | --- | --- |
| | | | | |
| | | | | |
| | | | | |
| | | | | |
| | | | | |
| | | | | |
| | | | | |
| | | | | |
| | | | | |
... we're here for chess...
She is training together with her mummy Agnetha. Frida's daughter Lotta och Benny's children Peter and Helen keep her company as well. No concert this evening, but ABBA have to participate in a press conference for 20 Japanese journalists who just arrived. The questions are asked in Japanese and translated to English. Sometimes Björn and Benny did not wait for the translation and said directly:
- What a interesting question.
ABBA are spending this evening together with the children. The others have a party at the swimming pool. It's time for Stikkan to be pushed by Hans Blomgren in the pool.
The Japanese press conference
| | | | | |
| --- | --- | --- | --- | --- |
| | | | | |
| | | | | |
| | | | | |
Friday, September 21 Los Angeles
The facts:
Concert at Anaheim Convention Center at 20.00
Hotel: as above
Björn Ulvaeus' girlfriend Lena Källersjö has arrived. She takes care of Linda because the Agnetha, Björn and the baby-sitter Bitte are busy. Linda is swimming better and better. Today's highlight is Disneyland. ABBA go there with all the children.
| | | | | |
| --- | --- | --- | --- | --- |
| | | | | |
| | | | | |
| | | | | |
| | | | | |
Tonight's concert is going to be held at Anaheim Convention Center near Disneyland and that's why ABBA hire some day-rooms at the Disneyland hotel.
- The Los Angeles concert is the most important one for us, says Björn Ulvaeus. Here are the biggest record companies and TV- and radio stations. The concert is delayed with 30 minutes because of the baseball match which begins on the stadium nearby. There are a lot of well know faces in the audience: Britt Ekland, Ron Wood from Rolling Stones and disco queen Donna Summer. They love the show.
"The best show so far" is the general opinion. Big press party after the show. Agnetha goes to the hotel earlier than the others.
- Linda is tired and she has to go to bed.
Party after the show on September 21st with among others Britt Ekland
Saturday, September 22, Los Angeles
The facts:
Departure Los Angeles: 15.30
Arrival San Diego 16.15
Concert at San Diego Sports Arena 20.00
Departure San Diego 23.00
Arrival Los Angeles 23.45
Warm. The pool. Linda is swimming 6 meter. More Swedes appear. After the lunch the crew and Agnetha go by bus to San Diego where the next concert will be played this evening. The others and Lena Källersjö go by jet-plane.
San Diego is situated not far away from the Mexican border. The concert is not sold out. Lots of big rock stars had to cancel their concerts during this period because of lack of interest. ABBA is being seen by 3000 people. Big ovation after the concert.
- The best concert so far, according to Björn
Sunday, September 23, Los Angeles
The facts:
Hotel - as above
Day off
All are gathering at the pool as usual. Linda is coming first. Björn is watching her. One more busy day today and concert tonight, this time in Phoenix. Lennart Hyland (a famous Swedish TV-journalist) is here and informs ABBA that he does not want to celebrate his 60th birthday. ABBA are sending flowers and champagne. The flight to Phoenix goes quite early and even Agnetha has to fly this time.
- I hate it, says Agnetha before she enters the limousine.
It's warm and calm in Phoenix but the show goes well. The reactions of the audience confirm that ABBA make is very successful in the US. Standing ovation when ABBA make the extra number "Dancing Queen".
Flight back to Los Angeles after the show.
Monday, September 24, Las Vegas
The facts:
Departure Los Angeles 14.00
Arrival Las Vegas 16.30
Concert at Performing Arts Theatre - Alladin Hotel 20.00

Las Vegas is a dream city for all artists. In many ways a nightmare city. When we check in on the airport in Los Angeles, a woman nearby start to shout: "I hate that town!". What is forbidden in other cities in USA is absolutely allowed in Las Vegas. One-armed bandits dominate. And the night clubs and other entertainment scenes everywhere.
ABBA come in two jet-planes because all the children follow their ABBA-parents. It is very warm 35 C.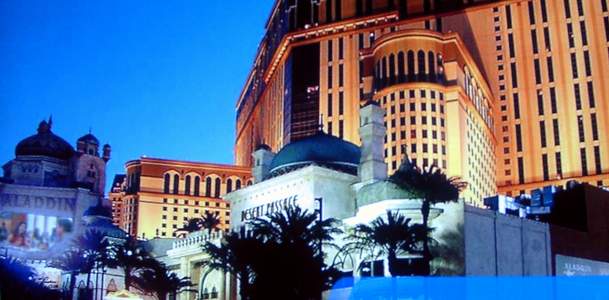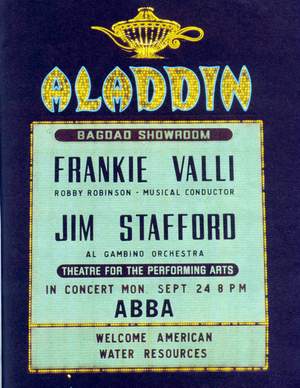 The show will be at Alladin Hotel's theatre (5.000 places). Competition is hard. All the hotels in Las Vegas have at least two shows every night. At the Ceasars Palace has Diana Ross her show, at MGM Engelbert Humperdink.
Behind the stage. All ABBA children are sitting, watching TV and drinking refreshments. In a room nearby Benny and Björn are sleeping. On the second floor Frida has her physical training. Agnetha is fixing her hair.
The curtain goes up. The audience is very hard this evening. It extremely difficult to make them burning. But there is one thing during the show which use to be loved by the audience - "I Have a Dream". It is because of ABBA having a 20-person children choir on stage. This evenings choir is a real sensation. One in the choir is little Linda Ulvaeus who sings for full throat!. Mother Agnetha is standing nearby her daughter. The difficult audience is delighted. Not bad debut for Linda.
- I sing a lot at home, says Linda afterwards.
During the rest of the show Linda is sitting beside the stage and watching her mother, father, Frida and Benny with big eyes.
-Hej mamma, shouts Linda when Agnetha is near.
After the show Linda is very tired. Björn carries her to the car for the transport to the airport and bed in Los Angeles. ABBA had no time for playing on one-armed bandits in Las Vegas. Only Benny managed to feed one automat with some dollars.
Tuesday, September 25, Los Angeles
The facts:
Day off
ABBA do not play today. Agnetha, Frida, Björn and Benny are still in Las Vegas, the others have already left for Omaha where they play tomorrow. They do not do anything today. Only Linda can be seen in the swimming pool. She is kind of main person today after yesterday's stage debut. But she is trying to take it easy. She is swimming slowly against new aims... Lots of people from ABBA's nearest circle fly home to Stockholm today. One of them is Frida's daughter Lotta who has been away from school too long now. A big farewell lunch is being organized. But Linda and Benny's children stay until their New York concert as planned. They have to go to bed early tonight. They start tomorrow at 9 am and go to Omaha.
The tour continues through USA: Omaha, St. Paul/Minneapolis, Milwaukee and Chicago. The concerts go better and better according to various reports - sold out with shouting of joy audience.
Wednesday, September 26, Omaha
The facts:
Concert at Civic Auditorium 20.00
Thursday, September 27, Minneapolis - St. Paul
The facts:
Concert at St. Paul Civic 20.00
Friday, September 28, Chicago
The facts:
Departure St. Paul 14.00
Arrival Chicago 15.00
Hotel: Astor Towers
Day off

Astor Towers, Chicago
Saturday, September 29, Chicago-Milwaukee
The facts:
Departure Chicago 16.00
Arrival Milwaukee 16.30
Concert at Milwaukee Auditorium 20.00
Departure Milwaukee 23.00
Arrival Chicago 23.30
Sunday, September 30, Chicago
The facts:
Hotel: as above
Concert at Auditorium Theatre in Chicago 20.00
Monday, October 1, New York
The facts:
Departure Chicago 14.00
Arrival New York (time unknown)
Day off

Tuesday, October 2, New York
The facts:
Concert at Radio City Music Hall 20.00
The next important concert is the one in New York. The show is being held at the Radio City Music Hall - a classical arena which has seen lots of world stars. ABBA has to compete with the Pope Johannes Paulus II this day, who is in New York as well. ABBA has 6 000 in audience and the Pope 75 000 on the Yankee Stadium.
Wednesday, October 3, Boston
The facts:
Departure New York 15.00
Arrival Boston (planned) 16.00
Concert at Music Hall 20.00
Hotel: Sheraton
On Wednesday October 3 ABBA fly by the private jet-plane to Boston. The tour's most dramatic incident occurs. The little plane is being hit by wind and storm with rain and thunderbolt. Agnetha who is afraid of flying feels not good after this flight. She is getting sick but she manages to go through the Boston show. But the day after the body says stop.
Thursday, October 4, Washington D.C.
The facts:
Departure Boston 13.00
Arrival Washington D.C. 14.00
Planned concert at Constitution Hall at 20.00 [CANCELLED]
Hotel: Watergate
No concert in Washington due to Agnetha's indisposition.
Friday, October 5, Washington/Montreal
The facts:
Departure Washington 16.00
Arrival Montreal 18.35
Hotel: Four Seasons
Day off
Frida, Björn and Benny pay a visit at the White House on October 5 and meet Amy Carter - the President's daughter.
And so it's time to depart for Canada again. The last two concerts in North America will be played in Montreal and Toronto. Agnetha is better but still ill. But she wants to perform for the audience in Montreal. And it is not a little audience - 12.000 people! Everyone is happy that she is back!
Saturday, October 6, Montreal
The facts:
Concert at Forum 20.00
Hotel: the same as above
Sunday, October 7, Toronto
The facts:
Departure Montreal 14.00
Arrival Toronto 15.00
Concert at Maple Leaf Gardens 20.00
Hotel: Four Seasons Downtown.
25 days after the premiere in Edmonton. ABBA are performing on Maple Leaf Gardens in Toronto. "The best concert we did" say ABBA themselves.
Here is where their North American adventure ends!
Unique pictures from the Toronto concert were published in Swedish newspaper "Aftonbladet" the day after. All four members wore shirts belonging to the ice hockey team Toronto Maple Leafs. Agnetha had number 21 belonging to the Swedish player Börje Salming who by that time lived in Toronto and played for Toronto Maple Leafs.