go.to
For tsunami victims
Helena performed on the big charity concert on 12 February for the victims of the tsunami disaster in Asia at the end of 2004. She sang three songs and among them her great hits "Dlouha noc" and "Nebudemy sedet doma".
Cats - the musical
In April 2005 Helena played 19 times Grizabela in the Czech set up of the musical "Cats" at the theatre Milenium in Prague. Helena's performance of "Memory" was absolutely stunning.
| | | | | |
| --- | --- | --- | --- | --- |
| | | | | |
| | | | Vaclav Neckar in audience (behind Helena) | |
"Solo pro tve oci" on CD
The 1986 album "Solo pro tve oci" (Solo for your eyes) was re-released in the spring 2005 in the remastered version on CD with some outstanding bonus tracks. The record company "Supraphon" added some rare wonderful pictures from the 1986 photo session in the booklet. The album was a kind of pop-techno project recorded in the best possible-available sound quality in 1986 and the remastered version sounds still very modern.
Meeting with the press on 19 May
Helena's management arranged a press conference to inform the press about forthcoming plans and the big celebration of Helena's 40 years on stage.
The international tour
Warsaw
Helena toured together with Karel Gott and other artists in Europe in May. The tour was called "The European Stars Tour 2005 - Europe 60 years without war" and it went to: Prag (Czech Republic), Warsaw (Poland), Moscow and St Petersburg (Russia).
| | | | | |
| --- | --- | --- | --- | --- |
| | | | | |
| after the concert in Moscow with Czech Prime Minister | | | | |
Practical joke on Polish TV
In May Helena toured in East Europe together with Karel Gott and other Czech, Polish and Russian artists. On May 25 she performed in Warsaw and on May 27 in Moscow. The concerts were as usual very successful. During her stay in Warsaw she was totally fooled by her friend - the Polish pop star - Maryla Rodowicz and the Polish TV channel "TVN".
The Polish show "Mamy cie" (We've got you) broadcasted weekly presented well-known stars who were subject for practical jokes. "The beautiful Helena" as she is called in Poland were together with Maryla on the meeting with fans which is held in a club outside Warsaw. The problems started when Helena and Maryla wanted to get back to Warsaw to the concert hall where Helena would rehearse and perform the same evening.
The first taxi driver did not want to drive them to Warsaw. He is very rude, takes pictures with Helena and disappears. Both stars took a drink in the bar waiting for the next taxi. During the same time Helena's luggage disappeared but the taxi was finally there.
The car was in a horrible shape and it was parted in two pieces as soon the driver started it. It was "too much" for Helena who still did not understand that everything was only a joke. The driver accused the ladies for everything and said that they were too heavy and that's why the car became destroyed. He wanted money for the reparation. After several discussions between all involved the TV team finally came out. Helena was totally shaken of everything but at the end she found the whole situation quite funny anyway.
| | | | | |
| --- | --- | --- | --- | --- |
| | | | | |
| | | | | |
Back in Prague
Photo session
Helena in the tennis center Rakovnik
Helena and other pop stars performed in the tennis center in Rakovnik (Czech Republic) on 28 & 29 May for children. Thanks Martin France for the wonderful pictures
New York, New York - June
The New York show at Carnegie Hall featuring Helena and Karel Gott was a great success. Helena performed her great hits during the evening on June 14th.
| | | | | |
| --- | --- | --- | --- | --- |
| | | | | |
| | | | | |
| | | | | |
Rendez-Vous - the album promotion
Helena signed her latest album "Rendez-vous" in the shopping centre in Prague on 23 June.
TV
Helena was special guest on Czech TV in August on the TV show "Jagr Team proti zbytku sveta". She performed two songs - one of them together with Karel Gott.
Summer
In Germany
In September the German TV channel MDR aired a big gala show from Weisswasser in Sachsen with a lot of schlager stars from Germany and other countries. Helena performed twice. The first song was an old hit "Archimedes" sung in German. Her second stage appearance was at the big final and Helena sang her brand new hit in Germany "Wunder geschehen".
She even helped with the promotion of the new album of Martin France, well-known musical artist in Czech Republic.
Thanks Martin for the pictures
New Helena recording
In October Helena Vondrackova and Lucie Bila have recorded a new song together - a cover of Celine Dion and Barbra Streisand's hit "Tell Him" in Czech.
Helena - the first 40 years
The biggest event for Helena and her fans in 2005 was the big gala show to celebrate her 40 years on stage. The show on October 18th was held at the "Top hotel" in southern part of Prague. As Vondrackova is a big name even in other countries the show was attended not only by Czech and Slovakian fans but even by fans from Germany, Poland, Russia and Sweden. The show was recorded by Czech TV Nova for TV broadcast on December 26th at 9 p.m. The show is on DVD "Helena Gold".

Helena invited 40 guests among them: Marta Kubisova and Vaclav Neckar (with whom she sang in late 1960s as the group Golden Kids), Jiri Korn, Karel Gott, Ilona Csakova, Jitka Zelenkova, Petra Janu, Lucie Bila and many more big Czech stars. The show contained the biggest hits of Helena but of course not all of them as it is completely impossible to have all Helena hits in a two-hour-show.
Helena was as usual professional, beautiful, relaxed and happy. She received standing ovations which lasted for 10 minutes. Raffem.com had a big pleasure to meet both Helena and her husband Martin Michal. It was a great meeting as both Helena and Martin know and appreciate our homepage. We will thank Helena and Martin for those nice minutes together and for giving us the possibility to take private pictures for Helena fans on www.raffem.com.
The Queens of Swing
On 2 December Helena participated in the TV recording of a show featuring swing evergreens. She was one of the artists invited to the show which was filmed in Karlsbad (Karlovy Vary). The show was to be aired in March 2006.
The Golden Collection
The 4 CD-collection summing Helena's career between 1964 and 2005 was released in Czech Republic at the beginning of December. Helena embarked on her traditional Christmas tour.
Helena awarded with Czech Nightingale again
The singer received the bronze Czech Nightingale as the third most popular singer in Czech Republic in 2005.
The winter photos
go.to//
The Tour of the Stars in Europe
Helena and Marta - The Ungelt theatre summer stage - June
The Sopot Festival - September
New album - promotion - Litvinov Gala show
Zastav se (... a poslouchej) - the new album - 23 October
Promotion at Lucerna in Prague, 11 November
Helena in Poland - December 2006
The Golden Nightingale Prize, December 9th
Hello Dolly in Bratislava (Slovakia)
The musical "Hello Dolly" had its official premiere with Helena in the title role at the theatre "New Stage" in the capital of Slovakia Bratislava on 27 January 2006.
TV Nova 12 years
Helena participated in the gala celebrating 12 years of one of the most popular Czech TV channels "TV Nova". She sang two songs as well as she participated in a "drumming" sketch together with the moderators of the show.
The tour of the Stars in Europe
After the huge success of the 2005 Tour of the Stars the same kind of tour was arranged in May 2006 with Helena as a Queen of the show. The premiere of the show took place in the Concert Hall Zofin in Prague on 12 May and the last concert was played on 30 May in the capital of Ukraina, Kiev.
On the summer stage, Prague 14 June 2006
On 14 June Helena appeared on the summer stage of the theatre "Ungelt" in Prague as a special guest in Marta Kubisova's show. Both ladies performed their smash hit from late 1960s "Oh Baby Baby" and together with the chief of "Ungelt" they talked about good old times. Helena had even presented some of her greatest hits for the hot audience. As both singers said after the show this evening's audience was absolute great.
Raffem.com had a pleasure to talk with Helena and take pictures during the rehearsal and the show. Some of the you can see below.
The videos
Each video opens in a new frame. Be patient - it can take some seconds before the video starts.
| | | | |
| --- | --- | --- | --- |
| | Helena is talking to us in English... | | |
| | Helena and Marta rehearsing "Oh baby baby" | | |
| | Helena and Marta performing "Oh baby baby" | | |
| | Helena performs solo | | |
Pictures
The rehearsal
The show
Private with raffem.com (Raffe & Stefan)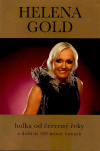 Long awaited second DVD entitled "Helena Gold" was released in June in Czech Republic. The DVD features the 40-years-celebration of Helena's successful existence on stage recorded by TV in October 2005 in Prague. The big surprise for Helena's fans all over the world was the inclusion of rare material from Sopot Festival 2000 (Poland) and Carnegie Hall in New York in 2000. Even 6 video clips from the latest period of Helena's career have been included.
The promotion
Helena promoted her new DVD at the end of June. Among invited guests there was an old friend Karel Gott.
At home
New private pictures of Helena and her home were published in July.
On Sunday September 3rd Helena performed on the International Song Festival in Sopot in Poland. One more time Helena received standing ovations that only confirm that Vondrackova is probably the most famous Czech singer in Poland. The artist performed 3 songs: "A ty se ptas co ja" (the cover of ABBA's "The Winner Takes It All"), Malovany dzbanku (her Grand Prix in Sopot in 1977) and "Ja pujdu dal" (the gay hymn "I will survive" recorded originally by Gloria Gaynor). She appeared for the second time as a special guest of the Polish pop star Maryla Rodowicz. Together they performed Maryla's old hit "Malgoska" (re-recorded by the both artists a couple years ago and released on CD). On the last song in Maryla's part of the concert even Karel Gott came out to join the girls.
| | | | | |
| --- | --- | --- | --- | --- |
| | with Demis Roussos | with Karel Gott | with former Polish First Lady - Jolanta Kwasniewska | with Demis Roussos, Maryla Rodowicz, Karel Gott |
| | | | | |
| | | | | |
| | | | | |
New album - photo sessions & promotion
In the middle of September photo sessions for the forthcoming new studio album were held in Prague. A couple of days after on September 16th Helena had her first gala concert promoting the album in Litvinov in the northern part of Czech Republic.
Litvinov, 16 September 2006
Helena presented several new songs as well as lots of her old and very old hits. The guests were Jitka Zelenkova and Petr Muk. Together they performed a rocky version of an old ELO hit "Don't Bring Me Down" (Helena played drums!!!). The new songs were Helena's version of the world hit "It's Raining Men", "Zastav se a poslouhej" (Stop and listen) and two more new songs with latino sound. The smash hits "Dlouha noc", "Sladke mameni" and "Malovany dzbanku" were of course included. In the audience there were more than 3 thousand people. The show ended with fireworks.
After the show.
(Thank you Helena and Martin)
Zastav se (... a poslouchej) - the new album
The new studio album "Zastav se (...a poslouchej)" (Stop (... and listen)) was released on 23 October 2006. It contained 13 new brand new songs recorded in the spring 2006 in Brussels (Belgium). The first single promoting album was Helena's cover of the world hit "It's Raining Men". Even the title track was released for the promotional purposes. Helena decided to mix different styles: pop ballads, disco, samba and bossa nova. The CD contain even the video bonus - the TV performance of "It's Raining Men" (entitled in Czech "Ja vitam dest" - I welcome rain).
The show in Lucerna, 8 November
On 8 November Helena performed at the Lucerna concert hall in Prague. The show promoted the album "Stop and listen". Helena's friends - Jiri Korn and Jitka Zelenkova were special guests during the evening. Helena performed several songs from her new album as well as old evergreens.
Thanks Vasek and Lenka (www.vondrackova.net) for the beautiful pictures.
Let's Dance
Helena participated in the TV shows "Let's Dance" in Slovakia. Together with her partner Milan they were very successful on dance floor.
In November and December Helena spent a lot of her time in Poland where she appeared in several TV shows. A special documentary about Helena's career and a new recorded exclusive interview was broadcasted by the biggest biggest private TV station in Poland TVN. The most crazy appearance though took place in TVN in "Szymon Majewski Show" where even Helena's big friend Polish top star Maryla Rodowicz participated. The 30-minute-special contained a new recorded duet performed by Helena and Maryla together, an interview containing a lot of Polish and Czech words meaning different things as for instance girl in Czech = hooker in Polish; seeking in Polish = fucking in Czech and many many more. The singers were singing rap and answered absolutely silly questions in a special contest. Helena even tried if the Polish guys have mild lips by kissing the host Szymon Majewski.
One more nightingale for Helena
At the beginning of December the Golden Nightingale gala was traditionally held at the Prague Opera. Helena was among the most successful artists of the year nominated to the prize. And one more time Helena became the third most successful female artist of the year in Czech Republic. The public enjoyed Helena's performance of "It's Raining Men" which is included on her latest 2006 album "Stop and listen".
go.to/
Ha ha ha - the limited CD release
The gala celebration at Zofin - 24.06.2007
Helena, Marta and Vasek on the Ungelt Summer Stage - 30.07.2007
On 4 March Helena appeared on German TV MDR as a guest star in the gala devoted to the German comedian and singer Heinz Rennhack. Helena performed twice and her appearance on stage lasted totally 15 minutes.
The Helena ice-cream
The singer made a promotion on posters and on TV for the ice cream "Koral" which according to Helena tastes very good.

In February Helena started as a host in the TV entertainment series "The stars at the piano". Helena did not only appear as a host but even as a singer. She performed several great hits in the show.
Helena and her cars
Helena is known for her taste for good cars. Just like Raffem.com she prefers German cars and both she and her husband Martin own Audi cars. It is the best promotion for Audi in Czech Republic. At the beginning of 2007 Helena posed for photographers together with her brand new Audi car.
The new CD containing all song recorded by Helena with Jiri Korn was released on May 18th, 2007. All 21 tracks had been remastered and the booklet contained lots of new pictures of Helena and Jiri. The compilation contained even three previously unreleased songs among them a real rarity "A Boy like Me, A Girl Like You" which is a completely unknown composition recorded in 1988.
The photo sessions by Lucie Robinson
The release celebration
Sopot
Helena appeared on the Sopot forest opera stage in Poland in June. She performed two songs in Polish and received standing ovation. The concert was devoted to Jacek Cygan well-known Polish song writer who had even written several texts for Helena's latest compilation "Helena platina" released in Poland in 2003.
The 2007 CD maxi single released by Universal contained 8 songs - 6 of them sung in German. Even the song "Ha ha ha" was included on the singlel. The single could be only obtained on Helena's concerts in 2007.
The birthday celebration
Helena celebrated her 60th birthday with hundreds of her friends and artist collegues already on June 22th in the property of Ladronka outside Prague. Among the guests there were Marta Kubisova, Vaclav Neckar, Karel Gott, Martin Maxa, Jitka Zelenkova and many more. The Czech and German press covered the event and thousands of pictures were taken during the party. (Thanks www.vondrackova.net for some of them)
On 24 June Helena celebrated her 60th birthday together with their friends on stage at the concert hall Zofin in Prague. Thousands of fans from several countries attended the show as well as many celebrities: Marta Kubisova, Karel Gott, Jitka Zelenkova, Vaclav Neckar, Jiri Korn and Monika Absalonova. In the audience we could see Hana Hegerova, Jirina Bohdalova and many other big artists. The show was great as usual and Helena performed her new and old hits solo and with her guests.
(special thanks to Martin Michal for all help and kindness)
The photos
| | | | | |
| --- | --- | --- | --- | --- |
| | | | | |
| | | | | |
| | | | | |
| | | | | |
| | | | | |
| thanks to Klaus in Germany | | | | |
| | | | | |
Helena on the Ungelt summer stage
Helena performed on the Ungelt summer stage on July 30th as Marta Kubisova's guest. She performed three songs solo and three together with Marta Kubisova and Vaclav Neckar as Golden Kids. She sang her three smash hits: "Ja vitam dest" (It's raining men) from her latest album, "Kvety ruze" - the beloved old cover of Gilbert Becaud's song and "Dlouha noc" (Long night). Helena looked and sang stunning as usual or maybe even better. We took lots of beautiful pictures and had a possibility talk to Helena both before and after the show. As always Helena was beautiful, relaxed and happy to see her fans and friends. She wrote greetings to all of you visiting this homepage which you can find in the Helena news section.
The rehearsals
The show
Golden Kids
After the show
Let's Dance in Poland
Helena and Milan participated in the Polish edition of "Let's Dance" in September and October.
| | | | | |
| --- | --- | --- | --- | --- |
| | | | | |
Helena gave her probably best in many years concert on Saturday 10.11.2007 in Lucerna in Prague. The Lucerna Concert Hall was sold-out even if the tickets were very expensive. Helena confirmed once again that she is not only one of the biggest singers that we have in Europe but even that she has always been a talented entertainer. More than 2 hours on stage were not enough to manage sing all the biggest hits that Helena has in her repertoire even if she put together a lot of them in two medleys. As Helena is even known internationally the concert was attended by fans from Germany, Russia, Poland and Italy. A newly moved to Czech Republic Italian fan handed over flowers to Helena and said with Italian charm that his life got a sense since he started to listen to her music... Of course there were even fans from Sweden (very usual nowadays on Helena's concerts) and Helena received our Swedish flag that she waved with during the performing of her smash hit "Sladke mameni" (Sweet nothings). Czech tabloid "Blesk" informed in its Monday issue about the fact that the Swedish fans attended the concert.
The audience reacted extremely strong and it must have given an enormous feedback to the singer as she was only going stronger during the whole evening. Nobody wanted that that night would ever end but it did. One more absolutely stunning night with Helena.
Behind the star
Rare private photos taken by Helena's management during the concert from the other side of the stage. See Stefan filming the show (excerpts from this film can be seen on the official Helena internet site www.vondrackova.net
See the video "Sladke mameni" with the Swedish Flag.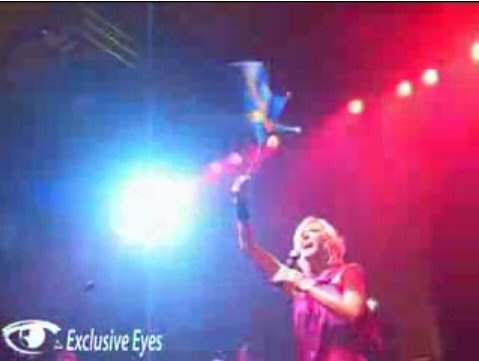 We want to thank Helenka and Martin for everything as usual. Greetings go even to Lenka - the boss on vondrackova.net.
This was the first spontaneous report from Lucerna that was published on raffem.com
Helena Helena Helena - she did it again!!!
On Saturday November 10, thousands of people shouted "Helena Helena Helena" as she... did it again. The absolutely stunning concert at Lucerna Concert Hall was sold out and attended by several thousand of fans from not only Czech Republic but even from Sweden, Germany, Russia, Slovakia, Poland and Italy. Helena's guests were wonderful pop personalities Jitka Zelenkova and Jiri Korn with his suberb group 4TET. Helena looked beautiful and she entertained her fans for more than 2 hours singing all her smash hits and several new songs. The second part of the concert transformed Lucerna into a big disco and Helena gave all! Beautiful, talented, happy and loved by so many people - this is HELENA!!!
New releases - 10.11.2007
In connection with Helena's Lucerna concert two new releases were available on the market on 10.11.2007. Long awaited DVD collection with 27 performances by Helena and Jiri Korn which is a kind of bonus to the CD with their duets released in the spring 2007. The second release was the double fan CD containing 41 most favorite songs chosen by Helena fans through the official homepage www.vondrackova.net. A wonderful compilation with all songs that we all really love and pictures from the wonderful photo section taken in June 2003.
In December 2007 Helena toured Czech Republic and Slovakia with her talk show where she was talking about her career and life and performed her greatest hits. In the capital of Slovakia Helena and Martin went to their hotel after the show by... a night bus which caused a little sensation...
Christmas with Helena & Martin
Everybody knows that Helena is extremely generous for her fans. We had a great pleasure to be given a wonderful Christmas gift from Helena and her very nice husband Martin a private invitation to their beautiful house in the little village outside Prague on Sunday December 23. We spent many hours together talking about travelling, music and cars. Helena decided to send a video greeting for her international fans on raffem.com but she did not know that Martin wanted to say something as well - you can see on the video how surprised she was when Martin suddenly turned up behind her... Click on the link below to see the video.
Helena and Martin showed us a very special place in their home - the hall of fame with all prizes.
Traditionally Helena sang Christmas carols in the evening for the people living in the village - enjoy photos. By the way the fur coat that Helena wore this evening had been bought in Poland - the country that both Helena and Martin like very much and where she has lot of fans.
Helena the main star on the New Year's Gala
The traditional New Year's Eve show was held in the heart of Prague on Vaclavske Namesti. It was broadcasted live by Czech TV "Nova" and Helena was the main star of the show beside Karel Gott. Helena performed several great hits as "It's Raining Men", "Sladke mameni", "Dlouha noc (The Long Night) as well as a great hit medley with Karel Gott.
Holidays
On January 3rd, 2008 Helena and Martin departed for Florida in USA for a two-week-holiday in the sun. Helena and Martin stayed for almost 2 weeks in the beautiful town of St. Petersbourg on Florida. Sun, good food and good drinks was all that Helena needed after hard work in 2007.
Back in business
Helena participated in the big concert in the Zofin concert hall in Prague on January 17 where she performed "Sladke mameni" which became absolute highlight during the evening. Only the biggest celebrities as Marta Kubisova, Karel Gott, Jitka Zelenkova were invited to the show.
Golden Kids 2008
The main idea for the year 2008 was the comeback of Golden Kids precisely 40 years after the group was originally formed. It was thought that the group would tour in Czech Republic and Slovakia and record a DVD from their final concert in Prague on November 1st. The first link of the Golden Kids Comeback was the release of CD "24 Golden Hits" featuring all big hits recorded by the group in the 1960s as well as 5 newly re-recorded songs. The first link became even the last link in the chain as the rest of the Comeback project was cancelled because of different reasons. Maybe it is not so easy to do comeback 40 years later.
... sweaty obsessed crowds shouting "Helena - you're the best" - Helena at Lucerna 17.05.2008
In November 2007 we wrote on raffem.com: "Helena did it again" after the absolutely stunning show at the Lucerna concert hall in Prague. What shall we write this time after the show on Saturday, May 17? Probably "SHE DID IT AGAIN BUT EVEN BETTER". Lucerna was filled with fans from Czech Republic and other countries including us from Sweden. This magic evening with Helena is almost impossible to describe - crowds of people screaming: "Helena you are the best", a cavalcade of hits and a lot of dance on stage. The last song in the first part of the show was well-known hit "I've still got my old friends by me" and it was very easy to notice that it's really true.
Helena performed her great hits as well as some of the lesser known songs as for instance the cover of Marlene Dietrich "Blue angel". The classical pop piece from 1983 "Sladke mameni" (Sweet nothings) transferred old Lucerna to modern disco with crowds of people dancing and singing. The audience sang together with Helena and the highlight was all Lucerna singing the 1974 hit "Lasku ma ja stunu". The final song was the classical ABBA hit "The Winner Takes It All" which is entitled in Czech "And you are asking how about me".
Helena is one of the biggest modern artists in Europe and she confirmed it one more time at Lucerna on 17 May...
Thank you Helena!
Special thanks go to Martin Michal for his kindness and all help.
The photo gallery - 17 May 2008
The photo sessions
Photo sessions taken at the end of May 2008 published in different papers in Czech Republic.
"Recital 2008" - the tour

On 24 August Helena started her tour "Recital 2008". The idea behind the show was to present the greatest hits in more or less unplugget form.
Photo sessions - July
Bratislava, 20 October
Helena always remembers her fans in Slovakia and a big concert in Slovakian capital Bratislava was a natural part of her autumn tour in 2008. In Bratislava she played for 4500 enthusiastic people at the Pasienky Sport Hall on 20 October 2008.
(photos: Erik Kollarik, thanks vondrackova.net)
Lunatic, who can live without love - new CD
The new Helena CD entitled "Lunatic, who can live without love - hits and rarities" saw its release in Czech Republic on 14 November 2008. It contained previously unreleased rare songs as well as two old songs re-recorded by Helena in new versions in June 2008. One of them is the beautiful Karel Svoboda composition "Zpivám své zpiváni" (I sing my song). Among other rarities there is previously unreleased 1981 Helena's version of "L'important c'est la rose" (CZ: Ruze kvetou dál) and "Self Control" from 1984. Totally 22 tracks with wonderful song of Helena and the cover featuring very nice pictures taken in 1982.
On 28 November Helena christened the CD with a little help from her friends and among others the pop diva Hana Zagorova.
Martin's new book
Helena's husband and manager Martin Michal tells his story of Czech showbiz and his life with Helena in a book "Glance and nastiness of show business" which was issued in November 2008.
Lucerna 21.12.2008
The Lucerna concert hall in Prague was sold-out when the pop queen of Central Europe Helena Vondrackova took over the stage on Sunday 21 December 2008. Helena gave an absolutely superb live show this evening – the last one this year completing her 2008 tour in Czech Republic and Slovakia. The historical Lucerna gathered around 4000 fans and people who wanted to see and hear Helena's performance this evening. As Helena's manager Martin Michal says it was maybe a wrong decision to arrange only one concert at Lucerna in December as it would be no problem to sell several evenings.
Preparing the show

The Sunday concert became a big fan tribute to their idol who belongs to the little group of artists who have enjoyed a huge success for over 40 years now.
Helena made a completely new show comparing to the latest one at Lucerna in May 2008. She performed some previously unheard live classics from her repertoire and one brand new song from her forthcoming 2009 album.
The show featured even an unique performance of probably the most beautiful song written by Czech cult composer Karel Svoboda entitled "Zpivam sve zpivani" (I Sing My Song) as well as great duets with her guests: musical star Monica Absalonova, disco star Michal David and the one and only – wonderful Jitka Zelenkova who was in great form even this evening.

Helena is a phenomenon and I have stated this on raffem.com many times before so maybe it's is not necessary to repeat it again but there is always magic in the air when she enters the stage. It is quite easy to explain - Vondrackova has talent, experience, look, taste, beautiful smile and many other advantages. The most important though is that she loves singing and entertaining people. This combination cannot be wrong and that's why she's got so many fans in so many countries and in so wide range of ages.

As usual it is a bit hysterical spirit in Lucerna when the audience hear the first tunes of the evergreen from the 1980s "Sladke mameni" (Sweet nothings) and Helena strikes the classical dance position. We lose control – everything is allowed – cameras, mobile phones, thousands of hands in the air and crying people everywhere. "Sladke mameni" is followed by another hit "Dlouha noc" (The Long Night) the song which belongs to the top 10 pop hits in Czech Republic in the 2000s.
So it is time for us to give Helena our gift.... (special thanks to Ludmila for these pics)
The night is long as the show is not over after "Dlouha noc" even if Helena indicates it leaving the stage and waving good-bye. She is back very soon and then comes the "must" of the evening one more Karel Svoboda evergreen "Lasku ma ja stunu", which became a kind of anthem, is sung by the audience with a little help of Helena followed by the old world pop classic which became even Helena's classic – "A ty se ptas co ja" (originally ABBA's The Winner Takes It All"). The song that is thought as the last one during this show is Helena's first hit "Cervena reka". But it not over. The audience shouts for more and everybody seems to want to see the song "Malovany dzbanku" which is not rehearsed for the show. Helena asks her band and choir girls if they can do it and... they do it!

This extraordinary night at Lucerna ends with… Malovany dzbanku!
After the show
| | | | | |
| --- | --- | --- | --- | --- |
| Raffem, Lenka, Monika, Helena, Jitka | | | | |
| | | | | |
Many thanks to Helena and Martin for their kindness and support.
Christmas wishes
Special video recording for raffem.com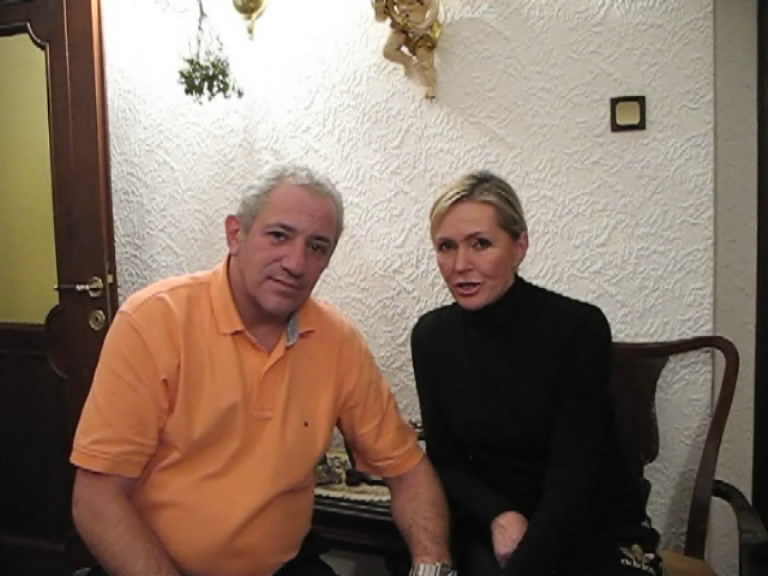 The New Year's Eve gala
Helena performed twice during the big New Year's Eve gala show in Prague broadcasted live by TV Nova.