1967 1968 1969 1970 1971 1972 1973 1974 1975 1976 1977 1978 1979 1980 1981
Shy, low-voiced and self-critical. This is a short desription of Anni-Frid Lyngstad, better known as Frida. She seems to be very balanced person.
"I am in fact very up and down" says Frida. "I am very different from day to day. I am a serious person. But I have a fright in me which is very difficult to forget. I thought that it would be better when I would be older, but it seems to be worse and worse..."
Anni-Frid Lyngstad was born on November 15, 1945 in Björkåsen near Narvik in Norway.
| | | | | |
| --- | --- | --- | --- | --- |
| | | | | |
| Midnight sun in Narvik (Norway) | outside Narvik | | | |
Her mother, Synni, was Norwegian and she died when Frida was little more than 1 year old. Her father was a German officer, who disappeared in 1945 from Norway and did not know that he had a daughter in Norway.
Frida came together with her Grandmother to Sweden when she was 2 years old. They lived in the landscape called Härjedalen firstly, then they moved to Torshälla, a suburb to the city of Eskilstuna where Frida grew up. Her grandmother was working as a tailor and when Frida talks about her "mother" she thinks about grandmother.

Torshälla
The music came early into her life. When she was 11 years old she was on stage for the first time singing "Fjorton år tror jag visst att jag var" (Fourteen years old I think I was) on red-cross soiré. She started working as a singer when she was 13.
Frida started in Ewald Ek's dance band playing mostly swing music. Later she started to collaborate with Bengt Sandlund's big band in Eskilstuna. She met there Ragnar Fredriksson working as carpet seller and playing in the band on the evenings. She married Ragnar and gave birth to two children: Hans and Lise-Lotte.
| | | | | |
| --- | --- | --- | --- | --- |
| | | | | |
| | | | | |
She decided to start her own band together with Ragnar, Anni-Frid Four was the name. They played more and more in and around Eskilstuna.
"During that period I was very jazz-orientated. In the big band I sang lot of Glenn Miller songs. And I listened a lot to jazz in order to learn the technics. First when I met Benny I started to listen to other music as well."
| | | | | |
| --- | --- | --- | --- | --- |
| | | | | |
| | | | | |
Frida worked hard to be a good singer. During the period 1963-67 she took singing lessons for the opera singer Folke Andersson and she participated in all possible sing competitions.
In 1967 she won the competition "New faces" with "En ledig dag" in Skansen in Stockholm. She was a special guest at Lennart Hyland's TV special "Hylands hörna" the same day on September 3, 1967.
| | | | | |
| --- | --- | --- | --- | --- |
| | | | | |
| | | | | |
September 3, 1967 was a very important day in Sweden because this day Sweden went over to driving on the right hand side of the road. The TV personality Lennart Hylland had invited lots of guests to his TV special this evening. Whole Sweden would watch TV this evening. It cannot be a better possibility to make a debut on TV. Mother to two children from Eskilstuna would become an overnight sensation.
She did it. Lots of people saw her and record companies were interested in writing a contract for future record releases.
Expressen, September 4th, 1967.

En ledig dag - the first single
Frida chose EMI, the same record company which had arranged the contest she won. The first two songs she recorded on September 11, 1967 were "En ledig dag" and "Peter kom tillbaka" - both would be released on Frida's first single.
One of the first professional photo sessions. Photos from this session were used on the covers of Frida's two first singles.
Frida remembers: "My first producer, Olle Bergman, liked jazz like me. Firstly when Benny came I started to sing more pop influenced music and then I came on Swedish chart."
Din - the second single
The second single released on December 15th, 1967 featured the song "Din" (Yours) on side A and "Du är så underbart rar" (You are so wonderfully nice) and the B-side. The first song was recorded during the second recording session on October 10th as the song the side B was product of the first session in September.
Studio 8
On January 10th, 1968 Frida was invited to the TV programme "Studio 8" where she would perform her hit "En ledig dag". Among guests there was even another young singer - Agnetha Fältskog. It was the very first time the both singers met each other...

Photo session
Picutres of Anni-Frid taken in April 1968.
Simsalabim - the single
Two new songs "Simsalabim" and "Vi möts igen" (We'll meet each other again) were released as a single in the beginning of summer 1968. Even this single did not become any commercial success and it did not appear on the Swedish chart.
In the summer 1968 she toured in the folkparks together with Lasse Lönndahl and Lasse Berghagen.
| | | | | |
| --- | --- | --- | --- | --- |
| | | | | |
| | | | | |
"Tours with Charlie Norman and Lasse Lönndahl were a great experience. I remember that I sang "Du är så underbart rar" and many other songs. The tour with Lasse Lönndahl was by the way my first "big tour". We went to Finland as well. Lasse was wonderful as chief. He came with flowers and chocolad after the show, sometimes with small presents. It was really a great time."
Frida 1968
Mycket kär - the single
New recording sessions in September and October 1968 brought two songs that were intended for single release in early November 1968. The songs were "Mycket kär" (So in love) and "När du blir min" (When you are mine).
Göteborgs-Tidningen
Frida was featured in the sunday edition of the newspaper "Göteborgs-Tidningen".

Frida meets Benny
Frida met Benny for the first time in Malmö in March. She played together with Charlie Norman at the restaurant "Kramer" and Benny together with Hep Stars and Björn Ulvaeus at "Arkaden". "It was a very short meeting. Next time we met each other when we made the radio special "Midnight Hour". After that we started to meet each other regularly."
Melodifestivalen
Anni-Frid participated in the Swedish outtake to Eurovision Song Contest on March 29th, 1969. She performed "Härlig är vår jord" , the song which would be next single release. The song was even promoted in West Germany but it did not enter the German chart.
Härlig är vår jord - the single
The first single released in 1969 contained "Härlig är vår jord" (Our earth is wonderful) and "Räkna de lyckliga stunderna blott" (Count only the happy moments) - both tracks had been recorded in December 1968, three days before Christmas. The single was released at the end of March 1969 and it entered the Swedish chart "Svensktoppen" on April 27th, 1969 where it stayed for 1 week reaching #8.
Photo sessions:
Bengt H. Malmqvist photo session
Frida in the Charlie Norman Show
In 1969 Frida worked together with Charlie Norman. The show had its premiere at Hamburger Börs in Stockholm on April 1st, 1969
| | | | | |
| --- | --- | --- | --- | --- |
| | | | | |
| | | | | |
| | | | | |
| | | | | |
The touring took more and more time. It was more and more work to do and Frida realized that it her situation was intolerable. It was impossible to combine the life as a housewife with the life as an artist. She had to choose - either Eskilstuna or song. Frida and Ragnar had separated at the beginning of 1969. The official divorce came on March 24th, 1970.
Both agreed that the children would stay by their father. It was much better for them to grow up in little Eskilstuna than big Stockholm.
Så synd du måste gå
Frida recorded two new songs at the beginning of April 1969 which were released as a single "Så synd du måste gå"/"Försök och sov på saken" in May.
Frida and Benny
In August 1969 it was officially confirmed that Frida and Benny were a couple. It meant the beginning of musical cooperation between two of them - a talented composer and a talented singer.
Below: Frida and Benny on the SKAP spring party.
Peter Pan - the single
This recording became in many ways historical as three future members of ABBA met each other and recorded a song which was written by Benny and Björn. The recording session for "Peter Pan" took place on September 10th, 1969. The single was released in the autumn of 1969 and even if it did not enter the Swedish chart it was an important milestone in Anni-Frid's career. The song on the B-side "Du betonar kärlek lite fel" was written by Peter Himmelstrand and produced by Benny Andersson.
Berns
In autumn 1969 Anni-Frid performed in a new show "Buskis och boogie" at Berns in Stockholm together with among others Charlie Norman.

Frida in private
Autumn 1969.
Melodiparad 2
The compilation album "Melodiparad 2" included two Frida songs from her 1969 single "Härlig är vår jord"/"Räkna de lyckliga stunderna blott".
On TV
At the end of December 1969 Anni-Frid was one of the singing stars in the show "Det rör sig kring Svante" (It's about Svante) with Swedish jazz musician Svante Thuresson aired by Swedish Television.
Där du går lämnar kärleken spår - the single
From now on Benny was producer of most of Frida recordings. A new recording session at the beginning of March 1970 brought two new songs: "Där du går lämnar kärleken spår" (The love leaves a track everywhere you go) and "Du var främling här igår" (You were a stranger here yesterday). "Där du går lämnar kärleken spår" entered the Swedish chart Svensktoppen on May 10th, 1970 where it stayed for 2 weeks peaking at #8.
Party
In March 1970 Frida and Benny were seen at the party after the show of Povel Ramel - Swedish comedian.

När stenkakan slog - TV series
Anni-Frid became more and more popular and it resulted in invitations to the TV house in Stockholm. In the spring of 1970 Frida participated in a musical series called "När stenkakan slog" (When the old record was a hit). Frida and other top artists sang old schlager in new versions. One of the most beautiful ballads that she ever made was probably "Att älska i vårens tid" (To love in the springtime), the song that was used in the show. Frida did several songs and they have also their video versions.
Malmö Stand By
She participated in the TV show "Malmö Stand By" where she performed several songs from her jazz repertoire. The series was broadcasted in Sweden in autumn the same year.
Concerts
Frida gave several performances in Sweden during the summer 1970 - below at Forum in Älvsbyn.
Preparing the album
In autumn 70 Frida and Benny with some help from Björn Ulvaeus started working with Frida's first solo album which was planned for release the year after.
Summer
Photo session
Frida participated in the photo session for advertisements promoting hair products in 1970.
EMI toppar 70
Anni-Frid's latest single hit "Där du går lämnar kärleken spår" was included on an EMI compilation album together with other hits performed by various Swedish artists.
Photo sessions
Shots from these photo sessions taken in the autumn 1970 were used on the forthcoming album "Frida" and the single "Min egen stad" (release in 1971).
One day with Anni-Frid
The photo series taken in the autumn 1970 presented one day with the artist Anni-Frid Lyngstad.
Autumn

Festfolket
On November 1, 1970 Frida together with her fiancée and their friends Björn Ulvaeus and Agnetha Fältskog had premiere of their show at the restaurant "Trä'gårn" in Gothenburg. After several shows in Gothenburg and in Stockholm the foursome went back to their solo projects.

En liten sång om kärlek
Two songs: "En liten sång om kärlek" and "Tre kvart från nu" recorded on December 19th, 1970 saw their single release at the beginning of 1971.
Recording sessions
Frida started recording sessions for her first studio album in September 1970 and they continued in January 1971. Benny produced the album.
Frida - the album
The first Frida solo album was released in March 1971. It contained 11 strong compositions - one of them "Lycka" (Happiness) written by Benny and Björn.
Frida's first LP was described in Dagens Nyheter as: "Proffessional, sure and certain LP debut... low-key but self-sure personality with sprinkles of both temperament, humor and tenderness. And she sings in this way that you understand that she's got something between her ears - she sings with other words in a very intelligent way."
Fashion school
Frida took several lessons at the fashion school in Stockholm. This knowledge she would use later as a member of ABBA creating stage outfits for the group.
With Lasse Berghagen
In the summer Frida toured together with the pop star Lasse Berghagen as well as they recorded two songs: "En kväll om sommar'n" (A summer evening) and "Vi vet allt men nästan inget" (We know all but almost nothing). Before the tour Frida, Lasse and the band went to Malta to rehearse the show and perform in front of Swedish tourists there.

The tour started on June 25th, 1971 in Hammarstrand and continued until August 29, 1971.
En kväll om sommarn - SP
The single was released in July and it entered the chart list Svensktoppen in August 1971 reaching #9. The first song was even released on a compilation album "Hits" together with other Swedish Top Ten hits including Björn & Benny's song "Välkommen till världen" sung by Lill-Babs and featuring all the future ABBA members in choir.
TV
Frida together with Lasse Berghagen, Svenne (Hep Stars) and the comedian Finn Alberth participated in the TV show "Den stora utflykten". The show was filmed in Luleå in northern Sweden. Frida performed several songs featuring the latest hits: "Vi vet allt men nästan inget" and "En kväll om sommar'n".
Photo sessions with Lasse Berghagen
Photo sessions
Min egen stad
In July 1971 Frida and Benny were again in the recording studio working with a new song which would be Frida's very first number one on the Swedish chart a couple of months later. The song "Min egen stad" was composed and produced by Benny. The lyrics were written by Peter Himmelstrand. One more song "En gång är ingen gång" was recorded during this session. Strangely the new single had the latter song on the side A and "Min egen stad" on the side B when it was released in September 1971. But it was "Min egen stad" that entered Svensktoppen on October 24th, 1971 and became hit reaching #1.
More photos
Walt Disney
Frida recorded one song for the Swedish release of "Snow White and the seven dwarfs" (Snövit och de sju dvärgarna). The original song "Whistle while you work" got the Swedish title "Nu vissla vi ett slag" and saw its release on a single which was part of a special package including a 24-side-bookled with the story of Snow White and exclusive pictures as well as the lyrics to the song performed by Frida.
My favorites - the show
In autumn 1971 Frida was contracted to the show "My favorites" together with among others Lasse Berghagen. Frida performed three songs in the show. One of them was "Who turns off the moon" a duet with Lasse Berghagen. The premiere of the show took place in Stockholm on October 22, 1971
| | | | | |
| --- | --- | --- | --- | --- |
| | | Frida and Benny after the premiere on October 22, 1971. | | |
| | | | | |
| | | | | |
| | | | | |
| | | | | |
Diamonds are forever
On December 20th, 1971, Frida and Benny attended the Swedish premiere of the newest James Bond movie "Diamonds are forever" at the cinema Rival in Stockholm

In January 1972 Frida recorded her last single for EMI - a song "Vi är alla bara barn i början" (We all are children at the beginning) which was written by Björn and Benny who together with Agnetha were even background singers! The same choir could be heard on the second song recorded during the same recording session: "Kom och sjung en sång" (Come and sing this song).
Veckorevyn
Frida in the Swedish weekly "Veckorevyn".
With Benny and Hansi Schwartz

Frida on Polar Music
On July 27th, Frida recorded two new songs for her new label Polar Music. "Man vill ju leva lite dessemellan" (You have to live a little inbetween) and "Ska man skratta eller gråta" (Should I laugh or cry!!!!) were covers of two Italian hits. Both songs were produced by Benny and the Swedish lyrics had been written by Stig Anderson. The picture for the single cover was taken in the suburb of Stockholm Vallentuna where Frida and Benny lived by that time.
| | | | | |
| --- | --- | --- | --- | --- |
| | | | | |
| | | | | |
| | | | | |
Alternative photo sessions
| | | | | |
| --- | --- | --- | --- | --- |
| | | | | |
| | | | | |
Man vill ju leva lite dessemellan - the single
The single was released in August 1972 and it became a smash hit in Sweden reaching #1 on the hit chart in September. The song stayed on the top for for 3 weeks.
Greatest hits from the EMI period
After two number ones on the Swedish chart Frida became hot artist. That's why her old record company EMI decided to release a greatest hits compilation. The album called simply "Anni-Frid Lyngstad" was out at the beginning of October and contained 12 songs including "Min egen stad" and "En ledig dag".
Christmas album
In August Frida recorded two Christmas songs for release on Polar Music's Christmas album. The Christmas album released by Polar Music at the end of 1972 featured the hottest artists signed for the record company: Hootenanny Singers, Anni-Frid Lyngstad, Arne Lamberth, Svenne Hedlund and Lena Andersson. Every artist had recorded two songs for this album and it had been produced by Stikkan, Benny and Björn. The album was re-released in 1978 with different cover.
Party with B & B

The golden hearts session
At the beginning of the year Anni-Frid and Benny posed for the Swedish weekly "Svensk Damtidning" with golden hearts.
Model in "Allers"
Frida and Lill Lindfors showed their clothes that they had bought for 300 Swedish Crowns in the Swedish weekly "Allers".
The blonde period
In autumn 1973 Frida changed temporarily her hair-do and color. For a short period she became blonde.
Already at the beginning of the year 1974 Frida and Benny started working with a new album. Due to the ABBA victory in Brighton and the group's promotion the work with Frida's solo project went very slowly. Many songs recorded during the sessions in 1974 were thrown away or remained unreleased.
The recording sessions for the forthcoming album took place in Stockholm in March, May and July 1974. At the end of 74 and the beginning of 75 all time was devoted to ABBA and the group's third album planned for release in 1975. Frida could continue her solo work first one year later - in July 75 when she recorded two more songs for her own project. She could work more intensive in August and September. At the beginning of September she recorded a new composition of Björn and Benny "Fernando" in Swedish. The song re-recorded later by ABBA would become on of the group's biggest hits.
The linen session
So far only two alternative shots available.
Moviestar, oh moviestar...
Frida and Lena Ericson sang choirs in "Moviestar", a big international hit performed by Harpo in 1975. The studio recordings with Frida and Lena on February 27, 1975 were filmed by Swedish TV.
| | | | | |
| --- | --- | --- | --- | --- |
| | | | | |
| | | | | |
| | | | | |
Posing...
...for a Swedish fashion magazine together with her dog Zappa.
With Björn Skifs
In the summer of 1975 Frida was in the EMI recording studios in Stockholm where she recorded a duet with Björn Skifs "Med varann" (Together). The song would be released in the autumn on Björn's album entitled "Schiffz!". "Med varann" was a beautiful ballad originally recorded by The Stylistics in 1974.
The drink session
One of the Frida solo photo sessions.
| | | | | |
| --- | --- | --- | --- | --- |
| | | | | |
| | | | | |
Sommarnöjet
On August 26th & 27th, 1975 Frida performed in the summer TV show "Sommarnöjet" at Skansen in Stockholm where she performed "Syrtaki" and "Aldrig mer" from the forthcoming album "Ensam".
Frida Ensam - the album
The album "Frida Ensam" (Frida Alone) was released by Polar Music on November 10th, 1975 in whole Scandinavia. The LP was promoted in Scandinavia by the song "Fernando" which entered Svensktoppen (in Sweden) in December 75 and it reached #1 where it stayed for 9 weeks. "Fernando" came out as a single in Norway.
The album became a huge success for Frida as a solo artist - actually her biggest success so far. Most of the songs on the album were covers of well-known international hits. The ABBA "family" was playing on the album: Benny and Björn as well as Rutger Gunnarsson, Janne Schaffer, Ola Brunkert, Roger Palm, Lasse Wellander and Malando Gassama. Agnetha did not participate in this project as she was busy with her own solo album at the same time. The album was produced by Benny Andersson.
The album went directly to the first place on the Swedish chart and became a great commercial success selling 130 000 ex in Sweden.
Frida about the album: "I've chosen songs which were impossible for me to sing as a one in ABBA. For me it is very good and advantageous to sing on my own sometimes. But I do not want to mix my own productions with the ones made by the group ABBA. It is very difficult to work with two things simultaneously. In Sweden we are known as solo artists from the beginning and it's ok to do a solo album sometimes. But abroad we are known as the group ABBA and it is ABBA albums not the solo ones that we promote there. ABBA is most important right now (1975) and it is going to take long time before I am back with a new solo production."
The photo session
Before Christmas 1975 Frida signed her new album at Ähléns - the biggest department store in Stockholm
Ljusterö
Due to the huge success with ABBA, the members did not devote so much time for their solo projects in 1976. But Frida managed to do one little project besides ABBA. Together with Swedish singer Magnus Lindberg she recorded a duet "Ljusterö" which was released on Magnus' solo album the same year. The song was released on a compilation CD "Möten" (released in Sweden) in 1994.
Frida and books
Frida was interviewed by "Expressen" about her favorite books at the end of 1977. The article and the photos were published the Sunday edition of the newspaper on January 29, 1978.
The photo sessions 1978

On January 24, 1979 the Swedish weekly "Damernas" published a big article about Anni-Frid containing very beautiful arranged photos of the singer.
The mink session
| | | | | |
| --- | --- | --- | --- | --- |
| | | | | |
| | | | | |
Frida on SVT
After returning from USA at the end of May Frida was interviewed by Swedish TV for the children programme "Barnjournalen". Frida answered the questions about Olivia Newton-John TV special and the forthcoming album.
Gul & Blå gala show
A big mode show was arranged at the end of August 1978 in Stockholm by "Gul & Blå". The aim was promotion of clothes from the 1950s. Anni-Frid accepted of course the invitation.
Star jury
Frida in the "star jury" for the weekly "Hänt" together with Björn Skifs and Sven-Erik Magnusson.
Svenska Journalen
In autumn Frida gave interview for "Svenska Journalen". Several beautiful photos were taken at the same occasion. The article was published at the beginning of October.
Gå på vattnet om du kan - the movie
In February 1979 Frida went to Spain where she acted in a Swedish movie picture "Gå på vattnet om du kan". Frida played a minor role in this incredibly boring film.
You have to fight a little... - Frida in Expressen
On 21 May 1979 the Swedish newspaper "Expressen" published a whole side ad featuring Frida. The ad was issued by The Swedish Employers' Union together with The Swedish Industry Union. Frida gave her point of view on young people and their relation to work and school. She remembered her first years as teenager who was forced to work hard to earn some money. The ad was entitled "You have to fight a little". Even a whole brochure featuring Frida was issued.
Clabbe
The ABBA sound engineer Claes af Geijerstam called Clabbe released his solo album "Starlight" in 1980. The album had been recorded between 1977 and 1980 and Frida was participating in the recordings as a background singer.
Lill-Babs
Frida was one of the guests invited to the Lill-Babs birthday party at the beginning of March 1980.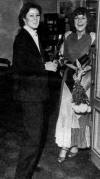 Frida's daughter on stage
Frida's daughter Lotta participated in traditional end-of-the-spring concert in Skansen in Stockholm at the beginning of June 1980. She was on stage among many other children invited to the show. Frida and Benny attended the concert.
Premiere at the "Folkan" theatre in Stockholm, May 1980
A new show with Lill-Babs and Tommy Körberg had its premiere at the Folkan theatre in Stockholm. Anni-Frid attended the event without Benny who was probably busy in the studio mixing the "Super Trouper" album.

After Dark show in Stockholm
At the end of May 1980 Frida and Benny attended the premiere of the new show of the transvestite-group After Dark at Hamburger Börs in Stockholm. The show included an ABBA number.
The fashion show for "Damernas"
In July 1980 it was time for a new fashion show for "Damernas". Frida was caught by the photographer in very surprising positions. Something that Frida really liked.
Frida's arrival...
On June 11th, Frida arrived in her own helicopter in Lidköping to attend the wedding of her good friends Charlotte Klingspor and Egon Zimmerman.
Frida - the cover girl
Frida appeared on the cover of the first issue of the Swedish monthly "Clic" in September 1981. Earlier the same year Frida went to Elenthera in the Bahamas to make a special feature for the magazine. Lots of pictures of the singer were published in "Clic" and among others the famous topless photo of Frida. The chief for "Clic" was Bertil Hjert who by that time was a near friend to Frida. The British weekly "Sunday People" published the topless photo of Frida on 27 September.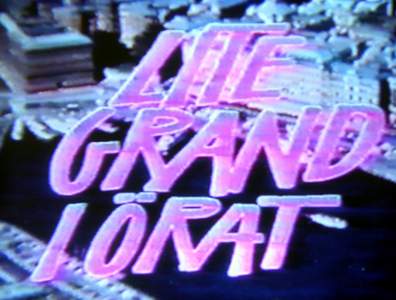 Frida and Claes af Geijerstam were hosts for 4 TV shows called "Lite grann i örat". Swedish TV broadcasted the shows in TV 2. Frida was not only a host but she even sang several songs - mainly cover versions of well-known world hits.
Frida outside Grand hotel in Stockholm
The first edition broadcasted on 18 September 1981 featured: Lena Andersson (her TV come back after many years), Björn Skifs, Janne Önnerud Leonard Eek and Pugh Rogefeldt. On 25 September 1981 following guests were invited: Mats Ronander, Tomas Ledin and Py Bäckman. On 2 October 1981: Diana Nunez, Kikki Danielsson, Peter Lundblad and The Radio. On 9 October 1981: Tommy Körberg, Billy G-son, Lotta Hedlund and Dave & The Mistakes.
Frida private
New image
At the end of 1981 Frida cut her hair short in the modern by that time "punk" style. In November Frida was one of the guests celebrating Alexandra Charles' 35th birthday at the famous Alexandra Disco in Stockholm.