BJÖRN & BENNY NEWS
"Mamma Mia" back in Denmark
The musical has its new premiere in Denmark on January 22nd, 2020 in Copenhagen.
Björn in "Skavlan"
Björn appeared in the Swedish talk show "Skavlan" on Swedish TV channel 1 on Friday December 6th, 2019.
more pictures @Björn 2019
Mamma Mia The Party
On September 19th, 2019 Björn and Benny attended at the opening of "Mamma Mia The Party" in London.
Benny in "Aftonbladet"
Swedish newspaper "Aftonbladet" published on August 2nd, 2019 an interview with Benny about the BAO tour, new ABBA songs and the avatar-project. According to Benny the two new ABBA songs are not finished yet and it is still unclear when they will be released. The avatar-project can be ready in 2021 but the new ABBA songs should be released earlier than 2021.
BAO on tour 2019
Bästa låtarna
The best of BAO saw its release on June 14th, 2019. The CD contains 11 songs including two new ones.
Björn's life in stories
A new book was written by Björn and issued in 2018. Björn is telling stories about his life as an artist. It includes lots of memories from the ABBA time but even before and after. The book can be purchased in Björn's hotell-restaurant complex in Västervik or on-like via ABBA The Museum.
X-Factor - B&B in the UK
In November Björn and Benny were in London where they participated in the TV show "X-Factor". Björn was interviewed on BBC TV where he was talking about forthcoming projects. New ABBA songs will be released at the beginning of summer 2019, said Björn.
Mamma Mia - Here we go again
The film was released on DVD and Blu-ray disc on November 16th, 2018.
Chess in Danish
The Danish version of "Chess" was released in September 2018. The album contains 16 songs performed in Danish language.
Chess in Denmark
Musical "Chess" in Danish language version was on tour in Denmark.
More pictures from the show @björn&benny_2018
The musical is being played in following cities:
Copenhagen - 19.01 - 17.02
Århus - 20.02 - 3.03
Odense - 6-10.03
Vejle - 13-17.03
Holstebro - 21-24.03.
Piano - the LP release
Benny's album "Piano" was released as a double LP on November 8th, 2017. @benny_2017
Benny Piano
Benny released his piano album on September 29th, 2017 - more@benny_2017
Chess at the Kristianstad Theatre
Musical "Chess" (in Swedish) had its new premiere in Sweden at the Kristianstad Theatre on September 23rd, 2017.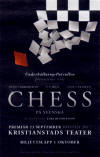 Mamma Mia - here we go again
Filming for the "Mamma Mia - the movie part 2" will take place in Croatia on the island Vis. The filming is scheduled for the autumn 2017 and it will be finished before the end of October 2017.
Björn on the radio
Björn was interviewed by Lotta Bromé on Swedish radio P4 on Wednesday January 4th. He mentioned plans for a new musical to be written together with Benny.
Moraeus med mera
BAO were special guests in TV show "Moraeus med mera" aired on Swedish TV on Saturday December 3rd, 2016. Benny and his Orkester participated in talk show as well as they performed two songs from their latest studio album featuring the latest hit "En natt i Köpenhamn" (One night in Copenhagen).
BAO on tour 2016
The 2016 BAO tour had its premiere on July 21 in Gothenburg/Sweden. The show was 4 hours long and it featured all BAO hits as well as several ABBA songs as: "Put on Your White Sombrero" and "On and On And On".
BAO - new album
New BAO album was released in Sweden on June 10th, 2016. The album is entitled "Mitt hjärta klappar for dig" (My Heart is beating for you) and it contains 11 new songs - most of them written by Benny and Björn. As usual Helen Sjöholm and Tommy Körberg perform the songs. The group promoted the album on Swedish TV on June 28th in "Allsång på Skansen". They performed their latest single "En natt i Köpenhamn" (One night in Copenhagen) and "Ticka, Ticka väckarklocka".
Björn in "Skavlan"
Björn was a special guest in the popular Norwegian-Swedish talk show "Skavlan" which was broadcasted by Swedish TV on Friday, January 8th. The main reason for Björn's appearance was the forthcoming opening of the "ABBA - The Party" at the "Tyrol" in Stockholm. He was even talking about ideas for new musical co-written with Benny Andersson.
Björn in Aftonbladet - 2016-01-02
The new project "Mamma Mia - The Party" opens at the restaurant Tyrol in Stockholm on January 20th, 2016. Björn gave an extended interview for the Swedish newspaper "Aftonbladet" on Saturday January 2nd, 2016. He talks about the new project, about the ABBA time and writing of new song lyrics for the forthcoming new album of BAO.
BAO on tour 2016

Benny in Aftonbladet
September 20th, 2015
Benny gave a big interview to Aftonbladet. Below excerpts.
"Cirkeln" became a disappointment.
A new album with choir songs and soon Benny is in the recording studio again with BAO recording new album and in the summer 2016 there will be a tour again. The movie "Cirkeln" became though an disappointment commercially but the door is not closed for "Mamma Mia 2".
- I understand why film companies are interested in a follow-up to Mamma Mia the Movie but personally I am not, says Benny.
New premiere for "Kristina från Duvemåla" at Cirkus in Stockholm. Songs from this musical and from "Chess" can be found on the new album "Kärlekens tid" performed by Gustaf Sjökvists kammarkör performing Benny's music. /.../
It will come new music soon. Benny Andersson Orkester will be both in recording studio and tour bus soon.
- In autumn and spring 2016 we will record a new album with BAO. It will be released in May 2016 and we will go on tour in July 2016.
- I've written all music, but Björn does not know yet... well, he knows but I haven't sent any material to him for writing lyrics. It will be fun to record. Every time BAO is in the studio I think: it would be great to be here all the time.
Rumours
Do you have time for working with film?
- The longest time takes to create the music with BAO. It goes fast to record it. And we have rehearse more before the tour as we will have about ten new songs.
The rumours say that it will be Mamma Mia The Movie 2.
- Yes, I know. And sure - Give us an offer we can't refuse... There are discussions about it and we communicate with Judy Cramer. Cathering Johnson has written a new story but there are no decisions so far. We got a name of director who did not understand what we were talking about. It cannot be like this. The process goes very slowly. I think we shall be very satisified with the Mamma Mia The Movie as it was, says Benny. Personally I am not interested in a follow-up but I understand that film companies are.
New interview with Björn
Björn gave a new interview for the local Stockholm newspaper "Mitt i...". He is talking about the immigrants in Europe and how we can help them. He compares the situation to the story of "Kristina från Duvemåla". He answers some questions as: Will ABBA do a comeback? Björn: Nae.
Do you - the former members of ABBA - have contact with each other? Björn: Of course. All four. Agnetha and myself have children and grandchildren together so we meet each other on birthdays, Christmas etc. I use to have dinner with Anni-Frid as soon as she is in Stockholm. I meet Benny very often.
-Benny and myself were sitting and talking a time ago and suddenly we said: "But what a hell - we do it again - we write one more musical!" But NOT Kristina number two. It will be completely different. We are thinking about it now but I am sure that someday one of us says: "What do you think about it?" It was always like this between me and Benny. We wanted to do different things - firstly pop music and then we created ABBA after this period we wanted to try drama and music so we made Chess and Kristina.
Kärlekens tid - new CD
A new album produced by Benny with the Gustaf Sjökvist choir features several compositions of B&B. The album was released in Sweden on September 18th, 2015.