Benny Andersson & BAO
after 2001
2001 2002 2003 2004 2005 2006 2007 2008 2009 2010 2011 2012 2013 2014 2015 2016 2017 2019
BAO
In 2001 Benny formed his own group called simply "Benny Anderssons Orkester". Benny and 13 musicians recorded their first album at Atlantis studio (aka Metronome Studio) in Stockholm. Lyrics to the songs on the forthcoming album were written by Björn Ulvaeus. Benny chose Helen Sjöholm as a singer in Benny Anderssons Orkester.
The album
The debut album was released on June 20th, 2001. It contained 14 compositions and among them the smash hit in Sweden "Vår sista dans" (Our last dance) with lyrics written by Björn Ulvaeus and performed by Helen Sjöholm.
Skansen August 2001
BAO performed on Allsång på Skansen on August 7th, 2001. It was the first big TV promotion for the group. Helen Sjöholm performed "Vår sista dans" (Our last dance), Benny played "Does Your Mother Know" during the rehearsals, Helen and Josefin Nilsson presented the Swedish language version of " I Know Him So Well" which would be later a part of the Swedish set-up of the musical "Chess". Björn Ulvaeus was one of the special guests in the audience.
On TV
On December 25th Swedish Television broadcasted a TV-special "New adventures of BAO". In this 30-minutes-show BAO performed several songs from their first album. The show was directed by Beeny's wife Mona Nörklit.
Berwaldhallen
On January 5th, 2002 BAO with Helen and Tommy gave a concert at Berwaldhallen in Stockholm where they performed both old and new songs.
Skansen August 2002
Benny and his orkester, Helen Sjöholm and Tommy Körberg were guests in the Allsång på Skansen on August 6, 2002, hosting by Lasse Berghagen. Benny Anderssons Orkester, Helen and Tommy performed a traditional dance medley and Benny & Tommy the Swedish version of "Anthem" from Chess.
Mamma Mia hits the US
The tenth set-up of the musical "Mamma Mia" had its premiere in Las Vegas (USA) at the big casino "Mandalay Bay" on February 14th, 2003. Benny attended the premiere.

Per Myrberg
In 2003 Benny produced a solo album with Per Myrberg, known from his part as Molokov in the Swedish set-up of the musical "Chess". Benny and Per decided to record a whole album with Swedish folk songs written by Evert Taube. Benny had both produced and played on the album. Benny Anderssons Orkester was playing on two tracks.
Recording sessions - beginning of April 2003.
The album contained 14 tracks which had been recorded and mixed in March and April 2003. The CD was released in June 2003.
Skansen
Benny Anderssons Orkester with Helen Sjöholm performed live in Skansen on August 5, 2003. The songs were: Vår sista dans (featuring Helen Sjöholm), TIVEDS HAMBO (well known from ABBA's last TV performance in 1986) and BADINERI of Jan Sebastian Bach. Benny was interviewed by the host Anders Lundin.
| | | | | |
| --- | --- | --- | --- | --- |
| | | | | |
| | | | | |
| | | | | |
The tour 2003
Benny Anderssons Orkester together with Helen Sjöholm and Tommy Körberg went on a short tour in Sweden in August. They played in Stockholm, Gränna (outside Jönköping) and Gothenburg. They played lots of well-known hits and among them ABBA's "Ring Ring", "Money Money Money" as well as "Vår sista dans", "O sole mio", "True Love", "The dream about Elin" and "Moon River".
| | | | | |
| --- | --- | --- | --- | --- |
| Rehearsing | Stockholm June 8th | | Gränna, June 9th | |
Hotel Rival in Stockholm
Sleep with ABBA

The new hotel "Rival" at Mariatorget in Stockholm owned by Benny Andersson, Christer Hägglund and Christer Sandahl has not only rooms but a lot of advanced technical equipment. There are 32" plasma TV, DVD and CD in every room and you have possibility to rent and use Sony Playstation. The cinema in the hotel has 700 places and technical facilities for conference i.e. LCD-projectors, video and DVD. It's possible to record a TV programme there as well. The common space has 5 zons where you can play music with different volume in each of them. All music is played from central hard disc. The equipment is delivered by Sony.
The new premiere of ABBA The Movie
Benny & Frida attended the new premiere of "ABBA The Movie" in Stockholm on December 2, 2003.
Interview in "Expressen"
"Expressen" published a long interview with Benny in June 2004.
Recording sessions
BAO! were in the studio at the beginning of 2004 and recorded a new album
BAO! - the CD
The new album with Benny Anderssons Orkester was released in Sweden at the beginning of June 2004. Helen Sjöholm sings on 5 tracks. The most successful song on the CD is the 2004 version of "I Do I Do I Do I Do I Do" called "Du är din man". A typical Swedish dance band piece in Benny style became a huge hit occupying the Swedish chart as a Top Ten hit for over one year.
Du är min man - note sheet
BAO on tour 2004
BAO went on the traditional Sweden tour in August 2004.
Ann-Sofie von Otter
In September 2004 Ann-Sofie von Otter recorded the album with the songs of Björn and Benny. The album would be released two years later in August 2006.
The recording sessions:
BAO on stage
The gala show in memory of Anna Lind (former Swedish minister of foreign affairs killed in Stockholm in 2003) was held at the City theatre in Stockholm on Saturday September 11, 2004. Among the guests attending the concert were King and Queen of Sweden. Benny Anderssons Orkester performed several times. Together with Anne Sofie von Otter they performed ABBA's "Like An Angel Passing Through My Room" (where are you Frida?). Helen Sjöholm sang "Saknadens rum" from BAO's latest album. All performances were live.
Anders Ekborg sings Benny & Björn
Anders Ekborg, well-known singer who performed in B & B musicals "Kristina från Duvemåla" and "Chess" (in Swedish) recorded in Prague in June 2005 a B & B song "Han som har vunnit allt" (let us translate it as "The winner takes it all"). The song was released on Ekborg's solo album in 2006.
BAO on tour - Stockholm
Benny and his Orkester performed on Skansen twice in 2005. On Tuesday (2.08) in the TV show "Allsång på Skansen" and on Wednesday (3.08) with their own show at the dance place in Skansen called "Galejan". Everybody was there - old ABBA manager Görel Hanser, Mona Nörklit (Benny's wife), Peter Grönvall (Benny's son), Ludvig Andersson (Benny's son) and many others. The public was estimated to 3000 people and it was really crowdy. Hundreds of people were dancing to the BAO music and Benny seemed to love the evening. Helen Sjöholm and Tommy Körberg performed all latest BAO hits as well as some evergreens and several ABBA songs as: Ring Ring, I Do I Do I Do..., Why Did It Have To Be Me and Hamlet. To call the both singers professionals is maybe too little if you want to describe them. They are absolutely great. The show was almost 4 hours long and Benny was precisely like he used to be on ABBA concerts 1977-79-81.
"BAO! En konsert med dans" (BAO! A concert with dance)
2005-07-28 Trädgårdsföreningen,Göteborg
2005-07-29 Sofiero Slott,Helsingborg
2005-08-03 Solliden, Skansen,Stockholm
2005-08-04 Stadsparken,Örebro
2005-08-05 Sammilsdal,Leksand
The ring tone for Swedish Red Cross
The Swedish Red Cross and Benny Andersson presented on Friday November 18th,2005 the new ring tone for mobile telephones on a press conference in Stockholm. The ring tone composed by the former ABBA member costs 50 Swedish Crowns (about 5 Euro).
BAO på tourné (BAO on tour)- the CD release
The BAO 2006 CD "BAO på tourné" was released in Sweden on May 10th, 2006. The album contains 22 songs recorded during the group's tour in Sweden in 2005. Among the songs there are BAO's own big hits as "Du är min man" and "Vår sista dans" (performed by Helen Sjöholm), Benny Andersson's hits released originally on his solo albums as "Klinga mina klockor", "Födelsedagsvals till Mona" and others. Even Kalle Moreaus and Tommy Körberg perform. No ABBA cover has been included even if BAO played several of them on their tour. The cover is not very fascinating dark with small and very small pictures.
BAO on stage - 15.05.2006
Benny Anderssons Orkester promoted their live CD and... the group "Florence" at the hotel "Rival" in Stockholm on Monday, May 15th. The audience of 700 people attended the show which started at about 7 p.m. with one-hour-performance of the group Florence whose newly released CD had been produced by Benny Andersson. After a short break BAO entered the stage and played their hits for more than 2 hours together with singers Helen Sjöholm and Tommy Körberg. Two ABBA covers were performed: Ring Ring and Why Did It Have To Be Me. The programme of the show was about the same as on the tour in the summer 2005.
Anne Sofie von Otter sings Benny & Björn
The album with Benny and Björn's music performed by the Swedish opera diva Anne Sofie von Otter was released on August 28, 2006. The CD has been recorded at Atlantis Studios in Stockholm in September 2004 so this music is 2 years old. Von Otter did not have time due to her tight schedule to promote the album before now and that's why the recordings waited for its release so long time. Eleven compositions were chosen for the inclusion and among them several ABBA songs. Two classical compositions "The Day Before You Came" and "The Winner Takes It All" appear in new arrangements which destroy the songs a little. ABBAgnetha's performances were much better even if it is very difficult to compare Agnetha and Anne Sofie. Von Otter's voice works much better in the musical works of Benny and Björn from the "Chess" and "Kristina från Duvemåla". The title song "I Let the Music Speak" is as well more suitable composition for the singer. The 1973 composition "I Am Just a Girl" has been recorded in a kind of cabaret style with some "Benny-folk-music-feeling". It is very nice to hear Benny and Björn compositions in another versions and performed by an opera voice. Pity that the CD quite short - 48 minutes but watch out there is a hidden track on the CD - "Money Money Money". Do not stop the CD after the 11th track - "After the Rain"
Benny: "We are 20 years better" - recording sessions for Mamma Mia The Movie.
At the beginning of the year Benny started recording sessions for Mamma Mia the movie in Stockholm. Benny Andersson said that it makes great fun to be back in the old ABBA studio called in the 1970s Metronome Studio (now Atlantis studio where even Agnetha Fältskog recorded her solo album "My Colouring Book).
BAO - the recording sessions 2007
In March BAO had their first recording sessions for the new album. Benny Andersson revealed that an old composition from 1979, planned originally for the ABBA album Voulez-Vous, would be finally released on the forthcoming BAO CD. The song was entitled "Crush on You" and it was sung in English. One more song in English and five in Swedish were planned for release on the new album. Even a compilation album "The best of BAO" was under preparations for international release later this year. The vocalists were as usual Helen Sjöholm and Tommy Körberg.
Allsång på Skansen
Traditionally Benny Anderssons Orkester performed in "Allsång på Skansen" on August 7th, 2007. For the first time Helen Sjöholm was missing but just this time as she had became mother at the end of July and she needed some time for herself and her child. Tommy Körberg performed both new songs which will appear on the forthcoming BAO album. Benny said in the short interview that the album was planned for release in October 2007 and it contained one song in English "Crush on you". Even an English language album was planned for recording in the nearest future. One of the new songs performed in Skansen had a wonderful ABBA sound remaining of "I Let The Music Speak" - pity that Frida couldn't perform it on stage as she was in Stockholm that day...
The new BAO album is recorded and right now it is being mixed. The release is planned in October. BAO will record a record in English according to Benny Andersson but it is quite unknown when and whether it will be promoted abroad. The filming for the movie "Mamma Mia" continues in London and Meryl Streep has already recorded several songs. In September the film team will move to Greece.
BAO
The new CD of Benny Andersson Orkester was released in Sweden on October 24th, 2007. The album contained 12 tracks most of them sung by Helen Sjöholm and Tommy Körberg - two great singers belonging to BAO's musical team since many years.
Lyrics were written by another "B" - Björn Ulvaeus. So almost ABBA album... The only ABBA-related think here can be the song "Crush on you" which Benny started to compose already in 1979 and which finally saw its release on this BAO album 28 years later.
Helen Sjöholm sings a very typical Benny Andersson composition "Upp till dig" (Up to you) which is a redone version of the 1982 B & B composition "I Am The Seeker" released on the B-side of Frida's & BA Robertsons' single "Time".
BAO in Globen - Stockholm
On Friday October 26th, 2007 BAO with Helen Sjöholm and Tommy Körberg performed in Globen in Stockholm. Benny gave an exclusive interview for the Swedish TV4.
Making of Mamma Mia the movie
The first 7 months of 2008 Benny devoted to "Mamma Mia - The Movie". He completed the recording sessions for the soundtrack and participated in the promotional work for the film. Swedish TV stations made several interviews with both Benny and Björn at the beginning of the year. Swedish TV 1 broadcasted their special on March 4th, 2008 followed by the channel TV4.
BAO in Allsång på Skansen
BAO performed in the last show in the series "Allsång på Skansen" in Stockholm on Tuesday August 5th, 2008. Helen Sjöholm performed the old hit "Du är min man" and together with Tommy Körberg one song from the latest BAO album "Nu mår jag mycket bättre" (I feel much better now). Tommy did not know the lyrics to the song but he had a crib on stage which helped him a lot. The Mamma Mia Stockholm cast performed: "Mamma Mia", "Super Trouper", "Thank You For The Music" and "Dancing Queen".
Bettan sings Benny
The first ABBA/Benny related CD release in 2009 is the new album recorded by Swedish/Norwegian pop star Elisabeth Andreassen. The CD entitled "Spellemann" (Fiddler) contains 12 compositions based partly on the Norwegian and Swedish folk music. Andreassen called in Scandinavia "Bettan" performs three songs written by Benny: "Klinga mina klockor" (from Benny's 1987 solo album with the same title), "Det är vi ändå" (the BAO song written by Benny and Björn) and "Nu mår jag mycket bättre" from BAO's latest album "BAO 3".
Bettan sings even the well-known "Gabriellas sång" performed originally by Helen Sjöholm in the Swedish movie "Så som i himmelen" from 2004.
Special guests on the album are the group Orsa Spelmän which is part of Benny Anderssons Orkester. Orsa Spelmän play on all Benny compositions.
Elisabeth Andreassen is well-known pop star in Sweden and Norway even known internationally as a part of the Norwegian group Bobbysocks (with Hanne Krogh) - the winner of the 1985 Eurovision Song Contest with "Let it Swing".
The album is recorded both in Swedish and Norwegian languages.
BAO on tour in Sweden in 2009
Benny Anderssons Orkester with singers Helen Sjöholm and Tommy Körberg toured in Sweden in 2009. The tour started on 26 Juni in Helsingborg (Sofiero castle) and continued through: Gothenburg, Stockholm, Borgholm, Västerås, Leksand and finally Mariefred where the tour ended on 12 Juli on Gripsholms castle (where ABBA had their "Waterloo"-photo sessions at the beginning of 1974 - see ABBA related places).

BAB in London
BAO changed name to BAB (Benny Andersson Band) and on 4 July 2009 they gave a concert in London. The concert promoted BAB's international album "Story of a Heart"
Thanks Roberto
Sommaren du fick
New single of Benny Anderssons Orkester with Helen Sjöholm "Sommaren du fick" was released in Sweden on 9 June. The single contains two versions of the song - the full length version 5.08 and edit 4.28.
Story of a Heart
The first international album of Benny Andersson Band (in Sweden known as Benny Anderssons Orkester (BAO) was released in Sweden on 24 June 2009 and in the UK and Europe at the beginning of July. The Swedish version of the album contained the Swedish language version of "Story of a Heart" as a bonus track.
"Story of a Heart" entered the UK album chart on 12 July
Chart positions in the UK:
12 July - #29 (1st week)
19 July - #45 (2nd week)
26 July - #60 (3rd week)
Benny in "Dagens Nyheter"
The Swedish newspaper "Dagens Nyheter" published a big interview with Benny on 26 July 2009. Benny was talking about his music and its both happy and sad sides. He stated that the only ABBA song that was very special to him and it still affects him very deeply was "The Day Before You Came" - the darkest song in the Swedish pop history... Andersson said that the way the song was performed by Agnetha Fältskog was deeply touching and the tune was still very strong after 27 years.
The Royal wedding
Benny contributed to the Swedish Royal Wedding between Princess Victoria and Daniel Westerling with a new composition "Vilar glad. I din famn". The song was performed live on June 19, 2010 and it was released in two versions on a CD single.
On SVT
Benny was interviewed in the Swedish TV series: "Seventies" in the part devoted to the year 1976 which was about the Swedish pop acts that became known internationally. Besides ABBA & Benny there were interviews with Björn Skifs and Kenneth Gärdestad (brother to Ted Gärdestad). Benny picked up his favorite songs from each ABBA album and was talking about ABBA time. Several ABBA videos as well as some rare footage and pictures from the beginning of 1970s were shown during the show. Even short interview with Stikkan Anderson about Ted Gärdestad was featured as well as a film from the studio with Benny, Björn and Ted during a recording session.
Excerpts from the interview - Benny's favorite songs from all ABBA albums:
The Visitors
Benny: There are several very good songs on this album, in fact! When we had recorded this album so we started thinking if it was not the right time to do something else. Not only short music pieces but something longer.
Waterloo
Benny: "Waterloo" is good and "Hasta Manana". I like even "Honey Honey".
Abba
Benny: It started to sound good here. It is a good album - particularly "*Mamma Mia" and "SOS". "Bang-A-Boomerang" which became hit for Svenne and Lotta. Of course " I Do I Do..." which is a tribute to the 1950s.
Arrival
Benny: Of course "Dancing Queen". And it became the most successful US ABBA hit. "Knowing Me Knowing You" had a very nice guitar riffs.
The Album
Benny: This album sounds very good! "Thank You For the Music" is a kind of strange song - it does not belong to pop-rock style as many others that we did (Money Money, Chiquitita, I Do I Do).
Voulez-Vous
Benny: "Chiqutita" is the best song on "Voulez-Vous", I suppose. We performed it on the Unicef gala in New York.
Super Trouper
Benny: I like this album. We all four are very satisfied with this album and of course "The Winner Takes It All".
The "Vi" feature
Benny was featured in the magazine "Vi" in October . In an extended interview he talked about his life before and after ABBA. He talked about being father in age of 16, about divorce from Frida and his current wife Mona. Finally he talked about his problems with alcohol and that he quit drinking nine years ago. He says: "This was the best thing I did for myself. If you notice that you are not yourself without alcohol so it is high time to quit. Some people can drink alcohol without problem, some people not. If I hadn't quit, I had not been here today..."
Picture gallery
New studio
Benny's new recording studio opened on January 10th, 2011 at the same location as his record company Mono Music.
Recording sessions
In spring Benny Anderssons Orkester had recording sessions for the forthcoming album which finally got the title "O klang och jubeltid". Benny as usual invited Helena Sjöholm, Tommy Körberg and even Kalle Moraeus who recorded vocals for most of the tracks on the album.
My Africa
Benny and Mona attended the release party for new book "My Africa". The party was held in Skansen in Stockholm on May 26th.
Kära Syster
BAO's first single from forthcoming album "O klang och jubeltid" was released as a download at the beginning of May and even as a CDs in limited edition.

New BAO album
BAO celebrated their 10th anniversary with a new CD "O klang och jubeltid" which was released on June 15th. The photo inside the booklet was taken at the Gripsholm castle - the same castle where ABBA took photos for the cover of the album "Waterloo". Totally 13 tracks = 48 minutes and 51 seconds of music.
Track list:
1. O klang och jubeltid - Helen Sjöholm, Tommy Körberg & Kalle Moraeus Slow musical piece performed by Helen and Tommy in lead vocals with some help from Kalle. Inspired by the Swedish summer folk songs with some choir at the end..
2. Kära syster - Helen Sjöholm Already known song performed by Helen which was released at the beginning of May as a single. One more piece inspired by Swedish folk tunes mixed with Allsång på Skansen-atmosphere. A typical Helen & BAO mood.
3. Månstrålar Klara - Tommy Körberg A non-Benny&Björn composition on this album. A traditional song with text of Arvid Odemann with some italian/spanish influence performed correctly by Tommy.
4. Midsommarpolka These tunes we've heard many times before. New variant of Benny's polka.
5. Allt syns när man är naken - Helen Sjöholm, Tommy Körberg & Kalle Moraeus B&B composition entitled in Swedish "Everything can be seen when you are naked" with a bit strange lyrics. Helen sings lead - Tommy and Kalle help in refrains - reminds of ABBA's "Under Attack" but not so catchy.
6. Alla goda ting One more folk inspired composition of Benny. Sometimes it is quite difficult to hear any difference between these folk music pieces.
7. En dag i sänder - Helen Sjöholm Strong up-beat start and typical Benny musical bridges. Sounds like a mix of "Does Your Mother Know" and "Mamma Mia". It can be thought as next single.
8. Flickornas rum Benny plays piano here very gently with some help from the Orkester. Typical composition in the same style as "Stockholm by Night" .
9. De ljuva drömmarnas Orkester - Helen Sjöholm, Tommy Körberg & Kalle Moraeus German schlager performed in classical Helen and Tommy manner with some help from Kalle - perfectly suited as an opening number on tour.
10. Jag hör... - Tommy Körberg Nice composition in psalm style performed by Tommy.
11. Sorgmarsch One more piano performance of Benny, sad as its title says: "March of sorrow".
12. Vilar glad i din famn - Helen Sjöholm The 2010 single with connection to the Royal Wedding in Sweden. Here performed by Helen.
13. Brudmarsch One more folk composition in Orsa Spelmän's style. Sounds a bit like "Klinga mina klockor"...
Totally 48 minutes and 51 seconds of music on the CD.
BAO in Allsång
BAO appeared in the summer show on Swedish TV on June 28th, 2011. They performed two songs from the latest album: the title song "Klang och jubeltid" and "Kära syster". Helen Sjöholm and Tommy Körberg sang a medley of hits with the audience.
BAO's tour premiere
BAO had its tour premiere in Örnsköldsvik in northern Sweden on Thursday, July 21. The band played their usual repertoire with Helen Sjöholm and Tommy Körberg as main singers. Even several ABBA songs were performed during the show: Hasta Mañana, Why Did It Have To Be Me, I Do I Do I Do I Do I Do and for the first time Kisses of Fire.
BAO live 2011
21 Örnsköldsvik
22 Järvsö
23 Leksand
24 Karlstad
27 Sofiero, Helsingborg
28 Trädgårdsföreningen, Göteborg
29 Mariefred
30 Skansen, Stockholm.
Benny in "Skavlan"
On September 16th, Benny and his son Ludvig were guests in the Norwegian talk show (broadcasted even in Sweden) "Skavlan". They were talking about their addiction to alcohol. Benny had stopped drinking alcohol 9 years ago and Ludvig - his son - 7 years ago. Ludvig revealed that he started drinking when he was 14 years ago and it seems to be hereditary. Ludvig performed with his new group "Atlas". The show caused headlines in all Swedish tabloids.
"Skavlan" was aired on Swedish TV1 on Friday, September 16th, at 9 p.m.
BAO on TV
On Sunday, September 18, BAO (with Helen Sjöholm and Tommy Körberg) were special guests in the Swedish talk show "Kalle and friends" hosted by BAO's member Kalle Moraeus.
Christmas in Malmö
Christmas 2011 Benny seems to spend in his house outside Svedala outside Malmö in Skåne (Scania). On Thursday, December 22nd he was seen at one of the biggest ICA stores in Malmö in the part of the city called Västra Hamnen (West Harbour). We were there at the same time so here is the picture.
| | | | | |
| --- | --- | --- | --- | --- |
| | picking onions | ICA in Malmö Västra Hamnen (ABBA related shop from now?) | | |
Premieres
After the premiere of "Kristina från Duvemåla" in Helsingfors (see: Björn & Benny 2012), Benny attended the premiere of a new Swedish film "En fiende att dö för" (An enemy to die for) at the cinema "Park" in Stockholm on March 16th, 2012.

CowboyBengts
Members of Benny Anderssons Orkester featuring both Benny and Helen Sjöholm who call themselves "CowboyBengts" released a CD entitled in Danish language "Vender tilbage" (Going back). The album contains several compositions which remind on the 1970s albums recorded by Michael B. Tretow and members of ABBA - crazy pop light with funny lyrics. The album was released by Mono Music on May 16th, 2012.
Hep Stars box
All five original albums recorded in the 1960s have been released as a box in Sweden in June 2012. The albums contain several rare compositions written by Benny and Björn long before ABBA time.
BAO live
The only live performance of BAO in 2012 took place in Uppsala on August 25th.
Palme
Benny and Mona attended the premiere of a new Swedish movie "Palme" on September 11th, 2012 at the cinema "Skandia" in Stockholm. Benny composed music for the film which is about the former Swedish prime minister Olof Palme assassinated in Stockholm in 1986.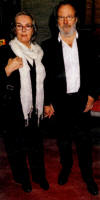 Tomten har åkt hem
The new BAO album featuring Christmas melodies sounds more as a new BAO CD with not so much Christmas feeling. Benny has contributed with 5 new compositions - his usual waltzes, marches and polkas featuring Björn's lyrics on two of them. Helen Sjöholm and Tommy Körberg sing some of the songs. The classical Chrismas medley and on of the most beautiful Christmas songs "Nu tändas tusen juleljus" are two final compositions on the album. "Tomten har åkt hem" was released in Sweden on November 15th, 2012.
BAO in BOX
The story of Benny Andersson Orkester in a box - "BAO in box" was released on December 3rd, 2012 (in Sweden). The box features all recordings made by the group up-to-date on 6 CDs - totally 87 songs which means totally 5 hours of music. The Christmas album has been included in the box even if it had seen its separate release on November 14th, 2012.
CD1 features the orchestra music, CD2 folk songs, CD3 songs with Helen Sjöholm in lead vocals, CD4 songs performed Helen, Tommy and Kalle Moraeus, CD5 BAO on tour and CD6 features the Christmas album.
The box even contains a booklet with all lyrics, pictures, the story of BAO and more.
A double DVD features the TV-show "Benny Anderssons Orkester 10 years" recorded in Helsingborg and "Benny Anderssons Orkester på nya äventyr from 2001. Even two extra bonus tracks are included.
A promo photo with autographs of Benny, Helen and Tommy followed the first 100 ex of the box ordered at certain internet shops in Sweden
Lucia
Benny and Helen promoted BAO's new Christmas Album participating in the Saint Lucia concert at the Dome in Uppsala. The concert was broadcasted by Swedish TV in the early morning (7am) on Decmeber 13, 2012. Benny played piano and Helen performed new song from the album "Vinterhamn" and the Christmas traditional "Nu tändas tusen juleljus". They gave a performance of totally 11 minutes.
Guldbaggen
On January 21st, 2013 Benny received the Guldbaggen prize for his music for the movie "Palme".
Just six months after the Swedish Film Institute was founded, its CEO Harry Schein announced a competition to design a film award to be presented to those who had made a strong contribution during the year.
The awards are named after the Swedish word for the rose chafer beetle. A Guldbagge Award weighs approximately 1.2 kg and its body is chased in copper which is then enamelled. Finally, real gold is added to give the Guldbagge its characteristic shimmer. The first Guldbagge Awards were presented in 1964.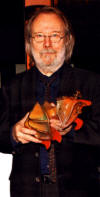 Hjälp sökes - last rehearsals
Benny participated in the last rehearsals for the new musical with his music "Hjälp sökes" at the Orion Theatre in Stockholm. Even Björn was involved in the project and he had written lyrics to some songs. The premiere on February 8th, 2013.
BAO on Tour 2013
BAO played 8 concerts in the July 2013 with opening in Gothenburg at Trädgårdsföreningen (the same place where Festfolket had its debut in 1970). The show lasted for over 4 hours and it featured 56 songs. Some new songs were played as well as for instance "Det föll en sten från mitt hjärta", two songs from the new musical "Hjälp sökes" and even four ABBA songs faturing "One Man One Woman" and "Why Did It Have To Be Me".
Benny goes film - Cirkeln
Benny and his son Ludvig produced their first movie - "Cirkeln" in their own film company. The movie was filmed during 2014 and at the beginning of 2015 Benny and Ludvig started the promotion compaign in Sweden and internationally. They gave several interviews, attended the Film Festival in Berlin at the beginning of February. Benny appeared even on Swedish TV - in the talk-show "Skavlan" on February 13th and "God kväll" on February 14th.
The premiere of "Cirkeln" in Stockholm on February 18th, 2015.
Hjälp sökes in Denmark
The B&B musical "Hjälp sökes" is entitled HJÆLP SØGES when it has its Danish premiere on April 12th, 2015 at the Østre Gasværk Teater. Benny is in Copenhagen working with the preparations. The musical will be played in Copenhagen until June 7th. The main characters are played by well-known Danish actors Jesper Asholt and Jesper Lohmann.
Kärlekens tid - new CD
A new album produced by Benny with the Gustaf Sjökvist choir features several compositions of B&B. Benny is playing piano and the album was recorded in his studio in Stockholm. The album was released in Sweden on September 18th, 2015.
On TV
Benny was interviewed in the TV special "Köttberget checkar ut" on Swedish TV. He was talking memories and plans for future. The show was broadcasted by SVT2 on November 29th, 2015.
BAO - new album
New BAO album was released in Sweden on June 10th, 2016. The album is entitled "Mitt hjärta klappar for dig" (My Heart is beating for you) and it contains 11 new songs - most of them written by Benny and Björn. As usual Helen Sjöholm and Tommy Körberg perform the songs. The group promoted the album on Swedish TV on June 28th in "Allsång på Skansen". They performed their latest single "En natt i Köpenhamn" (One night in Copenhagen) and "Ticka, Ticka väckarklocka".
BAO on tour 2016

The 2016 BAO tour had its premiere on July 21 in Gothenburg/Sweden. The show was 4 hours long and it featured all BAO hits as well as several ABBA songs as: "Put on Your White Sombrero" and "On and On And On".

Moraeus med mera
BAO were special guests in TV show "Moraeus med mera" aired on Swedish TV on Saturday December 3rd, 2016. Benny and his Orkester participated in talk show as well as they performed two songs from their latest studio album featuring the latest hit "En natt i Köpenhamn" (One night in Copenhagen).
Piano
Benny released his piano album on September 29th, 2017. The album features 21 favorites in piano versions. There are several ABBA songs as well as compositions from the musicals and Benny's solo albums.
Skavlan
Benny was one of the guests in the Swedish/Norwegian talk show "Skavlan" broadcasted by Swedish TV (SVT) on Friday, October 27th, 2017. Benny was interviewed about his latest solo album "Piano", forthcoming projects: Mamma Mia 2 and the ABBA show in multimedia style and the birds... He played live in studio 4 pieces: Thank You For the Music, Målarskolan, Flickornas rum and Anthem.
Piano - the LP release
Benny's album "Piano" was released as a double LP on November 8th, 2017.
Bästa låtarna
The best of BAO saw its release on June 14th, 2019. The CD contains 11 songs including two new ones. As a part of the promotion of the new CD, BAO announced a summer tour in Sweden in 2019.
Summer tour 2019
Benny in "Aftonbladet"
Swedish newspaper "Aftonbladet" published on August 2nd, 2019 an interview with Benny about the BAO tour, new ABBA songs and the avatar-project. According to Benny the two new ABBA songs are not finished yet and it is still unclear when they will be released. The avatar-project can be ready in 2021 but the new ABBA songs can be released before.