go.to// 2011 2012 2013 2014 2015 2016 2017 2019 2020
2010
3 original album classics
The box entiltled "3 original album classics" saw its release in Germany and the UK at the beginning of 2010 and it is scheduled for release in Sweden in autumn 2010. The box contains 3 CDs with the first Agnetha album from 1968, the 1971 album "När en vacker tanke blir en sång" and the 1975 classic "Elva kvinnor i ett hus".
Georg Jensen party
Agnetha was one of the guests on a promotion evening of Georg Jensen jewelry on Wednesday, September 29, 2010 in Stockholm.
In Copenhagen
Agnetha together with Björn attended the premiere of "Mamma Mia" in Copenhagen (Denmark) on October 15, 2010.
Cornelis
Agnetha (with her female friend) attended the premiere of the Swedish movie "Cornelis" in Stockholm on November 12th, 2010.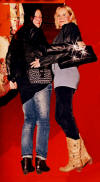 Party party...
Agnetha was one of the guests on the opening party at a new hotel Nobis in Stockholm at the end of November.
Linda
Agnetha's and Björn's daughter Linda Ulvaeus debuted as an author of children books. Two books were issued in Sweden in March 2011: "Leja li, pappan och fisken" and "Leja li och busbullen" both written by Linda with illustrations drawn by Johanna Lundqvist. On the CDs attached to both books there are sound versions of the books read by Swedish actress Suzanne Reuter (Agnetha's neighbour on Ekerö island).
Linda (together with Suzanne and Johanna) promoted the books on book fair in Gothenburg on April 16th, 2011.
Agnetha on the Elle gala
Agnetha was the Queen on the Elle gala in Stockholm on Friday, January 13th, 2012. Her first public appearance in 2012.
| | | | | |
| --- | --- | --- | --- | --- |
| with Swedish Prime Minister Fredrik Reinfeld | | | | |
| | | | | |
Bernardotte gala
Agnetha attended the annual Bernardoltte Art Awards gala at Grand Hotel in Stockholm on June 6th.
With JLo
Agnetha met Jennifer Lopez after the concert in Stockholm on November 5th, 2012.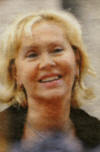 New single
Out on iTunes in several countries on March 11th.

When Your Really Loved Someone
The video filmed in the Ulriksdal Castle in Stockholm
New video
The photo session 2013
Agnetha madness
There are Agnetha articles in all Swedish newpapers on Friday March 15th. She appears in the talk-show "Skavlan" which is broadcasted on Swedish TV at 9 pm on Friday night.
Photo sessions
Several photo sessions were taken during April in Stockholm in studio as well as at the Grand Hotel in Stockholm and Högberga Gård in Lidingö outside Stockholm
Skavlan
On Friday March 15th, Swedish TV broadcasted the talk-show "Skavlan" where Agnetha was guest. The show had been recorded in Stockholm the day before. Agnetha was interviewed in 16 minutes as the last guest among other celebrities.
| | | | | |
| --- | --- | --- | --- | --- |
| | | | | |
| | | | | |
| | | | | |
| | | | | |
| | | | | |
The first single
The single "When You Really Loved Someone" saw its release in Scandinavia on April 15th, 2013.
Die Zeit
The German newspaper "Die Zeit" interviewed Agnetha in Stockholm on the special session at the Grand Hotel. Several new pictures were taken during the interview
More new pictures of Agnetha
One more photo session in pure ABBA-style...
Brigitte - Germany
The German magazine "Brigitte" published an extended feature about Agnetha in its 10th issue (24.04.2013).
On German TV
An interview with Agnetha was broadcasted on May 2nd in the show "Leute Heute" on ZDF.
Agnetha at G-A-Y
Agnetha appeared on stage at the famous G-A-Y club in London on May 4th.
On Australian TV
Australian TV broadcasted Agnetha Special on Sunday night (May 5th).
On BBC
Two interviews were done for the BBC television. The first for BBC1 was broadcasted on May 9th.
Agnetha appeared on BBC even on May 10th on "Breakfast" where she gave an extended interview
In "Attitude"
Agnetha gave a long and very interesting interview for the British gay magazine "Attitude" which was published in its May issue. The album "A" received 3,5 points out of 5.
Interview in "Loose Women" (UK)
The last interviews with Agnetha broadcasted in the UK during her promotional visit.
SP
A picture disc 7" SP with "When You Really Loved Someone" saw its release in Sweden on May 10th, 2013.
A
The new album "A" was officially released in Scandinvia on May 13th, 2013. In other parts of the world was it available already on May 10th.
CD
LP
Limited LP version
The SKAP prize
After the 14-days-promotional visit in London Agnetha was back in Stockholm where she received the SKAP Kai Gullmar Memorial Award on May 17th.
BBC
On June 10th, 2013 the British TV channel BBC 1 broadcasted a documentary entitled: "Agnetha: ABBA & After". This one-hour-TV special featured new interviews with both Agnetha and Björn & Benny.
Dagens Industri
The Swedish business newspaper "Dagens Industri" devoted its weekend supplement to ABBA featuring Agnetha and her new album on June 14th, 2013.

Paris Match
The French magazine "Paris Match" published an interview with Agnetha featuring nice picture in the spring of 2013.

On Stockholm Pride
Agnetha appeared on stage on August 1st during the Stockholm Pride. She received gold record for the sales of the album "A".
Wonderful dog
Agnetha is talking about her biggest passion - dogs in the August issue of the Swedish magazine "Härliga hund" (Wonderful dog). She is showing her two dogs: Bruno and Bella on some gorgeous pictures taken especially for the magazine.
Dance Your Pain Away - the single
The second single from the album "A" featured four mixes of "Dance Your Pain Away" and it saw its release in Sweden on July 29th, 2013.
Verandan
On August 29th, 2013 Agnetha was seen at the restaurant "Verandan" in Grand Hotel in Stockholm. The restaurant re-opened after renovation.
German interview
Agnetha gave an interview for German TV in connection to the forthcoming new re-release of the "A" album in Germany and Austria in a deluxe version with bonus DVD featuring the BBC special "Agnetha - ABBA and after" broadcasted in the UK in June 2013.
Agnetha in London November 2013
On arrival
On November 12th, 2013 Agnetha performed in front of a live audience with Gary Barlow at Children in Need Rocks concert at Hammersmith Apollo in London. They performed their duet
I Should ´ve Followed You Home.
I Should've Followed You Home
The single "I should've followed you home" saw its release in Sweden on November 18th, 2013.
A - Deluxe Edition
The Deluxe edition of the "A" album features CD with the same track listing as the original release of the album and DVD with the BBC Special: Agnetha: ABBA and after... as well as the video "Whe You Really Loved Someone". Released only in Germany on November 22nd. 2013. The booklet is extended with four pages featuring an extra picture of Agnetha taken during filming of the video.
Promotion in Germany
The Deluxe edition of the album "A" was promoted in Germany by several press interviews as well some TV appearances. The German press met Agnetha in Stockholm at the Grand hotel in October 2013.
The one who loves you now - the single
The single "The one who loves you now" saw its release in the UK on November 25th, 2013. This one-track single was released in a limited edition.
The photo book
Agnetha is looking at the pictures in the forthcoming "ABBA The photo book" at the beginning of 2014.

Agnetha & her dogs
Agnetha enjoyed several paintings of her dogs made by a fan.
On Mallorca
In the spring 2014 Agnetha had her vacation on Mallorca.

Agnetha 65
On April 5th, 2015 Agnetha celebrated her 65th birthday. German magazine "My Way" published a 6-side-feature about Agnetha including an long interview made in Stockholm during the promotion of the album "A" in 2013. Several old and new pictures were included and Agnetha was on the cover of the magazine (6/2015).
Mamma Mia - The Party
Agnetha attended "Mamma Mia - the Party" on January 20th, 2016 and posed for photographers both solo and together with the other ABBA members.
Café Opera
On February 25th, Agnetha was one of celebrities who attended the celebration of 35 years of the night club "Café Opera" in Stockholm.

Limited re-release of the debut album
The debut album "Agnetha Fältskog" originally released in Sweden in 1968 saw its vinyl re-release in Sweden on April 16th, 2016. The 180 gram vinyl LP was released in limited edition of 500 pieces.
New book 2016
New Agnetha biography was issued in the UK on April 28th, 2016. The book was entitled "Agnetha Fältskog - The Girl with the Golden Hair" and written by Daniel Ward. Extent: 208 pages
Illustrations: 32 colour/16 mono.
ABBA on stage... again
A big party celebrated the 50 years of collaboration between Björn and Benny was held at "Berns" in Stockholm at the beginning of June. Lots of artist performed B&B compositions on stage. Agnetha and Frida performed live "The Way Old Friends Do". After the performance all former ABBA members appeared together on stage.
Agnetha Vol. 2
The second solo album of Agnetha entitled simply "Vol. 2" originally released in Sweden in 1969 was re-released in limited edition in Sweden on November 25th, 2016.
Som jag är - re-release
The third solo album "Som jag är" saw its vinyl re-release in Sweden on April 21, 2017.
Svensk Damtidning
A-four-page feature about Agnetha's life today can be found in the Swedish paper "Svensk Damtidning" number 31 issued on July 27th, 2017. It says about her house and children and grandchildren. There is a information about Agnetha's son's Christian and his daughter Nike who was born at the end of 2016. Agnetha's daughter Linda has three children: Tilda, Esther and Signe. All of them live in Agnetha's property in Ekerö outside Stockholm.
Coloured vinyls
The albums "Wrap Your Arms Around Me" and "Eyes of a Woman" were released on July 27, 2017 as coloured vinyls - pink and red.
Wrap Your Arms Around Me - pink
Eyes Of A Woman - red
När en vacker tanke blir en sång - re-release
The fourth solo album "När en vacker tanke blir en sång" was re-released on vinyl in Sweden on November 24th, 2017.
"Som jag är" on CD
The 1970 album "Som jag är" was released internationally on CD in March 2019 in the series "Music on CD".
Vol. 2
Agnetha's second solo album "Vol. 2" from 1969 was rereleased on October 9, 2020 as a limited edition LP on blue marbled vinyl.
Sjung denna sång
The 1986 Agnetha compilation LP "Sjung denna sång" (Sing this song) was re-released on October 30th, 2020 on pink marbled vinyl. The compilation contains several rarities not available on any other Agnetha album. The 2020 re-release is a limited edition of 2000 numbered copies.
The compilation saw its release on CD in Sweden at the beginning of November.
Tio år med Agnetha
The 1979 compilation "Tio år med Agnetha" saw its rerelease on flamin coloured vinyl on November 20th, 2020. It was a limited edition of 2000 numbered copies including poster and instert with all songs lyrics.