related artists

Tomas Ledin
Josefin Nilsson/Ainbusk Singers
Tomas Ledin
Tomas Ledin is probably the most "ABBA related" artist of them all. He is also one of the most popular artists in Sweden. He worked with ABBA as a background singer on their 1979-80 tour and ABBA worked with him as... background singers on his albums. He recorded a hit single "Never Again" with Agnetha Fältskog 1982 and wrote songs for both Frida and Agnetha.
Polar Music decided to promote Tomas Ledin internationally. The first step was Tomas' participation in ABBA's World Tour 1979. He was background singer and performed one song solo "Not bad at all". The song was released in Sweden and many other countries as a single in the fall of 1979.
The album "Looking for a good time" (1980) was the first one with participation of Agnetha, Frida and Benny from ABBA as well as almost all ABBA session musicians. Agnetha and Frida were background singers and Benny played piano.
The 1979 single "Not Bad At All" promoted the song that Tomas performed solo during ABBA concerts on the 1979/80 World tour.
Most of the songs recorded for the album "Gränslös" were translated to English and re-released on the international version of this album which was given the title "The Human Touch". The album has a very strong relation to ABBA because of the participation of Agnetha Fältskog singing duet with Tomas on "Never Again". The song was recorded in both English and Spanish versions. Both versions are available on CD - the Spanish one as a bonus track. The song "I Got Something" was later recorded by Frida and released on her solo album "Something's Going On"
In 1983 Tomas released a new album "Captured" recorded in English. This LP was very succesfull in Scandinavia. It included "Take Good Care of Your Children" which was covered by Agnetha Fältskog on her solo album "Wrap Your Arms Around Me" released the same year. The single "Don't Touch That Dial"/"Take Good Care of Your Children" saw its release in Sweden in 1984.
Anders Glenmark has always belonged to the ABBA family. In the 1970s he was ABBA studio musician, in the 1980s together with his sister Karin he formed the group Gemini which performed mainly material written by Björn Ulvaeus and Benny Andersson. In 1996 the ABBA primadonna Anni-Frid Lyngstad chose Glenmark as a producer and songwriter for her comeback album "Djupa andetag".
In 1976 Anders Glenmark played guitar on ABBA's top hit "Money Money Money". In 1984 Anders was chosen by Björn Ulvaeus and Benny Andersson as one of the background singers in their musical "Chess". Glenmark can be heard in the first single hit from the musical "One Night in Bangkok" which topped hit charts in the autumn 1984.

After the successful cooperation between Björn, Benny, Anders and his sister Karin in "Chess" they decided to form a group which was called "Gemini" in 1985. The first album was recorded in the spring 85 in Polar Music Studios in Stockholm. Björn and Benny had written most of the material for the album. They were even producers together with Anders. The LP called simply "Gemini" was promoted in whole Europe but it never became successful outside Scandinavia.
In November Gemini and Björn Ulvaeus did TV promotion for the album and the single "Just Like That" a track which had been originally written for ABBA in 1982 but never released. ABBA fans got a possibility to hear the song for the first time performed by Anders and Karin. Björn Ulvaeus was singing background vocals during the promotion.

The UK version of the album had different cover. The album was available on CD during a short period. In 2004 Universal re-released the album on CD in the series Universal Music Archive Collection.
Gemini came back with a new LP in 1987. Even this time most of the material had been written by Björn, Benny and Anders. The album contained a top hit "Mio My Mio" from the movie picture with the same title which was a collaboration between Sweden and Soviet Union.
Gemini together with Benny Andersson went to Moscow where they appeared in a TV show hosted by the biggest pop singer in Russia - Alla Pugacheva.
Gemini - the 2005 comeback
Gemini made a comeback at the beginning of November 2005 with a compilation CD including their greatest hits and some previously unreleased songs. Among rarities a previously unreleased Björn and Benny composition "When I Close My Eyes", a new version of "Too much Love is Wasted" re-recorded in Swedish in 2005, a remixed version of "Copy Love" which previously appeared only as a single B-side. Karin and Anders Glenmark embarked on a Christmas tour in Sweden in November and December 2005.
The French pop star Daniel Balavoine became ABBA related because of the French musical based on ABBA songs "Abbacadabra" and because of the cooperation with Anni-Frid Lyngstad in 1983-84. Together with the ABBA star he recorded the song "Belle" and released it as a single in the autumn 1983. Lyngstad has even participated as a backgroud singer on Balavoine's song "Dieu que c'est beau" in 1984. Both songs can be found on the memory double CD "Balavoine sans frontiéres" released in 2005 in France.
One of the biggest musical talents in Sweden discovered by the ABBA manager Stig Anderson at the beginning of 1970s. Björn and Benny produced most of his records, Frida and Agnetha participated as background singers on several albums.
ABBA members participated on Ted's albums listed below:
LP Undringar 1972

Produced by Björn and Benny. Background singers: Agnetha, Frida, Björn and Benny. Guitar: Björn, piano: Benny.

LP Ted 1973

Produced by Björn, Benny and Ted. Background singers: Agnetha, Frida, Benny, Björn and Lena Andersson. Björn plays guitar and Benny piano.

LP Upptåg 1974

Produced by Benny, Björn and Ted. Benny plays several instruments. Background singers: Agnetha and Frida.

LP Franska kort 1976

Produced by Benny, Björn, Ted & Michael B. Tretow

Background singer: Frida

LP Stormvarning 1981

One song produced by Benny. Frida background singer.
ABBA's sound engineer Michael B. Tretow released his solo album "Caramba" in 1981. Ted Gärdestad was singing several songs on this album. It was unknown back in 1981 which musicians were performing on the album as only strange names were printed on the album cover. Michael B. Tretow revealed the names many years later. The first single "Hubba hubba zoot-zoot" became number 1 on the Swedish hit chart and the LP reached #14
In 2011 "Caramba" was released on CD with 3 bonus songs.
Inger Lise Andersen Rypdal is Norwegian pop star who started her career in the late summer of 1968 with the song "Romeo og Julie". Directly after the first success she got in touch with Stikkan Anderson who wrote Swedish lyrics for the song. The Swedish version entitled "Romeo och Julia" entered Svensktoppen on November 3th, 1968 at #2 and stayed there for 5 weeks peaking at #1 one week later (for two weeks).

On September 7th, 1975 Inger Lise entered Svensktoppen with her Swedish version of "I've Been Waiting For You" which became Swedish title "Jag har väntat på dej". The single stayed on the chart for 11 weeks peaking at #3.

Inger Lise recorded following ABBA songs both in Norwegian and Swedish laguages: "SOS", "Fernando", "Bang en Boomerang" and "Tider kommer, tider går" (My Love My Life". Her greatest hits featuring all her ABBA covers were released on a double CD "De best jag vet" (My best) - 40 slagere fra sottitallet (40 hits from the 1970s) in Norway in autumn 2010.
Swedish singer Birgitta Wollgård and her band Salut recorded for Polar Music in the 1970s. In 1975 she released an album entitled simply "Birgitta Wollgård and Salut" which featured three compositions of Stikkan, Björn and Benny: "En karusell" (aka Merry-Go-Round), "Att finnas till" and "En söndag i maj". Another song on the album "Natten lång" had been arranged by Björn, Benny and Stikkan.
On October 18th, 1975 Wollgård had number 1 hit on the Swedish chart Svensktoppen with "Om och om och om igen" which was Swedish language version of ABBA's "I Do I Do I Do I Do I Do". The song stayed on the highest position on Svensktoppen for 6 weeks. On November 29th, 1975 it was kicked down to #2 by Agnetha Fältskog och her single "SOS". Totally "Om och om och om igen" stayed on the chart for 11 weeks. The song was included on later pressings of the album "Birgitta Wollgård and Salut".
In 1976 Wollgård recorded her version of "Mamma Mia" which was released as a single in Sweden. "Mamma Mia" entered Svensktoppen on June 26th, 1976.
In 1978 she released an album entitled "Ställd mot väggen" which featured famous Björn and Benny composition "Please Change Your Mind" which received Swedish title "Kära, farväl". Many of ABBA musicians played on the album.
Birgitta was even of background singers on ABBA's world tour in 1979.

Lena was 15 years old when she was discovered by Stikkan Anderson in December 1970. The first single released by Lena in Sweden "Är det konstigt att man längtar bort nån gång" became #1 on Svensktoppen in April 1971. The debut album entitled "Lena, 15" was recorded at Metronome Studio in Stockholm on February 21st and March 14th, 1971. The album contained several songs with lyrics written by Stikkan Anderson and one song - "Language of Love" written by Benny, Björn and Stikkan.
The second album Lena recorded on September 11th, 12th and 20th, 1971 with Björn Ulvaeus and Stikkan Anderson as producers. Björn Ulvaeus, Agnetha Fältskog and Anni-Frid Lyngstad were background singers on the album. Björn and Benny had arranged several tracks and Michael B. Tretow was engineer. The album featured 11 songs - most of them covers of well-known international hits.
The first hit from the album "Jag kommer" (I'm coming) (with Agnetha and Frida in choir) entered Svensktoppen directly at #1 on November 7th, 1971 where it stayed for 5 weeks. Next hit was the song "Tänk om man bara kunde svara på frågor" (Imagine, if you only could answer questions) which entered Svensktoppen on December 5th, 1971 and stayed there for 3 weeks. On January 16th, 1972 Lena had a new hit on Svensktoppen - the opening track on the side B of the album "Lena" entitled "Glöm dig själv" (Forget yourself) which stayed on the chart for 2 weeks peaking at #7.
In Swedish "Melodifestivalen 1972" Lena performed a Benny & Björn composition "Säj det med en sång". For single release the song was recorded in London with Arthur Greenslade Orchester. Even an English language version entitled "Better to Have Loved" was recorded at the same time. The song did not win the Swedish outtake for Eurovision Song Contest but it became a smash hit on Swedish charts in 1972.
In autumn 1972 Polar released a new album with Lena entitled "12 nya visor". The album featured two relatively unknown compositions of Benny and Björn: "En visa om arton svanar" and "Barn". The album was produced by Stikkan, Benny and Björn.
Lena recorded even a Swedish language version of ABBA's "Hasta Mañana". She was even promoted in West Germany where she recorded two singles with covers on ABBA hits. In 1975 she released German language version of "S.O.S" b/w "Hasta Mañana" and in 1976 "Fernando" (in German) b/w "Kaliforniens Gold".
At the beginning of 1977 Lena went on tour with ABBA as one of the background singers.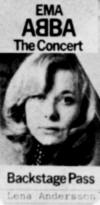 In 2003 Universal released in Sweden a compilation CD with 20 songs featuring many Björn and Benny compositions from early years and her version of "Hasta Mañana" with original ABBA playback.
Svenne Hedlund and Lotta Hedlund from the band Hep Stars where even Benny was member until 1969 became stars on their own rights in Sweden and Denmark at the beginning of 1970s. Their tight collaboration with Benny and Björn made them to extremely ABBA-related pop acts.

Benny and Svenne left Hep Stars in August 1969 and started musical collaboration directly after it. Together with Björn Ulvaeus they toured in Sweden in 1970 as "Svenne, Lotta, Benny and Björn". In 1970 Svenne & Lotta released a single featuring "Peter Pan" written by Benny and Björn. The single entered Svensktoppen on May 17, 1970 and stayed there for 7 weeks peaking at #3.
In 1972 Svenne & Lotta signed contract with Polar Music. In 1973 they had a number 1 hit with "Sandy" and released their first album "Oldies but Goodies". The album was produced by Björn, Benny and Svenne. Benny played piano and Björn guitar. "Oldies but Goodies" sold very good in Sweden and Denmark where Svenne & Lotta received gold record.
In 1974 Svenne & Lotta released in Denmark a single featuring two ABBA songs: Dance (While the music still goes on)/He Is Your Brother. The single promoted both Svenne & Lotta's album "Oldies but Goodies" and the two first ABBA albums: "Ring Ring" & "Waterloo".
The follow-up album "Svenne & Lotta/2" saw its release in 1975. This LP featured English and Swedish versions of "Bang-A-Boomerang" (in Swedish "Bang en boomerang), "Dance (While the music still goes on)" and old Björn and Benny song "Kära gamla sol" in English version entitled "Roly Poly Girl". The album was produced by Claes af Geijerstam and partly by Björn and Benny who by that time were very busy with ABBA. Svenne & Lotta became number 3 in Melodifestivalen in 1975 with "Bang A Boomerang". The song became hit on the Swedish charts Svensktoppen and Kvällstoppen.
The third album entitled "Letters" featured an unique composition of Benny and Björn "Funky Feet" which had been thought for inclusion on the ABBA album "Arrival" but in the last second became omitted as the composers found it too similar to "Dancing Queen". The album contained even another Björn and Benny composition "If we Only Had The Time" - very well-known as "Tänk om jorden vore ung".
In 1977 the first successful period of Svenne & Lotta was summarized on the compilation album "20 Golden Hits". The compilation contained several Björn and Benny compositions as: "Dance (While the music still goes on)", "A Flower in My Garden", "Funky Feet", "If We Only Had The Time" and of course "Bang-A-Boomerang"
Svenne & Lotta were very popular in Denmark and Danish EMI released an interesting compilation album entitled "Svenne & Lotta med Hep Stars 1966-1968" featuring mostly songs written by Benny and Björn.
In Sweden there were released two CD compilations: "Tio gyllene år med Svenne & Lotta - 1973-1983" in 2002 and "20 Golden Hits" in 2004 (not same as the LP compilation in 1977).
The ABBA related story of the Norwegian singer Finn Kalvik started in 1977 when he met Benny Andersson for the first time on folkmusic festival in Västervik in southern Sweden. Benny and Finn decided to start musical collaboration.
The first fruit of this collaboration was the album "Kom ut kom fram" which was released by Polar Music in Sweden and Norway in autumn 1979. The album had been produced by Benny Andersson. Agnetha and Anni-Frid were background singers and Benny played piano and synthesizers and Michael B. Tretow was engineer.
Two songs were re-recorded in English for a possible international promotion. The songs were: "On the run" (På flukt) and "Wake up to Love" (Kom ut kom fram).
The single "Lilla vackra Anna" entered Svensktoppen on November 11th, 1979 where it stayed for 10 weeks peaking at #2 (Agnetha Fältskogs "När du tar mig i din famn" was #1 during several weeks at the end of 1979).
The album "Kom ut kom fram" sold 120 000 and made Kalvik to a new star in Sweden.
| | | | | |
| --- | --- | --- | --- | --- |
| Swedish edition | | | | |
| | | | | |
| Norwegian edition | | | | |
In December 1980 Finn and Benny started recording sessions for a new album. The album "Natt og dag" was released in 1981. Agnetha and Anni-Frid were background singers on the album which had been produced by Benny again with Michael B. Tretow as a sound engineer.
On April 4, 1981 the 27th edition of Eurovision Song Contest was held in Dublin (Ireland). The Polar Music boss Stig Anderson with his team was on spot and for the second time in the festival's history presented an artist who belonged to his record company - Finn Kalvik. Kalvik represented actually his home country Norway but his record contract was signed with Swedish Polar Music. The song chosen for Eurovision - "Aldri i livet" - was performed in English under the title "Here In My Heart". Kalvik's song received 0 points and took the last position... The winner was the British group Bucks Fizz. The single with the English version of the song was released in most European countries and the original Norwegian version was the first track on his second album produced by Benny Andersson and entitled "Natt og dag" (Night and day).
Stig Anderson in Dublin, April 4th
In 1990 Sonet released in Sweden a compilation CD featuring highlights from the Swedish period 1979-1982 in the series "Spotlight".
Totally Finn recorded four songs in English in colaboration with Benny and Michael B. Tretow. All four songs were released on CD single by Polygram Norway in 1998.
Both "Kom ut kom fram" and "Natt og dag" saw their remastered CD release in 2001. No bonus tracks were added.
Josefin Nilsson/Ainbusk Singers
The cabaret-pop group Ainbusk Singers based on the Gotland Island in southern Sweden was very popular in Sweden at the beginning of 1990s with their shows. The four-girl-group featuring the sisters Nilsson (Marie and Josefine) and Birgitta Jakobsson and Annelie Roswall brought Benny's attention already in 1988 when he saw them on TV.
But first in August 1990 Benny invited Ainbusk Singers to the recording studio where they recorded the composition "Lassie" with music written by Benny and lyrics by Marie Nilsson. The single was produced by Benny and featured "Lassie" b/w "Gunatt" (no Benny song) was released in autumn 1990 and it peaked at #1 on the Swedish single chart. Ainbusk Singers received Gold Record in December 1990. The song was performed by the group in their current stage show "More Amore".
After the big success of "Lassie" Benny and Ainbusk Singers continued their collaboration. In March 1991 the group was again in Mono Music Studio where they recorded a new Benny penned title "Älska mig" (Love me). The B side of the single featured "En låt som denna" (A song like this) written by the sisters Nilsson. Benny produced the single.
"Älska mig" entered the Svensktoppen chart in Sweden in May 1991 where it peaked at #8.
In 1993 Benny continued collaboration with Ainbusk Singers. He produced a new CD recorded live in July 1993. Material for the CD was mixed at Polar Studios in September and October 1993. The album featured three songs written by Benny: "Lassie" and "Älska mig" as well as a brand new, previously unreleased composition performed by Birgitta and entitled: "Drömmarnas golv". The CD was released at the end of 1993 by Mono Music.
Mono music released a special three-track CD single with "Älska mig", "Lassie" and "Gunatt" from the two Ainbusk Singers singles released in 1990 and 1991.
In 1993 Benny and Björn started production of a whole album with one of the members of Ainbusk Singers - Josefin Nilsson. The album contained 10 brand new songs written by Björn and Benny. They were recorded in the Polar Music Studios in Stockholm. The album was recorded in English for international promotion. But it did not become successful either in Sweden or somewhere else just like the Gemini-project. There were certain plans for one more album with Nilsson but they were abandoned because of Benny & Björn's involvement in other projects.
The song "Heaven and Hell" was chosen for the first single release. Two versions of the single were released - in Sweden "Heaven and Hell"/"Leave It To Love" and in Europe "Heaven and Hell" in two versions (4.25 edit and full-length 5.29).
In 2002 Josefin Nilsson played part of Svetlana in the Swedish set-up of the musical "Chess" in Stockholm. She even appeared on the "Chess" - studio recording that saw its CD release on October 28th, 2002.
The Hamburg cast star Caroline Fortenbacher who played Donna became the biggest Mamma Mia personality in Germany. Her wonderful voice and acting talents were appreciated by all Mamma Mia fans. Caroline released two solo albums after her success in "Mamma Mia".
In 2005 Fortenbacher released her first solo album entitled "Zurück zu mir" and in 2008 "Drama".
Two Dutch pop singers: Bonnie St. Claire and José Hoebee recorded a whole album with ABBA covers in 1985. The album saw its release the same year in Holland and Belgien. it contained 2 songs performed in Dutch language. Five singles were released as well. Almost all of them entered the Dutch single chart during the period of 1984-1986. The album was rereleased as CD/DVD in 2020. The CD contains "I Have a Dream" as a bonus track previously unavailable. The DVD features the TV show from 1985 filmed in Sweden where the girls recorded five videos. Even Björn Ulvaeus was interviewed for this show.
| | | | | |
| --- | --- | --- | --- | --- |
| | | | | |
| Cassandra 1984 | The Way Old Friends Do 1985 | Move On/Why Did it have to Be Me 1985 | The Piper/Lovers (in Dutch) 1986 | Andante Andante/Chiquitita 1986 |
The 2020 CD/DVD edition